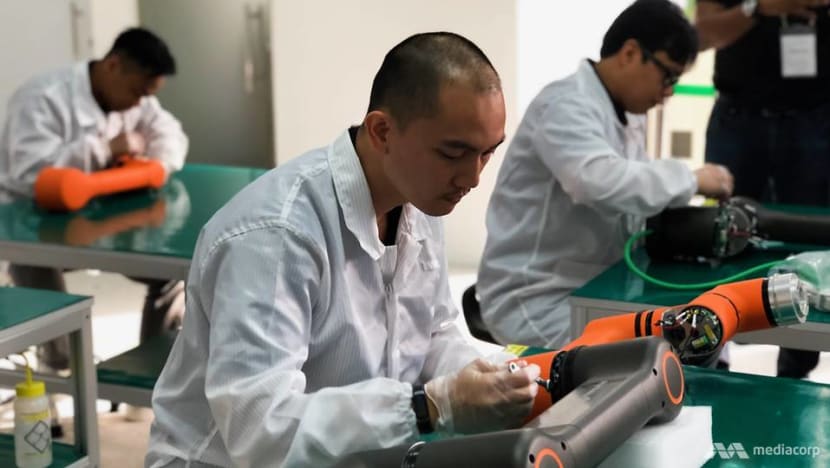 SINGAPORE: Manufacturing output slowed for a second consecutive month in July, dragged down by a decline in five out of six clusters, according to preliminary figures released by the Economic Development Board (EDB) on Friday (Aug 24).  
Industrial production grew 6 per cent year-on-year last month, compared with June's revised 8 per cent increase and May's 13 per cent growth. Excluding biomedical manufacturing, output grew 5.1 per cent.
On a seasonally adjusted month-on-month basis, manufacturing output fell 1.7 per cent.
The chemicals cluster was the only segment to strengthen last month, with output rising 7.4 per cent from 1.7 per cent in June.
Output in the electronics cluster grew 5.4 per cent in July, slowing from the 7.9 per cent increase the previous month, on weaker demand for semiconductors, computer peripherals and consumer electronics.
Biomedical manufacturing output rose 10.1 per cent, easing from the 13.1 per cent growth in June.
Meanwhile, growth in the precision engineering segment slowed to 3.4 per cent in July from 4.3 per cent in June and while that in the transport engineering cluster eased to 9.6 per cent last month from 14.3 per cent in June.
Output in the general manufacturing cluster fared the worst, falling 0.6 per cent after a growth of 0.3 per cent in June.
Despite the slowdown in June and July, industrial production is still expanding at "a robust 9.9 per cent year-on-year for the first seven months of this year", noted Ms Selena Ling, head of treasury research and strategy at OCBC Bank.
"The headwind of course remains the possibility of an escalation in the US-Sino trade war, with potential spillovers into emerging markets, including Asia," Ms Ling added.
UOB senior economist Alvin Liew also cautioned that "potential negative spillovers" from rising US-China trade tensions could impact Singapore's manufacturers "both in terms of a slowdown in export orders as well as business sentiments".
"We maintain our view that Singapore's manufacturing activity will turn softer in the subsequent months of 2H 2018," Mr Liew said, adding that the negative impact from US-China trade tensions will be felt more prominently next year.