Singapore Mint launches commemorative NS55 medallion
The NS55 silver medallion will be sold from Aug 20.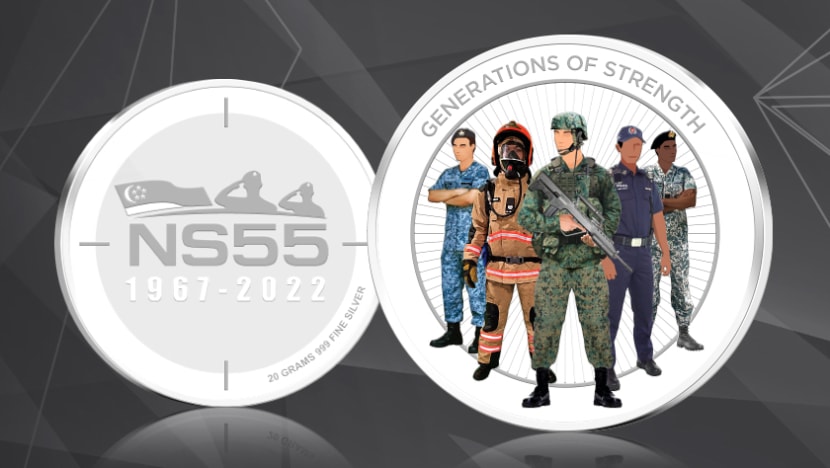 SINGAPORE: The Singapore Mint has launched a silver medallion depicting servicemen in the uniforms of the five services to celebrate the 55th year of National Service in Singapore.
The medallion will "commemorate this significant milestone in Singapore's nation-building journey, and to document the contributions of past and present generations of national servicemen", it said in a press release on Thursday (Jul 28).
The 20gm 999 fine silver medallion will feature five servicemen in uniform, depicted in colour, to pay homage to the five services "which generations of national servicemen have served proudly and fondly in".
The services are the Singapore Army, the Republic of Singapore Navy, the Republic of Singapore Air Force, the Singapore Civil Defence Force and the Singapore Police Force.
"Collectively, they form the core of Singapore's defence that safeguards the peace and security of the nation," the Singapore Mint said.
The reverse side of the medallion also features the NS55 logo and the period 1967 to 2022, marking 55 years of National Service.
The medallion will be on sale at The Singapore Mint retail shops from Aug 20.
It will be available for pre-order at S$80. Past and present NSMen, NSFs, regular MINDEF/SAF servicemen and regular Home Team uniformed officers will be able to purchase the medallion at S$70 at The Singapore Mint retail shops.
Alternatively, they can buy the medallion using the LIFESG mobile app NS55 credits at S$55.
Customisation of battalions or unit logos is also available, Singapore Mint said, adding that those interested can enquire more about customisation options with its corporate sales team.
The Mint is also extending promotions to "thank past and present national servicemen for their contributions to Singapore's defence and security".
Eligible national servicemen will be able to enjoy member prices for a range of selected products at The Singapore Mint shops, as well as receive a free one-year gold membership worth S$50 with a minimum spend of S$300.
A range of Singapore thematic products will also be sold at a promotional price for national servicemen.
"These promotions and additional discounts can be redeemed with NS55 credits by showing the LifeSG mobile app or proof of identification at The Singapore Mint's retail shops," it added.
The Singapore Mint will also hold a National Day promotion from Thursday to Aug 14, with special prices for products such as Singapore thematic coins, medallions and accessories. This promotion will be available both online and at The Singapore Mint retail shops.