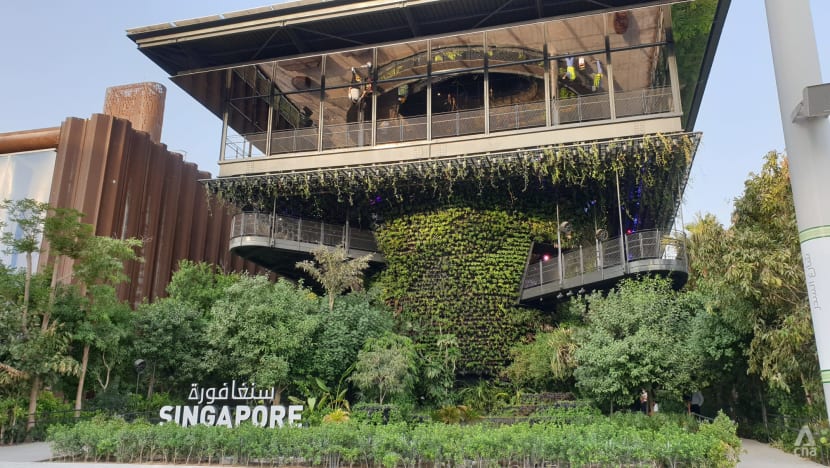 DUBAI: Creating a rainforest in the desert. 
It sounds contradictory, but that's what the Singapore Pavilion team set out to do at the World Expo in Dubai, which opens on Friday (Oct 1).
And it achieves that in a self-sustaining manner.
Titled "Nature, Nurture, Future", the Pavilion is a minute's walk from the main gate of the Expo's Sustainability District. 
It's a sweaty walk under the sweltering desert sun, so arriving at the Singapore Pavilion feels like entering an oasis. In fact, the perceived temperature drops by 6 to 10 degrees Celsius in the Pavilion, without the use of air-conditioning.
That's the effect of a combination of 80,000 plants, dry mist fans, a canopy shelter, and an open design that allows for air flow.
"It's an integration of nature with technology, with architecture, and co-existing with people," said the pavilion's commissioner-general Larry Ng.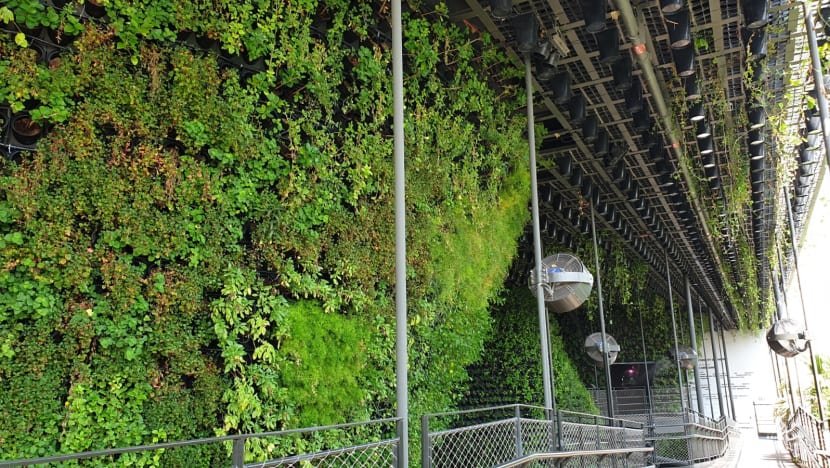 ACHIEVING NET ZERO WHILE SUSTAINING LIFE
The Pavilion is so lush that birds frequently come by, and even build nests.
Keeping it all going - and the plants thriving - requires an estimated 155 megawatt-hours of electricity and plenty of water. 
Yet, the Pavilion does it while being net-zero energy.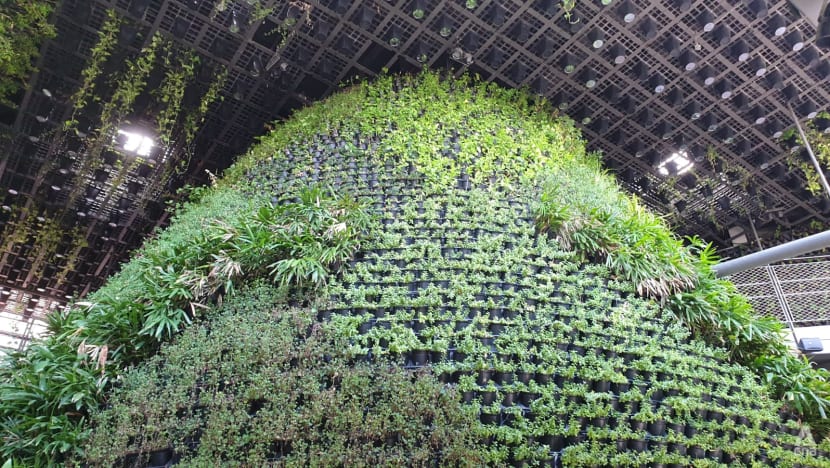 SMART SOLUTIONS
The team, led by the Urban Redevelopment Authority (URA), carefully calculated how much power it needs based on expected usage, and installed 517 solar panels on top to cover all of the Pavilion's electricity needs for the next six months.
The energy also powers a desalination plant for saltwater that's drawn out of the ground. That water is then used for the plants, the dry mist fans, and for cleaning.
Three climbing robots, making their debut at the Pavilion, help to care for the plants.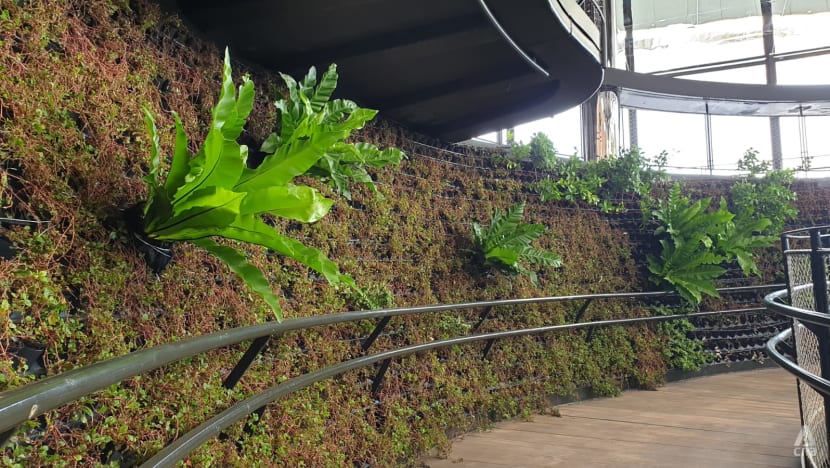 Designed by Singapore start-up Oceania Robotics, the robots have sensors to monitor environmental conditions, and can visually identify when plants are healthy, unhealthy, or sick, using their camera and artificial intelligence.
If the pots need to be replaced, the robots can do the job instead - a vital task, considering the Pavilion's green cones are up to 10 metres tall.
Such smart solutions are what Singapore can offer to the world, especially the Middle East, according to Enterprise Singapore (ESG).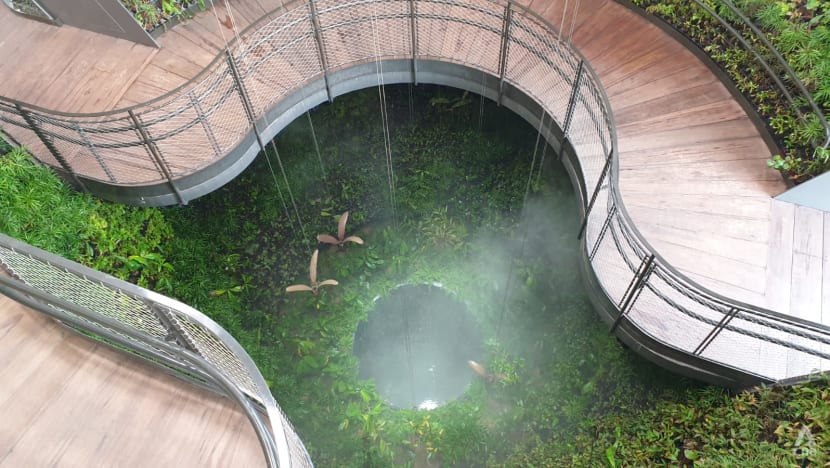 "In terms of the pandemic, there is a lot of effort to ensure sustainability, not just from the ecological perspective, but also in terms of your food security," said Imran Hamsa, ESG's regional group director for the Middle East and North Africa. 
"There are a lot of Singapore companies here exploring agri-tech, for example, in terms of trying to facilitate localisation of high-tech farming, (or) increase yield, for example, and these are efforts that are also much sought after by the United Arab Emirates.
"Both Singapore and the UAE work towards the Sustainable Development Goals, and this is where Singapore companies should take heed and sit up and understand there are opportunities here in terms of alignment, in terms of national goals."
SHOWCASE OF NEW AND OLD BRANDS
More traditional exports can also be found at the Singapore Pavilion.
Visitors can eat or buy products from 15 small and medium-sized enterprises, including newer brands like Supermama, and heritage names such as Wellie Batik.
Some are using the six-month Expo as a platform to explore new markets outside Singapore.
For food business Jumain Sataysfaction, being part of the Pavilion is a chance to give international visitors a taste of its signature product.
The Pavilion's retail curator and food consultant Jean Winter, who is a Singaporean based in Dubai, said the brand was chosen because the satay's flavours remain authentic even in overseas markets such as Dubai and Hong Kong.
And that's because the spices are mixed and the satay marinated in Singapore, before being frozen and exported.
Indeed, managing director and third-generation owner Samsiah Suliman said that when the business first expanded into Dubai more than 10 years ago, the locals found the satay oddly sweet as they are more used to a savoury taste for meat products.
But over time, they accepted it.
That has made Jumain Sataysfaction optimistic about global opportunities. However, tricky meat import restrictions in other countries have limited growth elsewhere.
And the COVID-19 pandemic is also hampering further expansion. 
"Especially for frozen products, the freight shipping costs went up remarkably, you know, it's like three times," said Mdm Samsiah.
She's now exploring setting up kitchen facilities with partners in Saudi Arabia and training local workers to make and marinate the satay - the first time the business is venturing into technology transfer.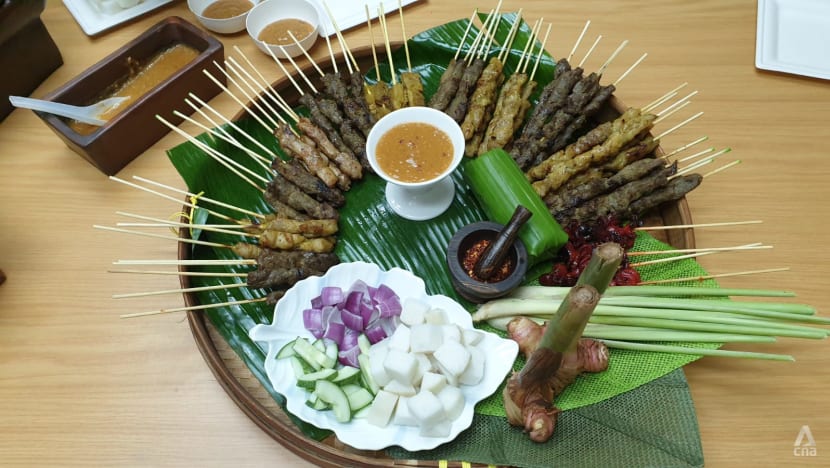 Mdm Samsiah said the Expo is an opportunity to find other suitable partners. The brand also fits in with the Pavilion's eco-friendly theme.
It has revamped its packaging to use less plastic, and will also be moving into a Green Mark Platinum building this year. 
But no matter how the business expands and evolves - the crucial thing is that the flavour must stay the same.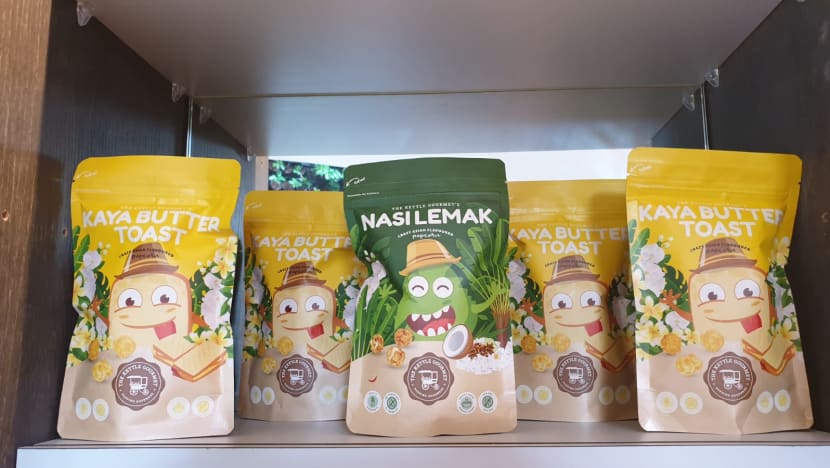 A DIFFERENT SLICE OF SINGAPORE
Mrs Winter believes flying the Singapore flag also means presenting different facets of Singapore.
"To be able to tell the people in Dubai or our international guests that this is our national flower, that has been drawn by one of the autistic kids, there's such amazing talent - we are bringing a slice of Singapore with us, and through different ways."
That's why The Art Faculty, a social enterprise run by the Autism Resource Centre, is among the brands showcased.
Products feature art drawn by people with special needs, most of whom are on the autism spectrum.
Its ambition is to support more of these artists by expanding its e-commerce business into a global marketplace.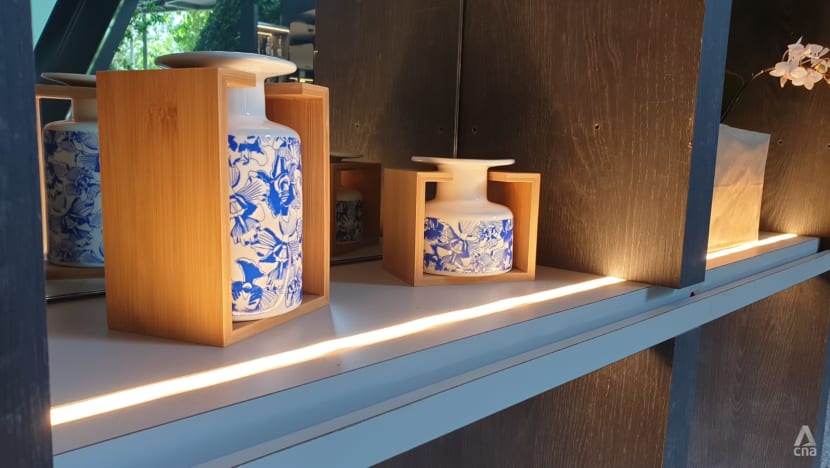 "The Expo is our first foray into the international market. It's also a very good testbed for us to see how our products would be received by the international market. So we hope through this, interested parties who are willing to work with us can help us to expand this and to achieve our mission," said the centre's executive director Jacelyn Lim.
Ultimately, being commercially viable ensures that it can continue providing dignified work for people with special needs, she added.
Eventually, The Art Faculty hopes to provide more job opportunities for its beneficiaries, including warehousing and packing work for its e-commerce business.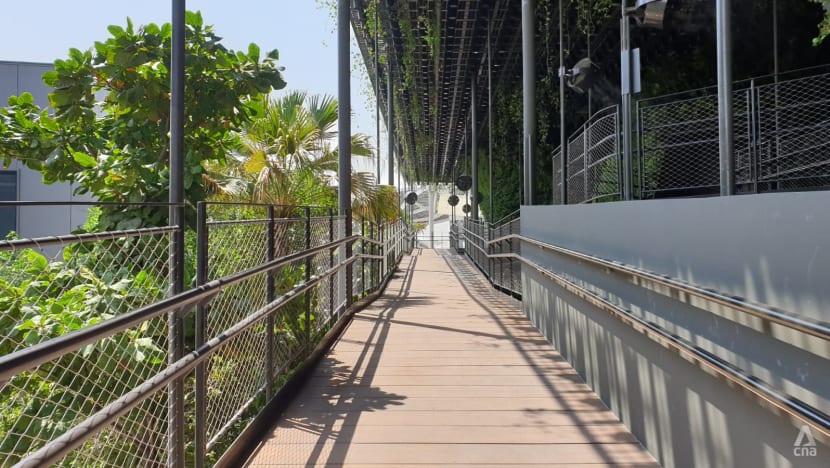 SHOWCASING SINGAPORE'S OPENNESS TO THE WORLD
The Expo was delayed by a year due to the COVID-19 pandemic.
Despite the difficulties caused by manpower shortage, Mr Ng said it's vital for Singapore to be part of what Dubai is dubbing "The Greatest Show in the World", and show that it's open to seeking solutions to the great challenges of our time, be it the pandemic or climate change.
"The Singapore Pavilion is a platform to connect to the world. It's a platform for collaboration. It's also a platform where we can discuss many issues relating to the future."