Singapore's power sector can be net zero by 2050, says expert study which lays out various strategies
SINGAPORE: It is "technically viable" for Singapore's power sector to achieve net-zero emissions and aspirations to do so by 2050 are "realistic", an expert committee tasked to examine the future of the country's energy system said in a report released on Tuesday (Mar 22).
To achieve that, "transformational changes" will have to be made to the entire energy value chain – from supply and demand to the development of the country's power grid.
For example, Singapore must diversify its energy supply by having more electricity imports and using low-carbon hydrogen for power generation, as part of nine recommended strategies laid out in the 56-page report.
However, the committee noted that the process of reaching net zero will be challenging given the uncertainty of technology and geo-economic trends, as well as Singapore's limited renewable energy potential.
There will inevitably be trade-offs, such as an increase in cost, it said.
The Energy 2050 committee, which consists of nine experts from the private and public sectors, was commissioned by the Energy Market Authority (EMA) more than a year ago to study long-term trends that will affect Singapore's energy sector and provide authorities with recommendations for the future.
These trends include how electricity demand will rise in the coming decades due to economic growth, digitalisation, and electrification of transport and some other sectors.
Solar power generation and battery energy storage systems are also set to become cheaper and more efficient, while distributed energy resources like solar generation systems and electric vehicles are likely to proliferate hence affecting how the power grid is to be managed.
In coming up with its proposals, the committee – chaired by Mr Choi Shing Kwok, director and chief executive officer of the ISEAS – Yusof Ishak Institute – noted that it was "not possible to craft a single definitive long-term strategy" given how complex the energy transition will be.
It therefore adopted a "scenario-based approach" where it came up with three plausible scenarios of what a decarbonised Singapore power sector may look like in 2050.
The scenarios differ on how long the world takes to recover from the COVID-19 pandemic which in turn affects the geopolitical environment and technological advancements.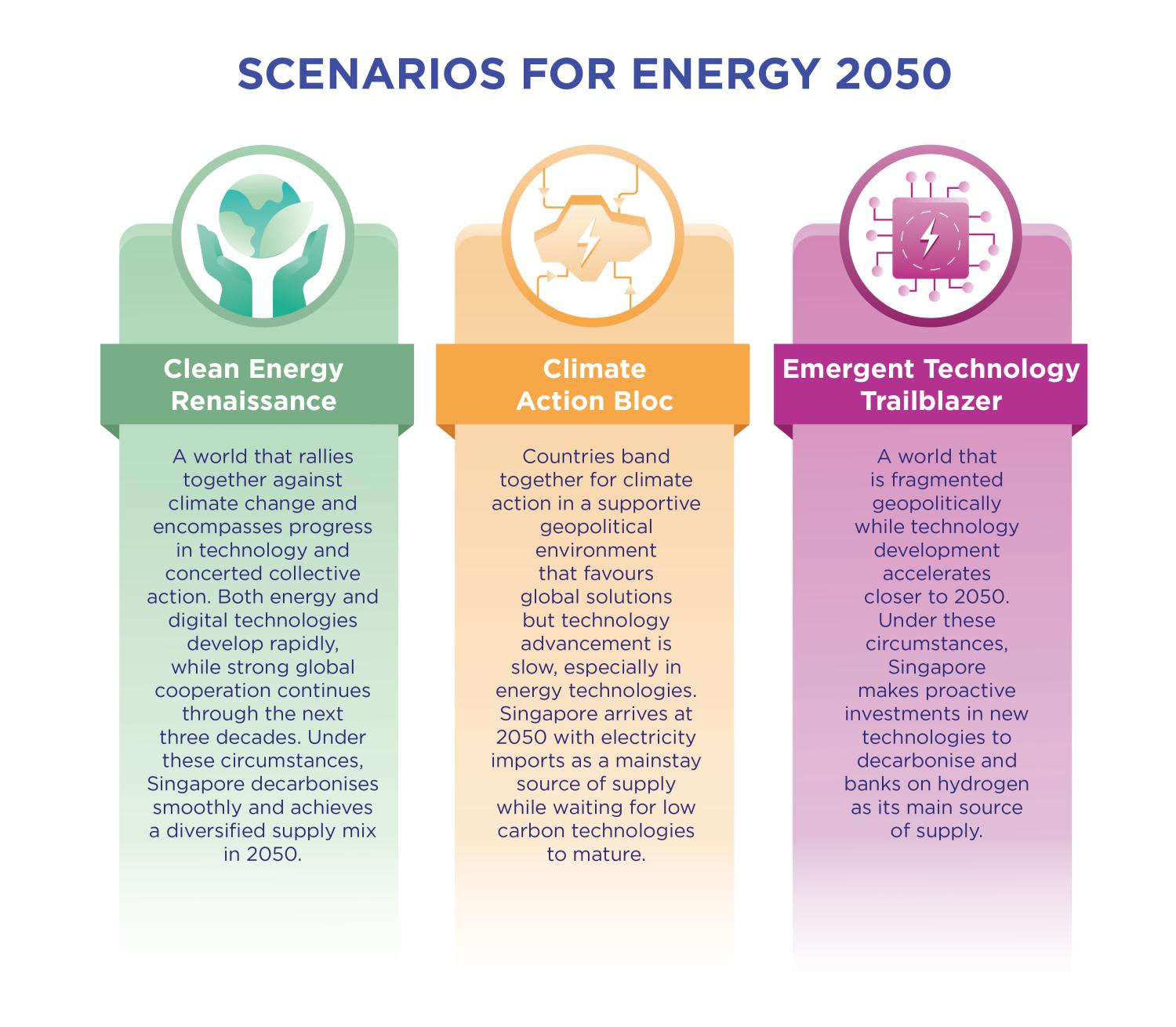 While Singapore takes on a different decarbonisation journey in each scenario, the committee said it is evident that electricity imports, hydrogen, solar and energy storage systems will be important. New low-carbon supply alternatives and carbon markets may also play key roles.
In tandem, efforts must be made to manage the growth of energy demand and shape user consumption to "provide a longer runway to deploy supply-side measures, while also lowering costs".
A "multi-layered grid" with digital technologies for security and efficiency will also be required amid the proliferation of distributed energy resources and other changes by then.
With these various pathways towards becoming net zero, the committee then came up with several strategies that will enable Singapore to be well positioned for this transition.
EMA, in a separate press release, said the report's findings are "timely and significant" given Singapore's updated climate target to reach net-zero emissions by or around 2050 and how the power sector currently accounts for about 40 per cent of the country's carbon emissions.
The authority added that it will study the recommendations put forth by the committee and "announce new developments when ready".
STRATEGIES TOWARDS DECARBONISATION
First, the committee said Singapore must decarbonise and diversify its energy supply mix.
One way will be to pursue electricity imports to access cleaner and cost-effective energy sources beyond its borders. This will be key in the near term, as the technology for transmitting electricity over long distances are mature and well-established, the report said.
Singapore will be starting its trials for electricity imports this year. To ensure supply security, the country will need to develop a diversified portfolio of import partnerships supported by a regional grid and trading platform, as well as cost-efficient back-up supply options.
Hydrogen, particularly low-carbon hydrogen, can also play a major role in Singapore's supply mix in the medium to long run. Singapore should develop "a national hydrogen strategy" and work with local and international stakeholders to develop a robust hydrogen supply chain, the report said.
Solar is another potential supply, although that will require more innovative deployment options, the use of the latest solar photovoltaic technologies and more energy storage systems.
Other strategies mooted include tapping carbon markets to address "residual and hard-to-abate carbon" and monitoring technology developments for new low-carbon supply alternatives, such as carbon capture, utilisation, and storage, geothermal and nuclear fusion technologies. 
Second, Singapore's power grid will need to be enhanced with advanced control systems and digital technologies such as artificial intelligence, and advanced modelling and simulations.
This involves creating a "multi-layered grid", which will be necessary to manage the growth of distributed energy resources that require "grid resources and control mechanisms to evolve beyond the transmission level to be deployed at the distribution level".
Lastly, as electricity demand typically increases with economic growth, Singapore should be more active in controlling demand growth.
For one, the committee recommends working with key sectors to actively plan and budget the use of electricity.
"When necessary, Singapore should pace the growth of energy demand, particularly for high-growth and energy-intensive sectors. This provides greater scope for Singapore to capture high value-add economic opportunities when they come along, without sacrificing its climate action objectives," it said.
"The Government should also work with energy-intensive sectors that are key to Singapore's economy, such as advanced manufacturing and data centres, to develop deployment roadmaps in advance wherever possible."
More can also be done to shape end-user consumption, the committee added, noting that technologies such as smart energy management systems are currently untapped due to a lack of awareness.
It suggested enhancing the current market, where most users are purchasing electricity via fixed-price contracts, to "provide price signals and incentivise behavioural change among end users". 
"Singapore should review its market design such that adequate price signals flow through to end users, complemented by more active education and engagement efforts," it said, adding that this can help to shift consumption away from periods of high demand through technologies like smart energy management systems.
CHALLENGES AND TRADE-OFFS
That said, the committee recognised that the transition to net-zero, while feasible, will be "a complex and challenging endeavour with inevitable trade-offs".
Uncertainties, such as geopolitical trends and technological advancements in various low-carbon energy solutions, could lead to changes in the decarbonisation journey. There will also be trade-offs that have to be carefully managed.
"In some instances, Singapore may need to deploy new energy technologies that are more economically costly, yet are overall beneficial after considering the positive impact to energy sustainability and security," it said in the report.
"The energy transition would inevitably result in an increase in cost, but it is unavoidable if Singapore wants to make the energy system more sustainable and secure in a carbon-constrained future."
On the other hand, there are also opportunities for Singapore to "position itself as a technology frontrunner and become a living lab for innovative energy solutions". 
Asked by CNA if the recommendations took into account the recent global energy crisis and the ongoing conflict in Ukraine, Mr Choi said while the committee's different scenarios do not make direct reference to these events, the study did consider the impact of geopolitics and the state of the world economy.
"Both the energy crisis last year and the impact of the war in Ukraine this year show up the importance of energy security," he said, noting that the committee "placed a high premium on maintaining energy security as the sector is transformed, and recommended diversifying supply sources and having good backup systems for transmission failures".
He added that the recent events also showed how structural price changes in fossil fuels, for example due to prolonged sanctions, can impact the pace of technology development in low-carbon alternatives. These different rates of technological advancements are also included in its scenarios.
"Given this, we believe the scenarios and strategies in the report are robust enough to take into account the implications of the recent developments even though they are not explicitly mentioned," he said.
In its press release, EMA noted that there are ongoing efforts to decarbonise the power sector, such as its earlier announced target to import up to four gigawatts of low-carbon electricity by 2035.
It is also taking active steps to invest in the research of low-carbon technologies, such as hydrogen and geothermal energy, and continues to monitor global developments in areas such as nuclear energy and their implications for Singapore.
EMA's chief executive Ngiam Shih Chun said: "The power sector's journey towards net-zero emissions will be complex and challenging. This study by the Energy 2050 Committee serves as an invaluable guide and will help to signal the path ahead to all the key stakeholders in the energy sector."