Singapore will reactivate TraceTogether and SafeEntry 'if situation requires': Ong Ye Kung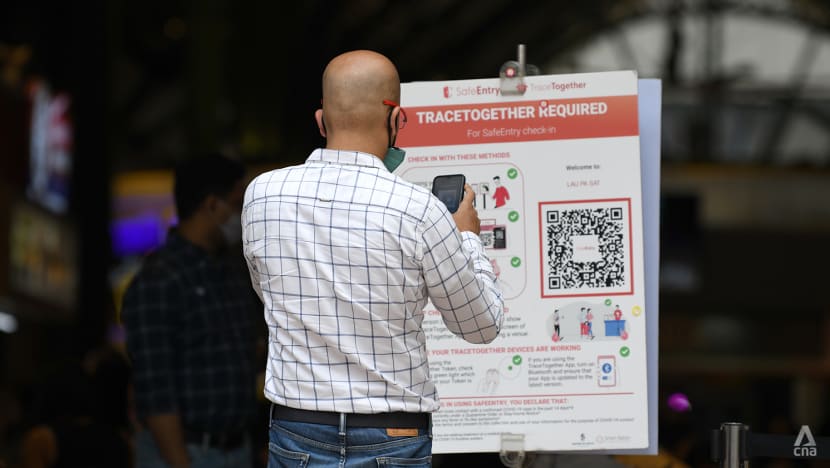 SINGAPORE: While Singapore's COVID-19 situation has stabilised, the public should not delete their TraceTogether apps or discard their tokens as the country will step up its vaccinated-differentiated safe management measures if necessary, said Health Minister Ong Ye Kung.
"We are taking a cautious, 'step down but not dismantle' posture for our public health measures. If the situation requires, we will have to step up (vaccinated-differentiated measures), and reactivate TraceTogether and SafeEntry," he said in Parliament on Monday (May 9).
He added that this will be determined based on the severity of the situation and is a "matter of judgment".
"We will have to take into account if there is a new variant of concern, whether it is more severe or more infectious than Omicron, whether past infections and current vaccines continue to confer strong protection against the new variant, and how all these affect our hospital capacity," he said.
"I can understand some members of the public want a system with transparent and clear triggering points, but I am afraid this is not possible when we are in a pandemic crisis with fog of war," he said.
"We do what is necessary to protect lives when danger is upon us, and we will step down measures when they are no longer necessary, no longer necessary, so that people can resume their normal lives."
Responding to questions from Member of Parliament Lim Biow Chuan (PAP-Mountbatten) on whether individuals who are not fully vaccinated can be allowed to enter malls and dine in F&B outlets, Mr Ong clarified that they can enter malls, as measures have been "significantly" removed for non-fully vaccinated persons.
However, with a "high" possibility of a next infection wave and the threat of new variants, Mr Ong said there is a need to remain cautious.
That is why vaccinated-differentiated measures continue to be implemented in the three most risky settings: Nightlife outlets with dancing, events with more than 500 participants at any one time, and F&B outlets, where there is a constant flow of diners who are mask-off and interacting.
"For F&B, we will however not deploy TraceTogether and SafeEntry, and instead put the onus on customers to ensure they are fully vaccinated before visiting an F&B outlet," he said, adding that the task force will continue to review its vaccinated-differentiated measures as the pandemic situation evolves.
DORSCON FRAMEWORK TO BE REVIEWED 
Responding to questions about Singapore's Disease Outbreak Response System Condition (DORSCON) framework, Mr Ong said that while the framework is "most likely still relevant", it needs to be part of a larger emergency preparation and public communications framework.
He pointed to how the announcement of the DORSCON level in the initial phase of the pandemic led to panic-buying in supermarkets.
"This is a key issue for review, as DORSCON is meant to bolster preparedness, not to induce public anxiety," he said, adding that the framework will be reviewed post-COVID-19 along with its response measures.
From a public communications point of view, he said the public pays "much less" attention to DORSCON level, but takes care to understand the various public health measures in detail and then respond accordingly.
"I am confident that today, we have a much more sophisticated public that understands what they need to do when a pandemic turns for the worse," he said.