'The worst holiday ever': Singaporean warns fellow travellers to buy insurance after hospitalisation for brain bleed
Madam Raha Rahmat, 48, and her daughter went to South Korea for their first trip since 2018. They tell CNA about how she fell seriously ill and had to raise funds online to pay off thousands of dollars in medical fees.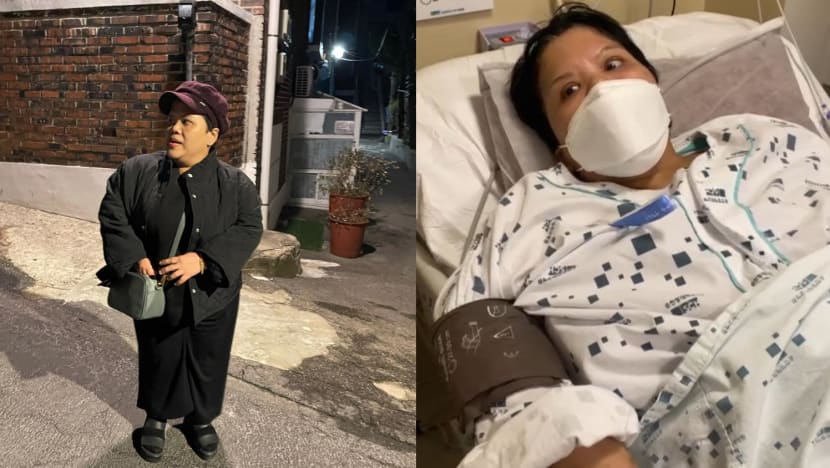 SINGAPORE: What was meant to be their first trip abroad since the COVID-19 pandemic struck turned into a nightmare for Madam Raha Rahmat and her teenage daughter, when the older woman collapsed on their first night in South Korea.
The 48-year-old single mother was rushed to the nearest hospital where she was diagnosed with a life-threatening brain haemorrhage, or bleeding in her brain.
To make matters worse, the family had not bought travel insurance.
Knowing they would have to shell out thousands of dollars for her hospital fees and emergency medical evacuation to Singapore, Raha's 18-year-old daughter, Ms Nur Amiliya Arba'a, found herself at her wit's end.
Speaking to CNA over the phone from Soon Chun Hyang University Hospital in Seoul, the mother-and-daughter pair said they skipped getting travel insurance simply because they did not think it was important.
"I didn't expect that such a terrible thing would happen," Mdm Raha added.
It was also a hastily planned trip, with Ms Amiliya — a big fan of Korean culture — coming up with the idea in October.
The pair, along with Ms Amiliya's aunt and cousin, booked their trip for Dec 5 to 14. Everyone save for her cousin extended their time in Seoul to help Mdm Raha when she fell ill.
Ms Amiliya ultimately turned to fundraising platform GIVE.asia to pay the hospital bill. Mdm Raha, a contract worker, was unemployed after her most recent contract ended before they went on their trip.
Within a week, Ms Amiliya successfully raised about S$37,000 — slightly more than her initial goal of S$35,000 to cover the hospital and medical evacuation fees.
The Nanyang Academy of Fine Arts student and her mother returned to Singapore on Christmas Eve on separate flights. Mdm Raha was subsequently admitted to Singapore General Hospital (SGH) for further treatment.
Why is it important for people to buy travel insurance?
A General Insurance Association of Singapore (GIA) spokesperson said that aside from medical benefits, those who buy travel insurance can receive financial reimbursement for minor travel inconveniences such as travel interruptions, theft of personal belongings and baggage delays.
Most travel insurers now also provide enhanced COVID-19 coverage.
Policyholders are able to access services that may come in handy, including 24-hour overseas emergency hotlines. This can come in handy especially in destinations with language barriers and limited access to medical services.
Depending on the policy, travel insurance may also cover possible losses from before, during and even after an overseas trip for accidental injury and illnesses sustained during the trip.
"Therefore, it is important to purchase travel insurance even if it is a day trip to Malaysia. This would offer peace of mind when travelling in the event of unforeseen circumstances," said the GIA spokesperson.
Some common reasons why people do not buy travel insurance are:
The perception that no mishaps would happen during the trip because none have happened in past trips

It is seemingly expensive or inconvenient to purchase

Thinking it is not required if travelling to a nearby destination

It is only necessary if one travels to a high-risk region
When searching for a travel insurance policy, people should obtain product summaries and policy wordings of the various policies to better compare and understand the premiums, coverages, limitations, and exclusions.
Some factors that one should consider include their frequency of travel, destination, itinerary and activities, and budget, added the GIA spokesperson.
HAD NO HEALTH PROBLEMS
During the hour-long phone interview shortly before their return, Ms Amiliya and Mdm Raha, who is now conscious and able to converse, recounted how the incident unfolded.
The last time they travelled overseas was to the city of Dubai in the United Arab Emirates in 2018. Mdm Raha also did not have any health issues save for a total knee replacement last year.
"She had no high blood pressure. When she went for polyclinic checkups, she was fine. She had no problems," Ms Amiliya said.
Upon arriving in Seoul on the afternoon of Dec 5, they left their belongings at their Airbnb apartment before heading out to get some food. It was around -6 degrees Celsius and Mdm Raha's outer clothing was "very thin", she said.
When they returned to their accommodation, she felt dizzy and lay down in bed. Ms Amiliya left her in the room to rest, only to realise a while later that she had collapsed on the ground.
Ms Amiliya called for an ambulance and tried her best to warm her mother up. She could still talk but was slurring her words. When paramedics arrived, they found that the left side of her body was non-responsive and her blood pressure had skyrocketed.
Fearing a brain haemorrhage, they took her to the hospital where she underwent scans in the emergency ward.
Ms Amiliya said that a possible cause of the haemorrhage was the change in air pressure while they were flying to Seoul, which could have led to a vein rupturing in her brain. The weather was also extremely cold, though they had prepared for that by packing warm clothing and heat packs.
The situation quickly grew more stressful for Ms Amiliya. Aside from the language barrier, she said that hospitals in South Korea rely on caregivers instead of nurses to care for patients. She also could not leave the building because the hospital did not allow caregivers to do that.
Ms Amiliya's aunt helped with administrative matters like calling the Singapore embassy and sending emails to figure out how to get Mdm Raha home.
Mdm Raha stayed in the intensive care unit for about a week due to the severity of her condition. She was then cleared on Dec 19 to return to Singapore, but was told she had to remain on a stretcher.
The family liaised with SGH staff who helped them to engage Hope Medflight Asia. Mdm Raha flew back to Singapore with SGH medical officers, while Ms Amiliya returned on a commercial budget flight.
"REALLY A BAD EXPERIENCE"
When the conversation turned to travel insurance, Mdm Raha bemoaned her decision not to get it. The thought crossed her mind before they left Singapore, but they did not buy any travel insurance policies for previous trips either.
Her hospital bill came up to about S$20,000, and they had to pay another S$18,500 for the medical evacuation.
When Mdm Raha was hospitalised, her family members went to the Singapore embassy in Seoul, asking if they could use her Central Provident Fund savings to pay the hospital fees. 
They also contacted all of Mdm Raha's insurers in Singapore but were told that her policies did not cover overseas hospitalisation.
Their last resort was to start a fundraising campaign, as suggested by Ms Amiliya's aunt's friend. Ms Amiliya said the family was grateful to the 600 or so donors, some of whom gave sums of S$500 to S$600.
Mdm Raha cautioned her fellow travellers: "Buy travel insurance even if you think nothing is going to happen, because air pressure can sometimes affect your brain — especially those who have high blood pressure.
"It was really a bad experience. The worst holiday ever after many years."
Share your experience: Do you have a nightmare holiday story to share? Email us at

digitalnews

[at]

mediacorp.com.sg

to tell us.