'I'll never forget the Ukrainians who helped us escape': Singaporean evacuated from Ukraine by Malaysia shares his story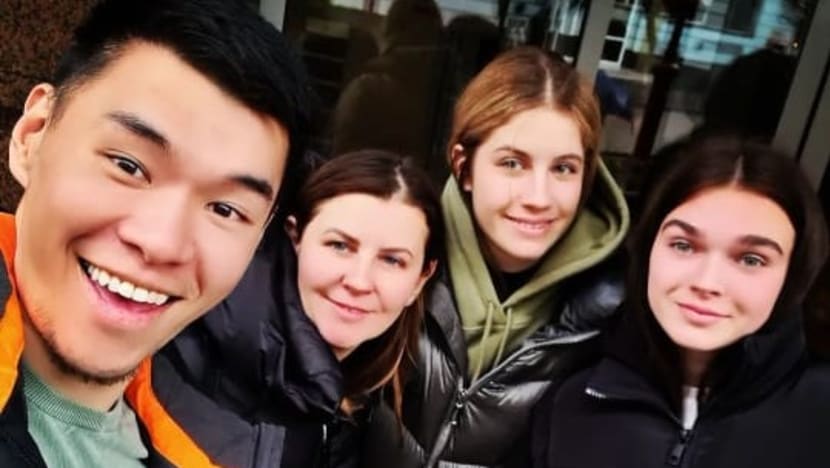 SINGAPORE: Mr John De Witt, the Singaporean who was evacuated from Ukraine by the Malaysian embassy, arrived in Kyiv in November last year, all ready to begin his "fresh start". 
Since he was in secondary school, the 29-year-old freelancer in the computer science and financial markets said he "dreamt of living in a different country with snow". It also helped that he was "absolutely intrigued" by European culture. 
So he had plans to travel and explore Eastern Europe with Kyiv, the capital of Ukraine, as his home base. He even planned to invest in a few hotels while there. 
But the Russian invasion began when he had just returned from a snowboarding trip in the Carpathian mountains. 
Russian President Vladimir Putin launched a full-scale invasion of Ukraine on Feb 24. At least 136 civilians have been killed and more than 600,000 people have fled Ukraine.
"I was actually having the time of my life. I, and many others, thought that Putin was bluffing. That his game was … just threats to scare potential foreign investors to keep the country economically weak. How wrong I was," Mr De Witt told CNA over WhatsApp. 
He was the only Singaporean among a group of 12 people who were evacuated by Malaysia from Ukraine's capital, Kyiv, following the invasion. The group also comprised nine Malaysians and two Ukrainian dependents. 
They arrived at the Korczowa-Krakovets border of Ukraine and Poland on Feb 27 at 5.45am, Malaysia's Ministry of Foreign Affairs said in a Facebook post.
They were led by Ms Fadhilah Daud, Chargé d'Affaires ad interim of the Malaysian Embassy in Ukraine.
In the days prior to being evacuated, Mr De Witt thought he was on his own – but he told CNA he was prepared for it. 
"I got myself into this mess. Now I have to get myself out," he said.
"I used all resources available and tried to get on a bus or a train. It was hopeless. The train station was overrun with scared and desperate people all trying to do the same. The few Ukrainian soldiers trying to keep order had to fire blanks just to keep the crowds from turning into a stampede. 'Women and children first!' they yelled. It felt like a real war novel.
"I looked at the thousands of screaming women and children, absolutely filled with terror and fear. I knew there was no way I'd get on the train."
GETTING TO THE MALAYSIAN EMBASSY
It was then that Mr De Witt's mother and a Ukrainian friend who was still in Kyiv stepped in. 
His mother informed Singapore's Ministry of Foreign Affairs (MFA) on Feb 24 about his whereabouts. He was then put in touch with "Danny" – a contact from MFA. 
"At the perfect moment right after I gave up on the trains, Danny messaged me about the Malaysian embassy (in Ukraine). He told me not to go there yet and to wait, but I didn't want to waste a single second. It was either that or find an abandoned car and start driving," said Mr De Witt.
"I was determined to leave that day (Feb 25), no matter what. I wasn't going to wait. I Google-mapped the address, confirmed with Danny and made my way." 
Mr De Witt's friend then offered to give him a lift to the train station and subsequently to the embassy, when he couldn't board a train. 
At the Malaysian Embassy, Mr De Witt was greeted by a "nice man who offered me food and drinks", whose name he only remembers as Encik Amin. This man told Mr De Witt to "relax" as they were awaiting "confirmation and coordination with other ASEAN embassies". 
"Then I met the other Malaysians and their partners. We didn't know if we would leave that day or the next. I made my position clear that we should take any opportunity to leave sooner rather than later," he added. 
Mr De Witt recalled that Ms Fadhilah, the Chargé d'Affaires ad interim, called a meeting shortly after he arrived and shared his sentiment. 
"We were to leave for Lviv (a city in western Ukraine, around 70km from the border with Poland) within the hour. We had four cars in total, with two Ukrainians leading the way in the van upfront. They were (Ms Fadhilah's) friends," he said.
WITNESSING "THOUSANDS OF UKRAINIANS" FLEEING
But their journey was met with initial car troubles, including one car's engine overheating, while another ran out of fuel. 
"With all the gas stations sucked dry, we were running out of options. I suggested as a last resort we get a tube and a jerry can to siphon fuel from abandoned cars. Thankfully we didn't have to resort to such tactics … luckily the seventh or eighth gas station that we hit had fuel," said Mr De Witt.
Along the way to Lviv, he recalled seeing many roadblocks by military and armed civilian volunteers. The roads had "mounds of traffic", and there were "thousands of Ukrainians fleeing west" on the streets. 
"My phone was blowing up with messages from friends all over the world and in Ukraine asking for help, checking if I got out safe and the like. I helped out with whatever information I could provide," he added. 
"But as we got closer to Lviv, the plan changed. Due to the martial law placed on cities, we didn't want to risk getting stuck in Lviv, so we decided to go around and head directly to the border."
Near the border of Poland, Mr De Witt saw "almost 30 to 40km of a single line of cars lined up trying to get through". 
"(Traffic) was nearly at a standstill. Some had waited for over 12 hours ... Thankfully, the Malaysian embassy in Poland allowed us to use a VIP lane to overtake them," he said. 
Right at the border, Mr De Witt said "thousands of foreigners and Ukrainians alike who had no cars or had abandoned them were trying to get out on foot in the freezing cold", but they couldn't cross the border on foot. 
"You had to be in a vehicle. So they huddled around makeshift campfires of tree branches and newspapers," he added.
"The sight of this honestly broke my heart. You could see the fear in their eyes … the despair … Men, women and children crying, uncertain of what tomorrow would bring. Their homes and lives lost …" 
ARRIVING IN POLAND "EXHAUSTED"
After 40 hours in a car, Mr De Witt and his companions were "mentally, emotionally and physically exhausted" by the time they arrived at Warsaw, Poland in the early hours of Feb 27. He then took a shower and went to sleep. 
"It was a uniquely terrifying experience," he told CNA. 
"I am forever grateful to the Malaysian embassy and to my fellow travellers for remaining calm and helpful for the entire trip. (After arriving in Poland), I basically made my own arrangements and was even provided a night to stay at the hotel free with the other evacuees.
"That night, the Malaysian trade commissioner of Poland bought us all dinner. The Malaysians left the next day."
Reflecting on his ordeal, Mr De Witt said his friends and family were "terrified" for him, but he told them "only the good news" because he didn't want them to worry. 
"I did expect on some level to deal with something like this when I came to Ukraine, so I wasn't totally unprepared. I just told myself to remain calm no matter what and to find a way, fixing one problem at a time," he added. 
"My NS experience (in Singapore) definitely helped here … I didn't see actual combat, but looking at my friends who were snipers and commandos, it sort of prepared me mentally to expect death or to fight and take a life. So I had that mentality that I may actually have to kill somebody if they threaten my life."
"NEVER HAVE I SEEN SUCH CAMARADERIE AND SOLIDARITY" 
At the moment, Mr De Witt is in Thailand, where he will continue with his work and travel plans. 
But he hasn't completely written off Ukraine; when the dust settles, he would love to return to the country. 
"It's a beautiful country with beautiful people and I absolutely love their culture. It's absolutely heartbreaking that this happened to them. I hope my fellow Singaporeans and the world learn from this, and to value their freedoms and the luxury they have," he said. 
Mr De Witt added that war "never changes" and the "young and innocent pay with their lives and future". 
"I will never forget the Ukrainians who helped us escape and volunteered to stay behind and fight for their freedom. Never have I seen such camaraderie and solidarity. I must say I am amazed by the Ukrainian people," he said. 
"Unbelievably brave while facing down a behemoth."