​​​​​​​'They used to physically recoil': How stigma around Singaporeans with HIV changed over the years
Locals living with HIV tell CNA how things have gotten better for them - even if some people still have the misconception of it being a "gay" disease.
SINGAPORE: Like time had stopped, the world had ended and everything was over.
That was how Mr Calvin Tan, then 19, felt when he found out he had contracted the human immunodeficiency virus (HIV) after having unprotected sex with a stranger.
He would spend the next two weeks grappling with shock as he waited for confirmation through a full blood test. 
"It was the realisation that whatever I'd done in the past, it kind of accumulated to the moment of being diagnosed with a condition associated with years of stigma, discrimination, death and rejection," said Mr Tan, who was studying in Singapore Polytechnic at the time in 2015.
He wondered how to get treatment without a source of income.
Should he tell his family and friends? Could he even get a job with his diagnosis? Could he reject his HIV-positive status and live in denial?
These questions ran through his mind, along with the starkest thought of all.
"Do I still want to carry on living? Because I did contemplate suicide back then," he said candidly, over the phone.
Jump to 2022 and Mr Tan, now 26, has been open about his condition for more than four years.
There have been positive developments since his diagnosis, he told CNA ahead of World AIDS Day on Thursday (Dec 1).
Most significantly: A reduction in stigma around those living with HIV, and more awareness of what it is.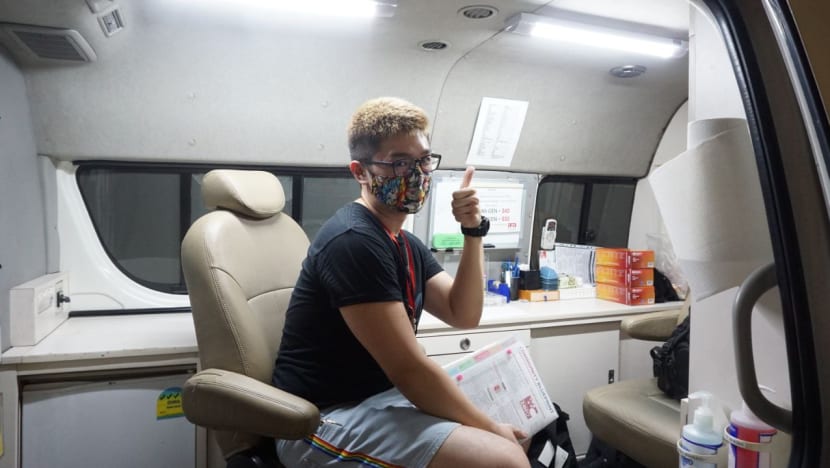 WHAT IS HIV AND AIDS?
HIV attacks the body's immune system, specifically its white blood cells. There is no cure but with treatment, an HIV-positive individual can maintain an undetectable viral load.
This means there is effectively zero risk of transmitting HIV to their sexual partner, even if they do not use condoms during penetrative sex.
HIV-positive individuals who do not get treated can develop AIDS (acquired immunodeficiency syndrome), which is potentially fatal. This typically takes anywhere between five to 10 years.
Other than unprotected sex, a person can contract HIV by sharing injection equipment, contaminated blood transfusions and organ or tissue transplants. It can also be passed from a mother to her unborn child.
In Singapore, the number of new HIV infections among residents in 2021 fell to its lowest — 250 — in 18 years.
The Ministry of Health said sexual intercourse remains the main mode of HIV transmission, with 95 per cent of cases contracting it this way. Men who have sex with men accounted for almost two-thirds of cases.
HEALTHCARE LEAPS
Medical advancements and increased educational efforts have helped lessen the stigma surrounding HIV, said those who spoke to CNA.
Mr Tan's sexual partners used to immediately end things once he disclosed his status. "They would flinch; they used to physically recoil," he said.
Some friends also stopped asking him out after he told them.
Today, however, his partners ask more questions on what he's going through, and are cognisant of the "undetectable = untransmittable" movement, Mr Tan added.
The global campaign aims to highlight how people living with HIV cannot transmit the virus to their partners sexually if they are on effective antiretroviral therapy and have an undetectable viral load.
While the identities of HIV-positive individuals are protected under the Infectious Diseases Act, they are legally obliged to tell their sexual partners of the risk. Their partners also have to voluntarily agree to accept the risk of contracting HIV.
Another Singaporean man living with HIV, who wanted to be known only as Sam, told CNA that better access to healthcare has also vastly improved his circumstances.
The 32-year-old was diagnosed about a decade ago through a screening at the end of his National Service.
When he began treatment in the form of antiretroviral pills, he bought generic medicine from Bangkok or from runners who procured them from overseas, because it was too expensive in Singapore.
That was before the COVID-19 pandemic brought global travel to a halt. Sam then began paying about S$200 to S$300 more a month, in order to get his medicine from the National Centre for Infectious Diseases at Tan Tock Seng Hospital.
Fortunately, prices dropped when MOH added 16 antiretroviral drugs to its list of subsidised drugs as well as the Medication Assistance Fund in September 2020.
Subsidised patients who purchase any of the 16 drugs will be able to receive a 50 per cent or 75 per cent subsidy.
More HIV-positive individuals are now able to afford the medicine, said Sam. Today, he pays about S$70 to S$80 every month — a big drop from around S$400 in the past. 
Ms Sumita Banerjee, executive director of local non-profit organisation Action for AIDS, said HIV medication has "really changed" over the last 20 years, to now allow those on treatment to have the same life expectancy as others.
She also highlighted new methods encouraging people to be diagnosed early, such as self-test swab kits that were introduced in Singapore in August.
While Mr Tan developed symptoms — a month-long fever — that led him to get tested in the first place, Sam did not have any before testing positive for HIV.
Sam stressed the importance of regular testing if one is at risk of contracting HIV, along with immediately starting on treatment.
Another new development is a long-acting injectable drug, given every two months, that protects those at high risk of HIV infection. The World Health Organisation recommended its use earlier this year.
"MOST EMPLOYERS DON'T REALLY CARE"
HIV is not life-threatening as long as one is receiving treatment — something many Singaporeans now understand, said Mr Tan.
He started noticing that public perception of HIV was shifting for the better shortly before January 2019, when the personal information of 14,200 people from Singapore's HIV registry was leaked online.
The leaks included the names, identification numbers, phone numbers, addresses, HIV test results and medical information of Singaporeans and foreigners diagnosed as far back as 1985.
Mr Tan and Sam, who were not affected, said the data leak piqued Singaporeans' interest in finding out more about HIV and in a way, helped reduce stigma.
"(But) I still think there are pockets of society that feel HIV is a 'gay' disease, even though it affects the heterosexual community as well," said Sam.
For both men, however, worries about employment turned out to be unfounded.
Sam, who was about to enter university when he was diagnosed, rejected a study award from a Government ministry out of fear that he would be punished if they discovered he had HIV.
"It was only later on that I realised most employers don't really care about your diagnosis, unless the profession requires it," he said.
OPENING UP ON THEIR CONDITION
Mr Tan works full-time as a senior executive at Action for AIDS, with a goal to help others and to dispel stigma.
While he thinks that older people like his parents are now more accepting of those living with HIV, this was far from the case when he was first diagnosed.
He hid his condition from his parents for almost three years, until NS rolled around and he was due to receive an exemption letter in the mail.
Afraid that they would see a big green envelope which was "hard to miss", he decided to tell his father first.
The older man took it well and even surprised Mr Tan by saying he understood what HIV was.
With Mr Tan's Mandarin-speaking mother, however, the news was met with disbelief — including over whether treatment would help her son.
"She thought I was going to die … She believed the medication I was taking was a placebo or bogus," said Mr Tan.
"She was very religious and she wanted me to attend classes to get healed. Every day she would ask me 'when do you want to go for healing?' And I told her 'no, I don't want it'."
His mother only relented when she finally accompanied him to a doctor's appointment months later.
Mr Tan now speaks out publicly about his condition, having already begun doing so at closed events during his polytechnic days.
Sam, on the other hand, has chosen to keep his diagnosis a secret from everyone other than his family, partner and some close friends.
"My principle is that if they don't need to know, then there is no need to tell," he said.
But Mr Tan sees it differently.
"I figured that I need to talk about it, to let others know the truth behind being diagnosed with HIV," he said.
"At the very least, I can prevent someone in a similar position from feeling like they are alone."