Singaporeans pay much less in taxes compared to citizens elsewhere: Lawrence Wong
In his Budget 2023 closing speech, the Deputy Prime Minister and Finance Minister says Singapore's tight fiscal position is "very much a reality" over the medium term.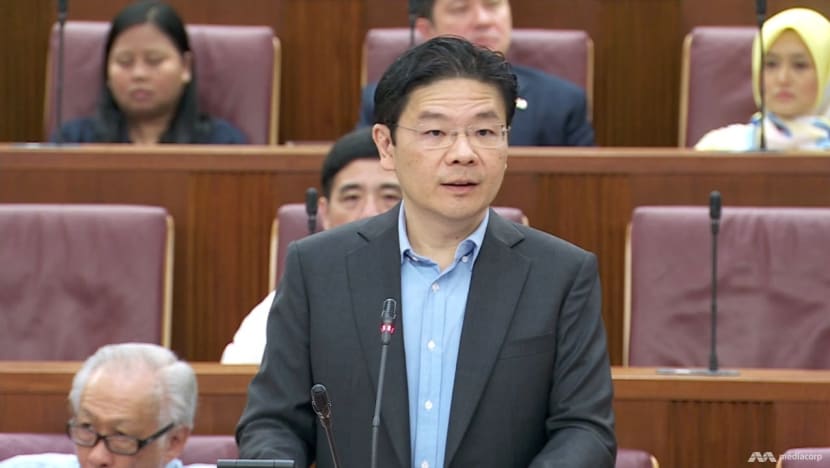 SINGAPORE: Singaporeans pay much less in taxes compared to citizens elsewhere, but still "enjoy high quality public services", said Deputy Prime Minister Lawrence Wong in Parliament on Friday (Feb 24). 
In his closing speech on the debate on Budget 2023, he also described Singapore's tight fiscal position as "very much a reality" over the medium term - hence the need for Singapore to proceed with a second raise of the Goods and Services Tax (GST) in 2024.
"Deferring this will only store up more problems for the future and will leave us with less resources to take care of our growing number of seniors," said Mr Wong, who is also Finance Minister. 
The Budget was passed on Friday after three days of debates. 
Mr Wong noted that Singapore's tax to GDP ratio was, at 14 per cent, "considerably lower" than most other advanced economies. 
"This low tax burden rewards hard work and enterprise, and allows our people and businesses to keep most of what they earn," he said. 
Mr Wong was responding to suggestions raised during the debates by the opposition Workers' Party (WP), for Singapore to use alternative methods of increasing government revenue instead of raising GST.
Addressing the three alternative revenue streams raised by opposition parties in Parliament - wealth taxes, corporate tax and land sales revenue - Mr Wong said "the fact remains that it is very hard for any of them to replace the GST".
"Given our growing needs, it is not a matter of choosing between GST and any of these alternatives," he added. 
"Contrary to what the Workers' Party believes, we will need all of them, and a mix of taxes on income, consumption and assets, to provide sound and stable public finances in Singapore." 
"CANNOT AFFORD TO PRICE OURSELVES OUT"
For instance, a net wealth tax suggested by WP "sounds attractive on paper" but would be hard to implement in practice, said Mr Wong. 
"Many jurisdictions have tried but no one has done it well. This is why many countries have done away with net wealth taxes over the years," he added. 
On corporate tax, Mr Wong stressed that other countries were rolling out "vast subsidies" to strengthen their own competitive advantage; and that competition for global investments would only get tougher. 
"We may not be able to outbid the major powers' spending, but we certainly cannot afford to stand still," he said. 
Multinational enterprises are already "making clear" to the Government that they will no longer enjoy the same advantages in Singapore because of the base erosion and profit shifting (BEPS) tax initiative. 
"They asked us, 'what else can Singapore offer to stay competitive?'" Mr Wong said. 
"We cannot afford to price ourselves out of the competition, or else Singapore and Singaporeans will end up the biggest loser(s)." 
As for treating land sales proceeds as revenue divided over lease periods - mooted by the Progress Singapore Party's (PSP) Non-Constituency Member of Parliament (MP) Hazel Poa - this would unlikely generate more revenue than what Singapore is already getting today, said the minister. 
"Currently, when the state sells land, the financial proceeds go into past reserves and they are invested to generate a stream of income to our Budget through the NIRC (Net Investment Returns Contribution)," Mr Wong added. 
This means that Singapore can spend more than 1 per cent of the proceeds each year, because the reserves are "prudently" invested and generate long-term returns. Half of this can be spent as revenue, said the Deputy Prime Minister. 
"We believe this is a more sustainable way of deriving value from the land we own, through the NIRC, that benefits us now and in the future." 
"SINGAPOREANS NEED TO CHIP IN TOO"
In a speech on Wednesday to open the debates, WP chief and Leader of the Opposition Pritam Singh had warned of "two Singapores" emerging in the absence of more action against inequality. 
In this scenario, one Singapore is connected to the world as a hub economy, where high salaries and opportunities abound.
The other is where the majority of Singaporeans live, where there are perceptions of slowing social mobility, connected to the reality of high housing prices, said Mr Singh.
"These two Singapores could easily become a reality that causes friction in society," he added. "Such views can easily take root and manifest themselves in cruel ways."
In his closing speech on Friday, Mr Wong addressed the call for more to be done to tackle inequality. 
"The Government will do our part, but we will not be able to narrow wage gaps on our own … To ensure sustainable growth in real wages for our lower-wage workers, Singaporeans need to chip in too," he said. 
"As consumers, all of us must be prepared to pay more for services delivered by our fellow Singaporeans." 
And beyond dealing with inequality, Singapore must ensure that social mobility remains "alive and well", said Mr Wong.