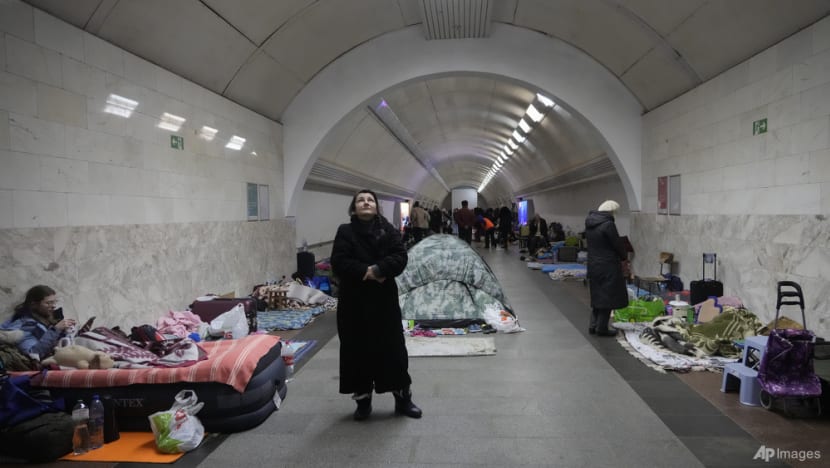 SINGAPORE: Three more Singaporeans have been evacuated from Ukraine and six remain in the country, Foreign Affairs Minister Vivian Balakrishnan said on Thursday (Mar 3).
He previously said at least nine Singaporeans were in Ukraine, spread out across several cities. 
Giving an update in Parliament during his ministry's Committee of Supply debate, Dr Balakrishnan said ASEAN will soon issue a statement calling for an "immediate ceasefire" in Ukraine.
"We continue to try to get humanitarian assistance to Ukraine. And of course, we continue to monitor the evacuation of Singaporeans in Ukraine," he added.
Dr Balakrishnan noted the United Nations General Assembly vote on Wednesday, overwhelming adopting a resolution that "demands" Russia "immediately" withdraw from Ukraine.
"The ongoing developments in Ukraine are a stark reminder of the vulnerability of small states when confronted by a larger and more powerful opponent," the minister said in Parliament.
"We must take a stand against actions that clearly violate sovereignty, political independence and the territorial integrity of another country - of all countries. Because ultimately, this is also about us, as a tiny city-state. When push comes to shove, smaller countries like Singapore must be prepared to defend ourselves and not get caught up in the geopolitical games of big powers. We do not take sides but we do take a stand to uphold existential principles."
HELP DURING PANDEMIC
Dr Balakrishnan also spoke about how the Ministry of Foreign Affairs (MFA) supported Singaporeans and other countries during COVID-19, noting that the ministry has helped bring home more than 4,600 Singaporeans from overseas since the pandemic broke out in 2020.
He also commended the dedication of MFA employees during the pandemic.
"Over 300 MFA officers have served Singapore and our overseas mission during this period, and I am very proud that not a single officer has asked to leave post because of the risk of the pandemic," he said.
About 40 MFA officers who were overseas as well as more than 150 foreigners employed at overseas missions contracted COVID-19 "despite our best efforts and health precautions", said Dr Balakrishnan.
COVID-19 will not be the last or worst pandemic faced by the world, he said, adding that Singapore will continue to work with the international community, including through the World Health Organization, to strengthen the global health architecture and enhance pandemic preparedness and resilience.
Globally, Singapore contributed to the COVAX Advance Market Commitment and the COVID-19 ASEAN Response Fund, he noted.
"We donated our entitlements to our neighbours. We also responded quickly to urgent medical needs by sending medical supplies," he added.
These include more than 500 tonnes of liquid oxygen to Indonesia and 120,000 vaccine doses to Batam and the Riau Islands, as well as 100,000 vaccine doses to Malaysia and 200,000 doses to Brunei.
Singapore also sent a consignment of 256 oxygen cylinders to support India's pandemic response at the height of its second wave in April last year.
RELATIONS WITH MALAYSIA
Singapore has maintained its "very close" relationship with Malaysia, Dr Balakrishnan said.
"I would say it's probably even been strengthened by our shared experience of COVID-19," he added, noting that bilateral engagements continued both informally and formally throughout the pandemic.
"At times of greatest need, we were available for each other," he said, adding that the two countries made sure that supply chains both ways never failed "even in the depths of the crisis".
Singapore and Malaysia also worked closely to restore connectivity, with the launch of vaccinated travel lanes for both land and air travel in November last year.
These have helped restore some of the pre-pandemic flow of tourists and business travellers and reunite families on both sides of the Causeway, Dr Balakrishnan said.
"We all look forward to expanding cross-border travel progressively and safely and hopefully at some point, back to pre-pandemic levels," he added.
FOSTERING STRONGER TIES WITH US AND CHINA
On Singapore's relations with the United States and China, Dr Balakrishnan said: "It is in Singapore's interest to continue to foster stronger ties with both the US and China, to be a consistent and reliable partner for the long term."
Singapore will continue to engage both powers through diplomacy "grounded in fundamental principles" such as adherence to international law, the resolution of disputes by peaceful means, respect for sovereignty and sanctity of borders, as well as upholding a rules-based multilateral system, he said.
"However, we make decisions based on our long-term national interests, and make it clear to both that we will not be a proxy, vassal state or a cat's paw for one side or the other," he added.
Dr Balakrishnan pointed out that Singapore has not shied away from standing up for itself and disagreeing on issues when necessary. 
"Singapore strives to be straightforward, consistent, reliable, trustworthy. To this end, we will also work with all parties to uphold an open, inclusive, stable, peaceful rules-based international order," he said.
Singapore has also "spared no effort" to strengthen the rules-based multilateral order, so that it continues to provide the country with a platform to safeguard its interests, Dr Balakrishnan said. For instance, Singapore worked with a cross-regional group of countries to establish the Forum of Small States (FOSS), which will celebrate its 30th anniversary this year.
"In today's charged geopolitical context, it is even more important that small states continue to stand up for a stronger United Nations and a robust multilateral system that levels the playing field and takes all countries' interests into account," he said.