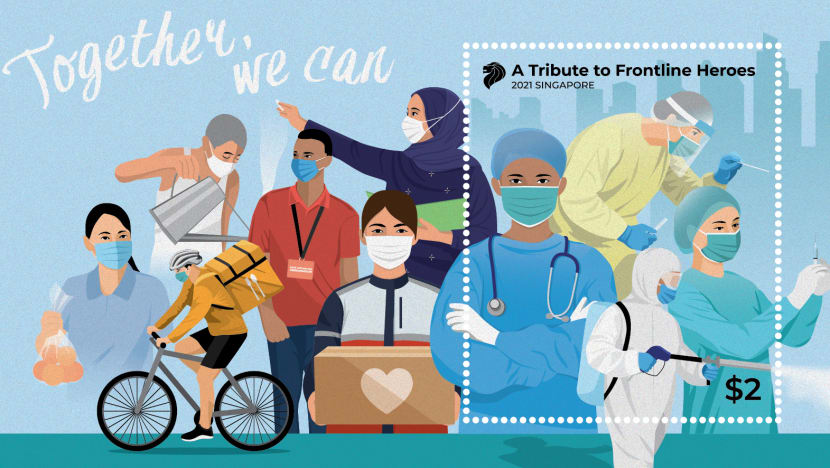 SINGAPORE: A set of stamps that pays tribute to Singapore's COVID-19 frontline workers will be available for purchase from Friday (Aug 5). 
The 10 stamps feature a doctor, nurse, swabber, teacher, bus captain, postman, food deliveryman, cleaner, hawker and supermarket staff member.
"In celebration of Singapore's 56th year of independence, the stamps recognise the diverse groups of frontline workers who have pressed on to serve Singapore in the past year despite the unprecedented challenges they faced," Singapore Post said in a media release on Thursday.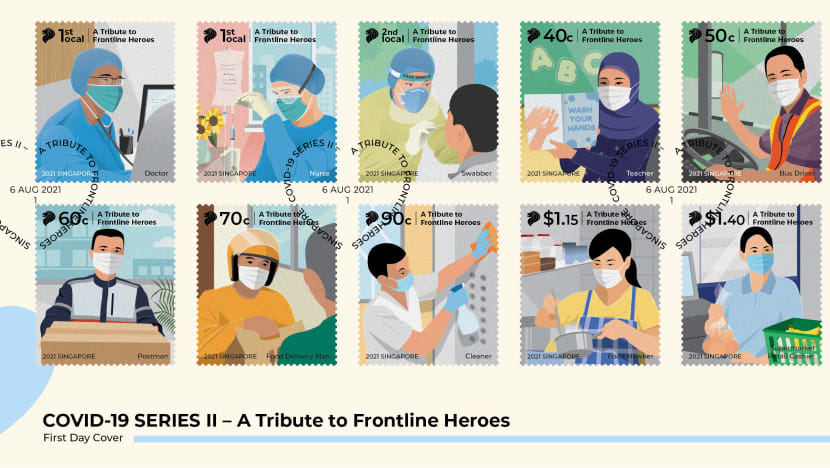 The stamp set also includes a miniature sheet, featuring a montage of these frontline workers.
The cover of the presentation pack will showcase more groups of frontline workers, including immigration officers, construction workers and hospitality staff.
The stamps, valued between 30 cents and S$1.40 each, will be available at all post offices, Philatelic Stores and online while stocks last, said SingPost.
Presentation Packs (S$11.55), Miniature Sheet (S$2), Pre-cancelled First Day Covers (S$8.35 with stamps, S$3.40 with miniature sheet) are also available. 
According to the SingPost website, preorders are open for the COVID-19 Series II - A Tribute to Frontline Heroes stamps. Preorders will be processed on the issue date.