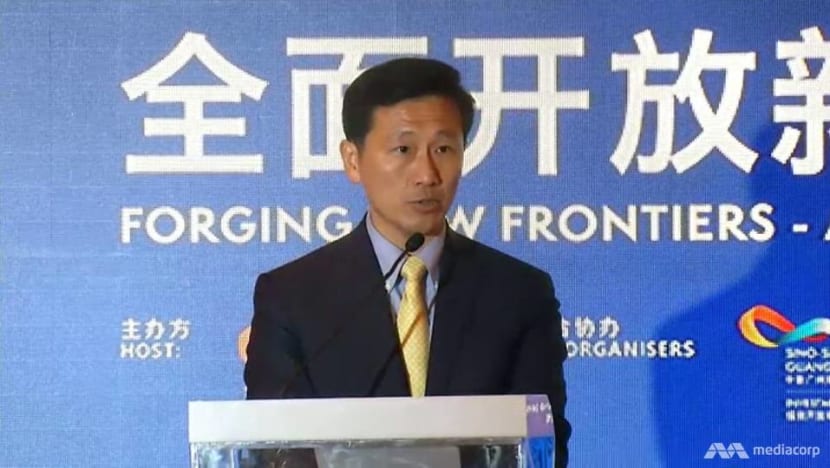 SINGAPORE: With bilateral trade reaching nearly S$30 billion in 2017, Guangdong province is Singapore's largest partner within China, and trade and economic relations between the two are about to receive a boost.
Guangdong Governor Ma Xingrui and Singapore Education Minister Ong Ye Kung reaffirmed plans to upgrade the Sino-Singapore Guangzhou Knowledge City's (GKC) project status from a private sector-led project backed by the government to that of a state-level bilateral cooperation project on Friday (Aug 24), at the Singapore-Guangdong Collaboration Council meeting and the Sino-Singapore Knowledge Forum.

This was discussed by Chinese President Xi Jinping and Singapore Prime Minister Lee Hsien Loong in April this year.
"I would say three big changes have happened, and that set the foundation for our further cooperation," said Mr Ong, who is also the co-chairman of the Singapore-Guangdong Collaboration Council.
"Number one is our common conviction to raise Guangzhou Knowledge City into a state level project," he said. "I think the path is clear, this will be done, and the importance of GKC will be so much higher."
The knowledge city, which broke ground in July 2010, is designed to attract high-tech industries and creative talent.
At that time, it was positioned as a new model for Sino-Singapore collaboration led by the private sector and backed by the governments.
Since its establishment, GKC has registered more than 1,000 companies with a total registered capital of S$22 billion.
When it is elevated to a state-level bilateral cooperation project, it will be the first of such projects between the two countries. 
Channel NewsAsia understands the boost in its status could mean the project can benefit from state-level initiatives, including being piloted as a free trade zone.
GKC could also serve as Singapore's entry into the Greater Bay Area, China's national strategy to link nine cities in the Guangdong Pearl River Delta Economic Zone with Hong Kong and Macau.
This Greater Bay Area plan is seen by some as China's answer to Silicon Valley in the United States.
"Now this project has been upgraded to a state-level project for both countries, and we can't still think of it as just for Guangdong. We need to liberate our mindset and move with the times," said Mr Ma, who is also co-chairman of the Singapore-Guangdong Collaboration Council.
"We need to figure out how can we further sharpen the position of the project. Our both sides will continue to study. But no matter how we position it, overall the project is moving in a positive direction."
Speaking at the Sino-Singapore Knowledge Forum, Mr Ong also elaborated on the importance of remaining open and innovative.
"Currently protectionism is rearing its head," he said. "We have Brexit, and we have the global economy slowing. This has brought about much uncertainty.
"Although the macro environment is not ideal, Singapore will maintain a free and open economy."