SINGAPORE: Cargo bicycles and other novel mobility devices may be subject to size requirements and other regulations as part of proposals by the Active Mobility Advisory Panel.
In a report submitted to the Ministry of Transport (MOT) on Monday (Feb 20), the panel recommends that rules on the size and weight of all active mobility devices should be consistent as far as possible.
For instance, cargo bicycles and two-wheeled recumbents currently meet the definition of conventional bicycles and are therefore allowed on paths and roads provided they meet the respective criteria for the devices.
However, rider-only tricycles and three-wheeled recumbents are currently only allowed on paths but not on roads, even though they are of similar construct.
"Given that both cargo bicycles and cargo tricycles are already allowed on roads, the panel recommends that rider-only tricycles, which are more stable than conventional bicycles, also be allowed on roads," said the report.
"To mitigate concerns about their larger sizes, such as the difficulty for other vehicles to overtake them, the Government should assess and impose width and/or length requirements for cargo bicycles, cargo tricycles and rider-only tricycles on roads."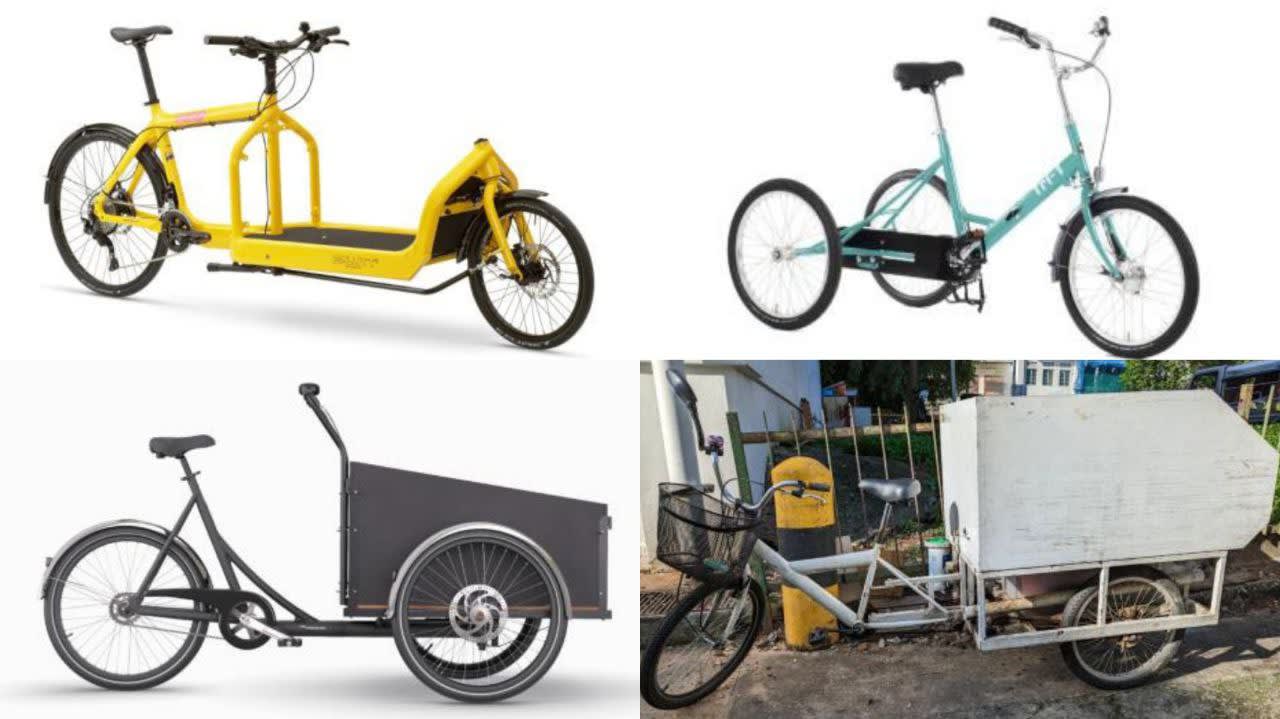 The 16-member panel, which was set up in 2015, is tasked with reviewing regulations on the safe use of active mobility devices.
While devices such as cargo bicycles and cargo tricycles are only starting to enter the Singapore market, the panel noted that they have grown in popularity in European and North American cities.
Cargo bicycles, for instance, could substitute cars for short-distance journeys for both personal and commercial uses, while cargo and rider-only tricycles provide more stable mobility options for seniors.
"While these devices are not widely used locally, the use of such devices has been observed in Singapore, with several social groups advocating these devices as an alternative form of commute that is green and healthy," said the panel in its report.
"The panel has studied these devices, recognising that given our space constraints, it is important that they are used in a safe and responsible manner in Singapore, alongside existing path and road users."
As part of its review, the panel studied practices overseas and drew findings from a series of public consultations, including several focus group discussions.
Other recommendations include a rule for recumbents to be installed with a bright-coloured flag on a pole of a reasonable height when used on roads, to improve visibility to motorists.
The panel also proposed that motorised cargo bicycles, cargo tricycles, rider-only tricycles and recumbents be disallowed on paths and roads for now. This could be reviewed again when recognised international standards are available.
In a Facebook post on Monday, Transport Minister S Iswaran said that the review is timely.
"While these devices are commonly used overseas, they are starting to enter our local market," he said, adding that his ministry will study the recommendations.