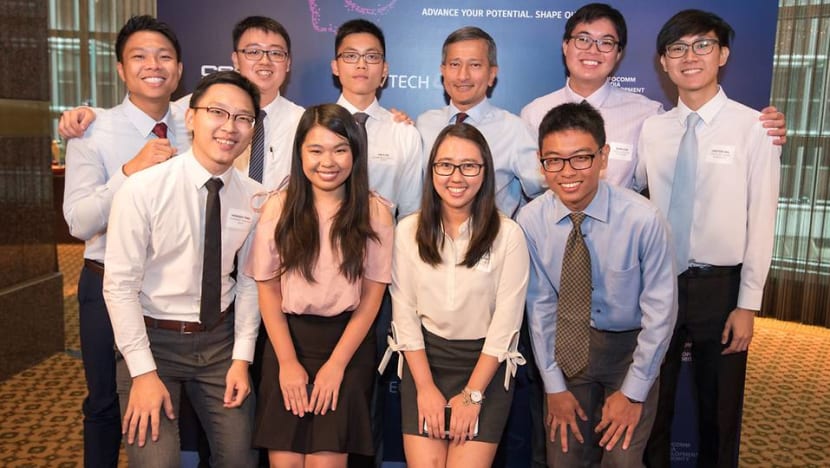 SINGAPORE: Nine recipients were awarded the inaugural Smart Nation Scholarship on Friday (Aug 17).
The scholarship was launched in March this year to develop and nurture a pool of next-generation leaders who will spearhead the national digital transformation.
It is jointly offered by the Cyber Security Agency of Singapore (CSA), Government Technology Agency (GovTech), and Infocomm Media Development Authority (IMDA).
"We will invest in our long-term engineering capabilities, to ensure that we have a core group of passionate innovators to lead and drive technology change, both within the civil service and across the private sector," said Dr Vivian Balakrishnan, Minister-in-Charge of the Smart Nation Initiative.
He pointed out that the Government had outsourced much of its software development services to other countries a decade ago, but that has since changed.
Dr Balakrishnan added that attracting and retaining local talent was necessary as global competition for talent has never been stronger.
The Smart Nation Scholarship recipients were selected through a rigorous assessment process comprising aptitude tests, management interviews, and agency-specific assessments.
They will pursue undergraduate studies in information and communications technology (ICT)-related disciplines such as computer science, information security and mathematics at local and overseas universities.
WOMEN IN TECH
Ms Ong Jing Yin is one of two women awarded the scholarship. Noting that the industry is conventionally male-dominated, she revealed that people are usually surprised to find out her area of study.
"Most people would say: 'Why would a female join this field? Isn't it for guys?'. But I would like to correct this stereotype because after studying computer science and learning more about it, women can be equally capable and contribute to this field too."
She added that as cybersecurity becomes increasingly important, the ratio between men and women in her computer science course has improved.
Ms Ong - who won the bronze award in the Cyber Defenders Discovery Camp Competition last year - become cognizant of the immeasurable threats associated with hacking during the contest when her team's assets were hijacked and used to infect all the other participants' without their knowledge.
"What if the hack was not just on my team, but a greater scale like an attack on Singapore? Many people could lose money, industries could be impacted," she said. 
ANSWERING A CYBER CALLING
Less than stellar grades in secondary school derailed Mr Alan Low's plans to go to a Junior College. 
Noting his natural inclination towards technical subjects, his secondary school teacher advised Mr Low to consider the polytechnic route.
"In a way you could say this was a silver lining, because given that I had a very strong passion in IT, why not take a career in IT? This is the time where cybersecurity is the 'in' thing, with all the recent cyberattacks," he said.
So Mr Low joined the information security diploma in Republic Polytechnic (RP), where he excelled and was on the RP Director's Roll of Honours every year.
He will enrol in NUS's Information Security course and intends to pursue a career with the CSA.
While data science, artificial intelligence and software development count among the hottest skills today, Dr Balakrishnan pointed out that a strong cyber ecosystem needs to be fortified with lawyers and scientists as well.
Unlike the rest of his peers, Mr Marcus Ho chose an unconventional path under the Smart Nation scholarship.
He will read law at Cambridge, instead of pursuing an ICT-related degree. His choice of study comes after being inspired during his internship at Rajah & Tann.
But Mr Ho admits that tech is still his first love.
"Growing up, tech was one of my passions. This has driven me to a critical intersection where I'd like to engage in a very niche area related to technology law and regulations," he said.
He will join IMDA after graduation, where he hopes to use his skills to tackle legislation issues and craft public policies.