Firms get creative with workplace solutions ahead of next year's flexible work arrangement guidelines
With working from home not an option for some sectors, such as food and beverage and engineering, some firms have had to think out of the box.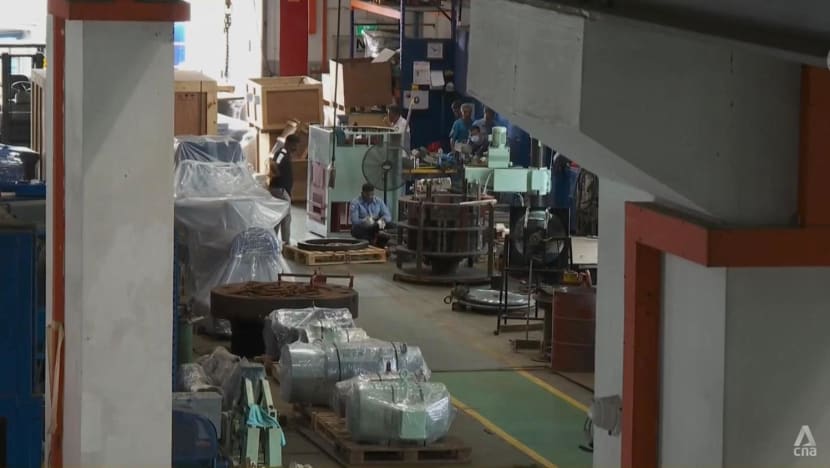 SINGAPORE: Companies in Singapore are coming up with creative ways to implement flexible work arrangements for their employees.
With working from home not an option, firms in some sectors, such as food and beverage and engineering, have had to think out of the box.
Ideas include a smartphone application to help workers designate shifts among themselves, along with a system to bank in extra hours that employees clock so they can be converted to days off.
The firms' efforts come as a set of tripartite guidelines on flexible work arrangements is set to be implemented next year. This was first announced in the White Paper on Singapore Women's Development in March last year.
At the time, Minister of State for Manpower Gan Siow Huang had said in Parliament that "flexible work arrangements will become a norm in our future workplaces", allowing more people to join the workforce, including women with caregiving responsibilities and seniors.
CLOCKING THE HOURS
For some jobs, remote working is not possible due to the nature of their work, with baristas being one of them.
At Starbucks, one of the world's most recognised coffee franchises, 60 per cent of its frontline staff are part-timers who juggle other responsibilities outside of work.
To help such employees find better working hours that best suit their personal schedules, the company launched a smartphone application last November called Find-a-shift.
If a barista is unable to make it for a particular shift, he can reflect it in the app, and another barista who is available and wants to clock extra hours can pick it up.
So far, 20 per cent of the coffee chain's part-time baristas are using the app. This includes full-time university student Terrence Tan, who needs to plan his work hours around his school timetable.
"During my free time or if I suddenly have last-minute cancelled plans, I can actually find available shifts online. And actually, it can help me maximise my work hours," said the 22-year-old undergraduate.
Full-timers, such as store manager Sarah Lee, are also starting to come on board.
Ms Lee, who has a son, shared that the app allows her to be there when her family needs her.
"It gives me a peace of mind knowing that I have the support from the company, and also being able to find the coverage for the store," said the 30-year-old.
TIME BANK
Some other firms have even fewer possibilities for remote working, such as electrical engineering firm Cyclect, which has over 300 staff dealing with machines on-site in their factory.
"The equipment that they rely on are always found in our workshop. So in that regard, there are very limited opportunities for them to take some of their work home," said executive director Tan Ee Wei. 
"At the very most, it's probably design work. But for the most part, heavy equipment (and) machinery are all found in the central space in the workshop."
The company is trying out an honour system for workers to bank their overtime hours, and take the time off on another day.
However, Mr Tan shared that the firm has been running into difficulties with workers misusing the system, as it is an arrangement largely based on trust. 
"We want to be able to recognise the extra hours that our staff put in, and reward them with off-in-lieu. However, sometimes it can be abused, unfortunately. So we had to put in some control measures to try to mitigate that," said Mr Tan.
Singapore Human Resources Institute spokesperson Adrian Tan said firms should tap on a bigger pool of part-timers, to give full-timers more freedom with their working hours. 
"If you're only restricted to those 10 full-timers that you have, and three of them go on MC (medical leave), you will always find this flexible work thing more of an annoyance rather than something that you should do," he said.