Commentary: Does flexible work help women or set them back?
Women have traditionally been seen as primary caregivers. JobStreet's Chew Siew Mee looks at whether flexible work arrangements will improve opportunities for women, or set them back.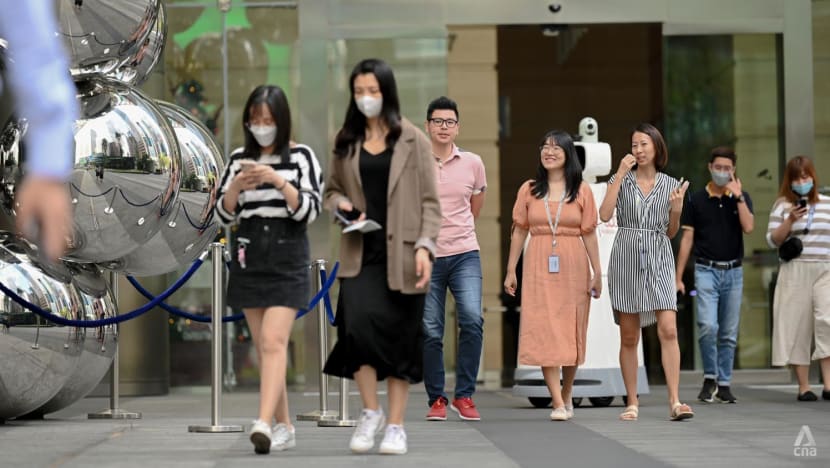 SINGAPORE: Flexible work arrangements have been on a steady rise in Singapore since the COVID-19 pandemic. Employees want it, demand it even, and companies know they have to offer it if they want to retain their workers in this tight labour market.
The way employees view work has drastically changed over the past three years, with more seeking greater workplace flexibility and benefits that enable them to balance work and life.
In October 2022, UOB announced that it would offer 200 flexi jobs for women with caregiving duties, with the jobs "specially catered" to their needs.
This comes after the Ministry of Manpower strongly encouraged companies to be more open with regards to schedules and work locations.
In 2024, Singapore will roll out a set of tripartite guidelines on flexible work arrangements. Under the guidelines, employers are strongly encouraged to promote flexible work arrangements as a permanent feature of the workplace.
Some of the conversations on flexi-work arrangements have centred around how these schemes will enable more women, especially those with caregiving responsibilities, to work.
Despite the outpouring of positive remarks for flexi-work and commendable efforts from organisations such as UOB, however, some have raised concerns over the potential disadvantages that such flexibility may create, and the impact on job prospects and gender stereotypes.
TRADITIONAL CONCEPT OF WOMEN AS PRIMARY CAREGIVERS
Undisputedly, the traditional concept of women as the primary caregiver of the family has impeded their career growth and opportunities in the past.
Today, there are about 260,000 women aged between 25 and 64 who are currently not actively working, some of whom are stay-at-home mothers or main caregivers for their families. But keep in mind that the gender stereotypes regarding the role of women have changed in recent years.
Singapore has seen a steep increase in the labour force participation rate (LFPR) for women, rising from 56.5 per cent in 2010 to 61.2 per cent in 2020, while the share of women in the resident workforce accounted for 47 per cent of the resident workforce in June 2021.
The recently released 2021 Marriage and Parenthood Survey also shows that increasingly, fewer people believe that mothers should be the ones to take care of children full-time. 
The proportion of those who felt that "ideally, the mother should take care of her children full-time" fell from 40 per cent in 2016 to 24 per cent in 2021 for single respondents, and from 56 per cent in 2016 to 40 per cent in 2021 for married respondents.
This is a clear indication that women are keen to enter the workforce and there needs to be opportunities for them.
FLEXI WORK SOUGHT AFTER NOT JUST BY WOMEN
Contrary to conversations around the perpetuation of gender inequality in terms of job prospects and pay parity, flexible work arrangements are in fact highly sought after not just by women.
The Marriage and Parenthood Survey shows that both men and women want flexible work arrangements, with 90 per cent of married respondents agreeing that the availability of such arrangements would make it easier for them to start a family.
Flexi work, whether for specific groups or an organisation as a whole, does not result in less pay or less attractive remuneration packages. These are typically determined by job roles, position level, job type, and candidates' skills and experiences. Flexi jobs do not create or contribute to a pay gap.
In a candidate-short marketplace, flexible work arrangements make it easier to attract new candidates and retain current employees. Aside from competitive salaries, a good work-life balance, and career progression, candidates now also like to see workplace flexibility in a job.
Companies are taking heed - according to JobStreet's data, 60 per cent of employers are providing some form of workplace flexibility.
AT THE END OF THE DAY, IT COMES DOWN TO STRATEGY
Organisations so far have been adopting rather tactical approaches to attract better talent.
Flexible work arrangements should be part of organisations' strategy for candidate hiring and retention, as they cast a wider net for candidates, regardless of age or gender.
The job marketplace is competitive, and organisations are encouraged to embrace the diverse talent pool. Beyond the traditional target, mid-career switchers and stay-at-home mothers can be very valuable resources.
In fact, flexible work arrangements should be used as an opportunity to curb workplace stigmas.
Encouraging candidates to emerge from their traditional and socially labelled roles would be a step forward to highlight that they do not only have to take on just a single responsibility of either a caregiver or an employee.
As our society and the way we work changes, organisations also need to show stronger support and enable employees to balance work and life.
Furthermore, by broadening the talent pool, organisations can select candidates from different backgrounds and industries, different job experiences, age and gender, which can create very diverse teams. For organisations to thrive, diversity is essential to drive creativity and innovation, enhancing cross-learning which leads ultimately to better decision-making.
ENHANCING FUTURE WORKPLACES
Recently, Singapore reinforced its goals of promoting lifelong education and learning, to encourage Singaporeans to continuously seek reskilling and upskilling opportunities that can help them remain competitive and relevant.
Based on JobStreet's data, 10,500 women who were outside the labour force in 2020/21 had invested their time to upskill and subsequently applied to jobs in 2022. A total of 2,400 were later shortlisted by employers.
While we encourage candidates to constantly keep up-to-date with their skills, opportunities must also be available for them to put these skills into practice.
For mid-career switchers and candidates looking to ease themselves back into the workforce, flexible work arrangements are a viable option for organisations to effectively bring them onboard to hone their skills.
At the end of the day, flexible work arrangements can be the basis for an inclusive workplace. The arrangement helps to create a holistic work environment, and concerns about a lack of career progression or the perpetuation of gender gaps will hopefully be a thing of the past.
Chew Siew Mee is the managing director of JobStreet Singapore.