These members of the all-female Singapore police band can sing, dance and play the bagpipes
SINGAPORE: One is a Highland dancer. Another is an accomplished singer. Their leader performs musical solos.
Among them, the three Singapore Police Force (SPF) officers have decades of experience in playing an instrument not typically associated with tropical Singapore: The bagpipes.
The trio are longtime members of the SPF's Women Police Pipes and Drums (WPPD) band, which celebrated its 50th anniversary last year and played a prominent role at the Police Day Parade, held at the Home Team Academy in Choa Chu Kang, on Saturday (Jun 3).
The band is one of the few pipes and drums bands in the world that combine with a military band during performances, and also a rare one featuring all female performers.
It regularly combines with the Gurkha Contingent Pipes and Drums to form the SPF Combined Band, which plays at selected high-profile events. A total of 19 members – including bagpipers and drummers – were out in full force on Saturday.
CNA spoke to the three WPPD members last week to find out more about their experience and training process.
For the band's chief trainer, Senior Staff Sergeant (SSS) Ahllima Sinnakannu, playing a musical instrument was never something on her radar before she became a policewoman in 2003.
At the time, she was scouted to join WPPD due to her dance skills. She then took up the bagpipes.
The woodwind instrument, which originated from the Middle East and has become synonymous with countries like Scotland and Ireland, is notoriously difficult to master. Pipers can take up to three years to learn complex songs.
It certainly proved tough for SSS Ahllima to initially even coax a sound from it.
"It took me about six months to learn … I couldn't produce a note for the first month," the 42-year-old revealed.
"The bagpipe is a unique instrument whereby sound comes out from four different parts of the instrument, so I needed power and energy to play it," she said, adding that it is traditionally played by men.
Bagpipes are unique due to the multitasking involved and lack of volume control, which means WPPD members cannot take the instruments home to practise or risk noise complaints from irate neighbours.
A piper inflates the instrument by blowing into a blow stick to fill the bag with air. The bag has to be kept inflated for sound to be produced.
Pipers then grip the chanter to play notes, while repeatedly squeezing the bag and blowing to keep the air flowing.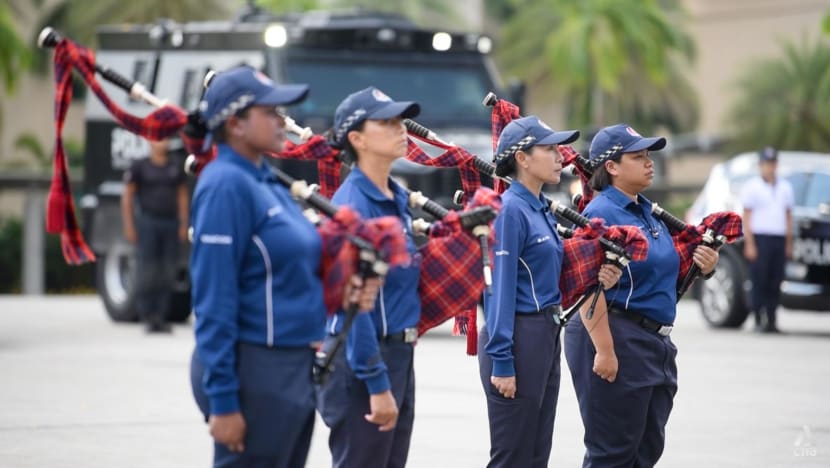 The WPPD currently has 12 members who must all be police officers. SSS Ahllima has been in charge of training newcomers for the past three years and looks after the band's overall direction and performance quality.
Some members like herself also perform solos, duets or individual dances that require additional preparation.
Two of SSS Ahllima's fellow band members, Station Inspector (SI) Emiliah Senin and Sergeant (2) Sri Wirdawati Hamsani, both 50, joined SPF and the WPPD within a few months of each other in 1994.
SI Emiliah was spotted singing at the Mess Hall of the Old Police Academy by SPF's then-director of music, the late Superintendent Idris Mohd Yusof.
The policewoman – who is now a 29-year SPF veteran – is versatile in many singing styles such as opera and folk, and is able to croon in languages such as Mandarin, French and Hindi. During CNA's interview with her, she spontaneously burst into a rousing rendition of When The Pipers Play by Scottish singer Isla St Clair.
While SI Emiliah was still a trainee, she performed with the SPF Combined Band at the Senior Police Officer's Mess when the Indonesian National Police visited Singapore.
SGT (2) Wirdawati, also aged 50, joined WPPD a few months after SI Eimiliah. Both were singled out to learn Highland dancing, a form of dance involving intricate footwork that originated in Scotland in the 19th and 20th centuries.
After travelling abroad numerous times to places like Hong Kong and Italy to perform, SGT (2) Wirdawati left SPF in 2000 for 17 years due to family commitments.
When the mother-of-four rejoined the police, she immediately returned to her beloved instrument with almost no trouble, save for having to redo the six-month training course with much younger colleagues – some of whom were almost as young as her oldest child.
"That was the tedious part," she said, prompting SI Emiliah to tell her: "But you made it through!"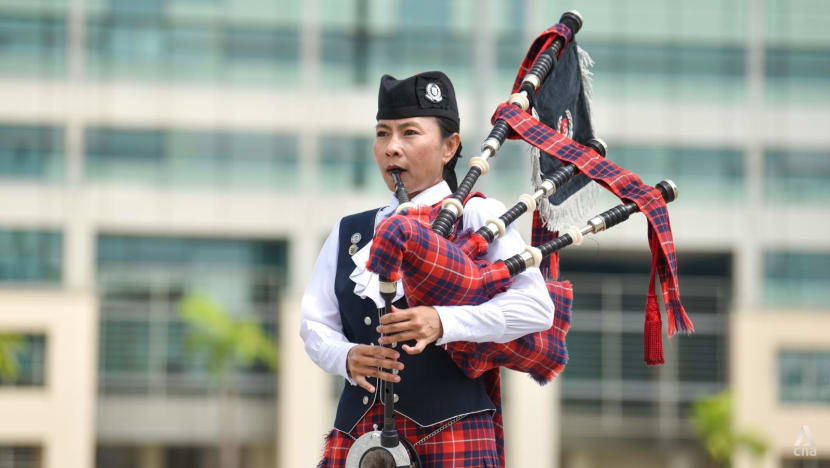 FLEXIBLE TIMINGS
WPPD's musical training schedule is flexible, allowing members to focus on their work or family commitments. They undergo the usual police training when they need to be deployed or go on police operations.
When big events like the Police Day Parade roll around, they undergo extensive rehearsals that can stretch on until 8 or 9pm.
"We will tell our families beforehand so that they can understand our work schedule and they know I'll spend time (with them) later once the schedule is less packed," said SSS Ahllima, who provides security crowd management at high-profile events as part of her SPF duties.
In fact, the band comprises several mothers who have become friends outside of work. SSS Ahllima herself has two young sons – whom she professed are more interested in drums – while SI Emilah also has two children.
Aside from Police Day Parades, the trio has performed at events in Singapore and around the world, spanning places like Hong Kong, France, Italy, Indonesia and the Scottish capital of Edinburgh – described by SSS Ahllima as the "Mecca of pipe bands".
The band is currently recruiting new members from within SPF, with opportunities to learn the bagpipes as well as different percussion instruments like the snare drum, bass drum or tenor drum.
"Now that I am playing music for a career, it's exactly what I expected," said SSS Ahllima.
"I get to travel to wonderful places, I get to meet a lot of dignitaries … I played for our Madam President (Halimah Yacob). So it's been a wonderful journey thus far."