'Tactical' breathing, trained instinct: How SAF fighter pilots, bomb experts sprang into action for SQ33 threat
Last month, two Singapore air force jets were scrambled after a passenger claimed to have a bomb in his carry-on bag. This later proved false.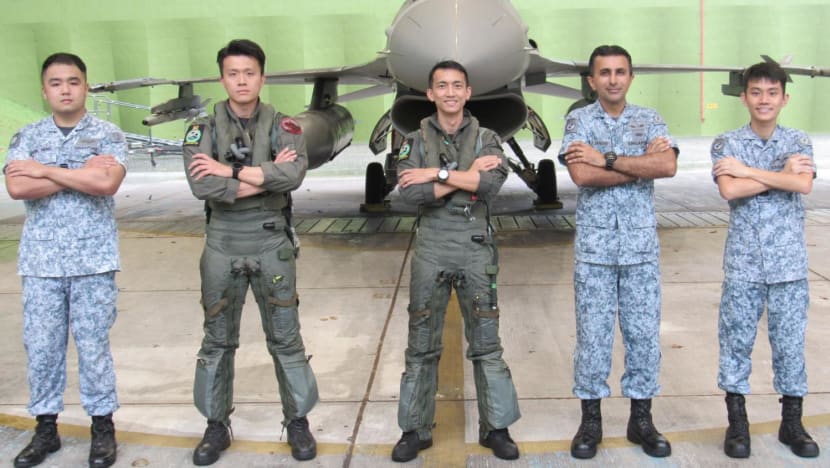 SINGAPORE: Major Leow Yee Shiang was on edge when he first found out he had been activated for a potential bomb threat on a flight returning to Singapore.
A passenger onboard Singapore Airlines flight SQ33, which was en route from San Francisco on Sep 27, had allegedly claimed to have a bomb in a carry-on bag.
"I was definitely initially anxious as lives were at risk but quickly my operational instincts kicked in," said the 34-year-old Republic of Singapore Air Force (RSAF) fighter pilot, in a media interview on Friday (Oct 7).
A combination of "tactical" breathing methods - practiced by military forces to slow one's breath rate - and trust in his training helped MAJ Leow to focus on the task at hand.
As he made his way to his F16C/D fighter jet, teams from different units also sprang into action.
Military Expert 4 (ME4) Sandeep Singh, the officer in charge of activation on the ground, was already busy coordinating preparations and safety checks before take-off.
"Everything was actually moving pretty fast, every minute was very crucial at that point in time," he said.
"The most important thing in my mind, as well as (for) the guys on the ground, was to ensure that we launch the aircraft on time and that this was being executed safely."
Within minutes, two F16C/D fighter jets were ready for take-off, and the mission to intercept SQ33 and escort it safely to Changi Airport was underway.
During this time, Air Warfare officer Mark Heng was communicating with the flight captain of SQ33.
"The pilot sounded normal, there was no sign of distress that we are trained to pick up," said Captain Heng, adding that the pilot had followed instructions - including to descend to a certain altitude and make specific turns.
Meanwhile, the two F16C/D fighter jets maintained a safe distance as they monitored the airplane.
"I established visual contact with the aircraft captain and we also established communications with the captain via the assigned frequency, so that they know that we have intercepted the aircraft," said MAJ Leow.
"From there, it was about ensuring that (the plane) complied with our air traffic control instructions as well as providing updates on the aircraft's flight parameters all the way until its landing."
At 5.51am on Sep 28 - three hours after the Singapore Police was first alerted to the bomb threat - the plane landed safely at Changi Airport, under the escort of the F16C/D fighter jets. 
It was then over to teams from the Singapore Armed Forces' Chemical, Biological, Radiological and Explosives Defence Group plus the Airport Police Division to quickly remove the suspected bomb from the aircraft, for the safety of those onboard as well as the public.
Among them was Explosive Ordnance Disposal officer and full-time national serviceman Foo Shi Jian.
The 22-year-old Second Lieutenant said he was extremely nervous when he first received the call to activate his team.
"I didn't expected my guys to be activated so soon," he said, adding that he had only joined the unit two months ago.
"However, we didn't have any time to hesitate or sweat over it as we had to constantly think of different contingency plans for possible scenarios that could happen in the next few moments," said 2LT Foo.
He added that his training had also prepared him and his team to handle such an uncertain situation.
'SENSE OF PRIDE'
Shortly after the plane landed, the 37-year-old man who had made the bomb threat was handed over to the police and arrested for making false threats of terrorist acts and for suspected consumption of controlled drugs. He has been charged with causing alarm and will return to court on Oct 13.
Passengers were eventually allowed to disembark, ending a nearly seven-hour ordeal since the police were first alerted to the alleged bomb threat.
Taking turns to recount their experience to reporters during a media interview on Friday, MAJ Leow, ME4 Sandeep, CPT Heng and 2LT Foo all credited the success of the mission to their rigorous training. 
"Our training is realistic and rigorous, so when the activation happened, (our instincts kicked in) naturally," said MAJ Leow.
"I felt a huge sense of relief after the aircraft landed safely onto the tarmac of the Singapore Changi Airport."
He added: "I also felt a great sense of achievement that the whole team was able to respond to this threat within minutes at night, to conduct our mission and (do) what we are supposed to do to safeguard our Singapore skies.
"There was definitely after that a sense of pride and sense of accomplishment."