How Tan Tock Seng Hospital's integrated programme helps reduce depression among stroke patients
A study by Tan Tock Seng Hospital revealed that 20 to 25 per cent of patients have depression while being hospitalised for stroke.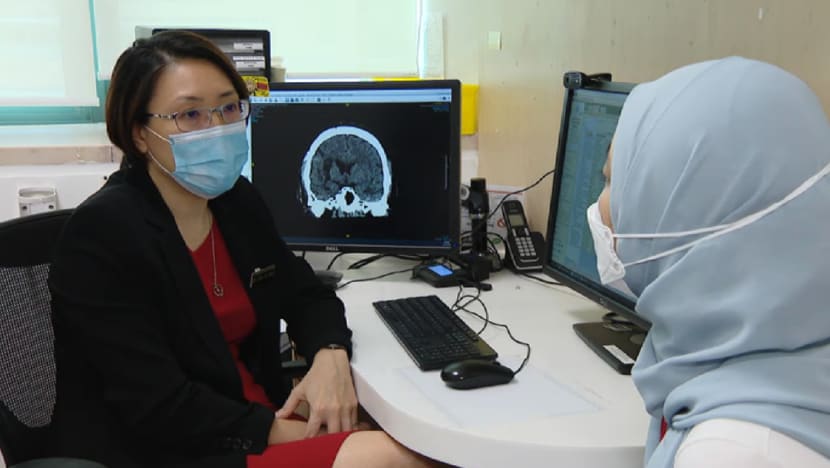 SINGAPORE: When Mr Muhammad Zulhelmi was 29, he had a stroke which left the left side of his body paralysed. Soon after, clinicians caring for him noticed a change in his mood – he had lost interest in his physiotherapy sessions.
A hospital-appointed psychologist slowly coaxed him to talk, and it turned out that Mr Muhammad was worried about his financial situation after his stroke. Arrangements were made for a social worker to assist Mr Muhammad, who was then able to continue with his recovery.
Mr Muhammad's case is one example of how a programme by Tan Tock Seng Hospital (TTSH) is working to reduce the likelihood of depression among stroke patients.
The Consultation-Liaison Interventions for the Mind and Brain (CLIMB) programme, which integrates mental health services with stroke care, has benefitted about 3,000 participants so far.
The results have been "very encouraging and promising", said Adjunct Assistant Professor Chan Lai Gwen, a senior consultant at TTSH's department of psychiatry.
Patients who underwent the CLIMB model of care were three times more likely to be alive, or in better physical and psychological health conditions, at five or more years after their stroke, she said.
MENTAL HEALTH JUST AS IMPORTANT DURING RECOVERY
Post-stroke depression (PSD) is a clinical depression that arises soon after a stroke and is partly attributed to the damage that the stroke has caused to the brain.
Mental well-being is just as important as physical recovery, as depression could hinder the recovery process and increase the risks of a recurrence, said Dr Chan, who is also director of the CLIMB programme.
"Having post-stroke depression increases a person's risks of strokes in the future and even increases the risks of death," she said. "More recently, we (also know) that patients do want to have some kind of psychological support, regardless of whether they have depression."
A study by TTSH involving about 1,700 stroke patients revealed that 20 to 25 per cent have depression while they were hospitalised. One reason has been attributed to the lack of mental health professionals the patients could talk to.
STROKE PATIENTS WANT PSYCHOLOGICAL SUPPORT
Mr Muhammad said that he, and other patients like himself, found it difficult to talk about their problems to family members, as they did not want to worry them.
"Lots of stroke patients need somebody to talk to (outside of their families). Because sometimes they hide their feelings as they don't want their family members to be sad. So when they open up to other people, those who are trained to talk to (patients), it's a better choice," Mr Muhammad said.
The programme helps ease patients' mental stress by offering a listening ear and if required, medical treatment, said Ms Nur Diana Lim, a clinic coordinator at TTSH's department of psychiatry.
"When patients go through a life changing event like (suffering from a) stroke, it can be very overwhelming for them so a lot of them feel better after talking to someone about their emotions. (This programme) helps them feel like they are not alone in this," she said.
Clinical coordinators with the CLIMB programme screen post-stroke patients for signs of mental distress using a standardised questionnaire, as well as observations from the healthcare team and the patients' family members.
Those who have severe symptoms will be referred to specialists for further treatment.
Teleconsultations with clinicians continue even after a patient has been discharged from the hospital, as stroke complications aside from depression can also arise within the first year following a stroke.
The programme can potentially benefit patients with other chronic neurological conditions, and the team is looking to expand its scope and address the needs of those with Parkinson's disease and brain injuries, Dr Chan said.