Singapore continuing to improve connectivity with Johor, says PM Lee
The Johor Sultan is in Singapore for a three-day visit.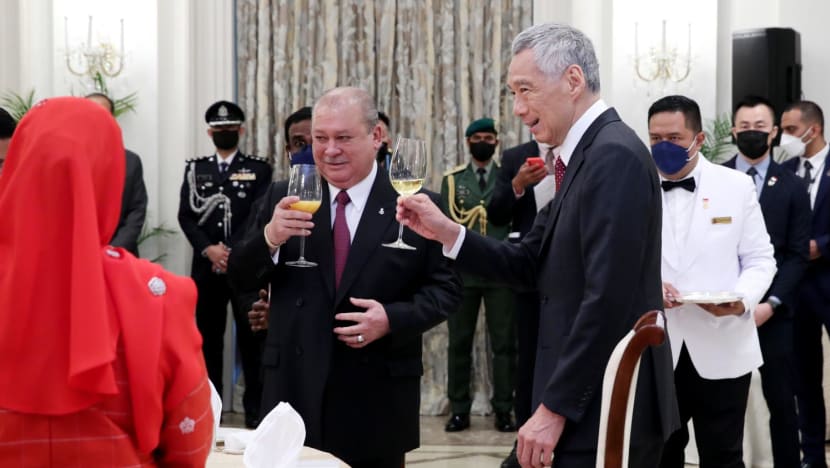 SINGAPORE: Singapore is continuing to improve connectivity with Johor, said Prime Minister Lee Hsien Loong on Wednesday (Jul 20), adding that the southern Malaysian state plays a crucial role in maintaining close cooperation between the two countries.
Mr Lee was speaking at an official lunch for the Johor Sultan who is in Singapore for a three-day visit.
Sultan Ibrahim Ibni Almarhum Sultan Iskandar is accompanied by his wife Raja Zarith Sofiah, crown prince Tunku Ismail and his wife Che' Puan Besar Khaleeda, Johor's chief minister Onn Hafiz Ghazi and other state officials. 
This is his first official visit to Singapore as Sultan of Johor.
Mr Lee noted that cross-border travel has resumed and the Causeway is bustling again after two years of travel restrictions due to the COVID-19 pandemic.
"Family and friends are again visiting one another. Workers, business travellers and tourists are also making trips across the border, boosting the recovery of Singapore and Johor's economies," said Mr Lee.
He also noted that that there is a new direct ferry service between Tanah Merah Ferry Terminal and Desaru Coast Ferry Terminal, which began operations on Jul 7.
"Many Singaporeans are happy that Desaru's beautiful beaches and memorable seafood places are now more conveniently accessible," Mr Lee said at the Istana.
"I also look forward to the timely completion of the Johor Bahru-Singapore Rapid Transit System (RTS) Link project. When completed, it will ease congestion on the Causeway, facilitate business and tourism, and foster closer ties between our peoples."
Sultan Ibrahim will visit the site of the RTS Link Woodlands North terminus on Thursday. The RTS Link, which is expected to transport 10,000 passengers each hour in each direction, is slated to start service in January 2027.
Singapore and Johor are close neighbours and partners, linked by generations of friendship and kinship, said Mr Lee. 
"As the key gateway between Singapore and Malaysia, Johor plays a crucial role in maintaining the close cooperation and connectivity between our two countries," he added.
"This was especially important during the COVID-19 pandemic. With the Sultan's support, we kept supply lines open across the land borders."
Singapore also worked closely with the Sultan Ibrahim Johor Foundation to donate vaccines and medical supplies to Johor, Mr Lee added.
On his part, Sultan Ibrahim said he hopes that his visit will further reinforce the bond of friendship and enhance collaboration between the people of Singapore and Johor.
"Over the years, the close cooperation and understanding with Singapore in many ways have benefitted Johor, especially in its socio-economic development. I pray for your good health and a bright and prosperous Singapore," he said.
Earlier on Wednesday, Sultan Ibrahim and his wife had an orchid hybrid named after them, the Dendrobium Ibrahim Zarith.
Two months ago in May, Mr Lee and his wife Ho Ching received high Johor honours from the Sultan at the Istana Besar.
"I thank the Sultan and Her Majesty for their very warm reception in Johor and I am happy to have the opportunity today to reciprocate their gracious hospitality," said Mr Lee.
"Today, we have prepared some local fare widely enjoyed by both Singaporeans and Malaysians, including soto ayam and beef rendang."
Toasting the "enduring friendship between Singapore and Johor", Mr Lee said: "I look forward to working with Sultan Ibrahim to promote further cooperation between Singapore and Johor. I am confident that with his support, relations between Singapore and Johor will continue to strengthen and deepen."
Sultan Ibrahim was on Wednesday also conferred an Honorary Doctor of Laws by the National University of Singapore for his role in ensuring the peace, progress and prosperity of the State of Johor, and his invaluable contributions to strengthening ties between Singapore and Malaysia.
He was hosted to tea by President Halimah Yacob and Mr Mohamed Abdullah Alhabshee and will have separate engagements with Senior Minister and Coordinating Minister for Social Policies Tharman Shanmugaratnam and Emeritus Senior Minister Goh Chok Tong.
Senior Minister and Coordinating Minister for National Security Teo Chee Hean was also scheduled to meet with Sultan Ibrahim before Mr Teo tested positive for COVID-19 on Wednesday.
The Sultan is also due to visit the Sembawang Air Base and the ISEAS-Yusof Ishak Institute.