Repair work complete after man and daughter fell into hole in bridge at Sungei Buloh Wetland Reserve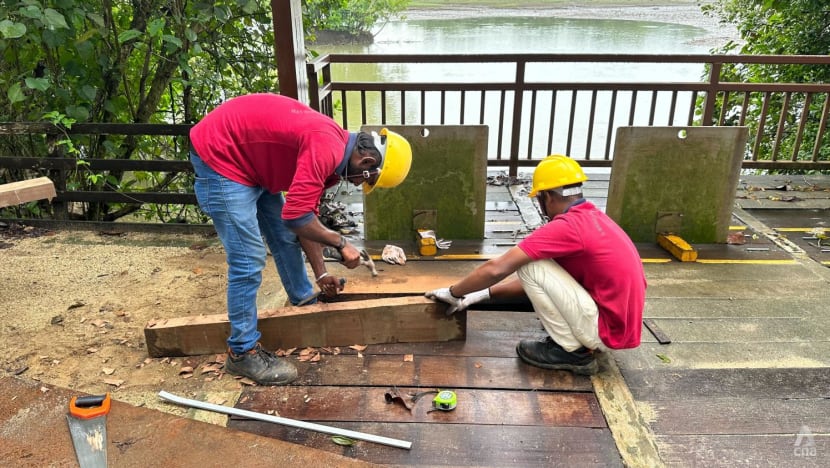 SINGAPORE: Repair work was carried out at Sungei Buloh Wetland Reserve on Thursday (Jan 26), three days after a man and his two-year-old daughter fell into a hole in a bridge there.
When CNA visited the reserve on Thursday morning, two workers were seen repairing the crossing of a sluice gate, which is used to control water levels in the reserve's ponds.
CNA938: Mr Bucky Hussain descibes pulling his daughter to safety during the incident
One of the workers told CNA that four planks of the crossing had to be fixed.
The area was cordoned off while works were ongoing, and several large metal sheets could be seen next to the workers.
NParks said on Wednesday that some floor panels at the sluice gate had been dislodged by heavy rain, resulting in a gap.
The agency gave an update of the situation on Thursday. 
"While the dislodged panels that had resulted in the gap were put back immediately on the same day of the incident after the water receded, NParks inspected all the floor panels today as a precautionary measure," said Mr Lim Liang Jim, NParks group director of conservation.
"The works are part of the process of patching up the gap."
The sluice gate is located near observation hide 1E, as described by Mr Bucky Hussain in his Instagram post about the incident.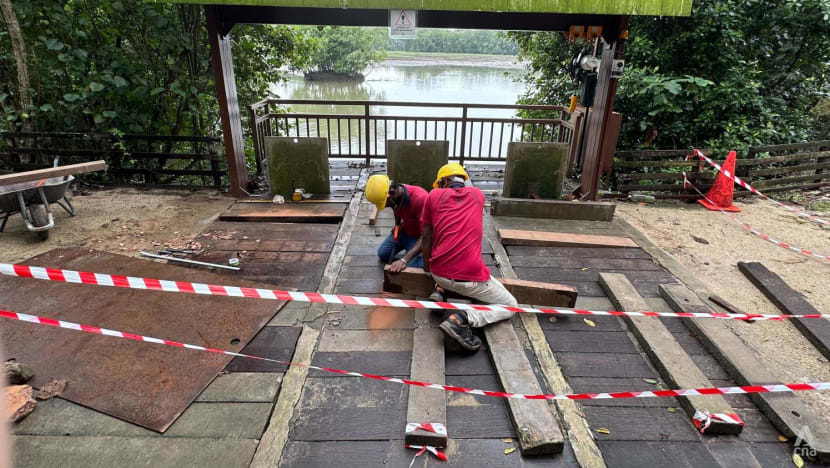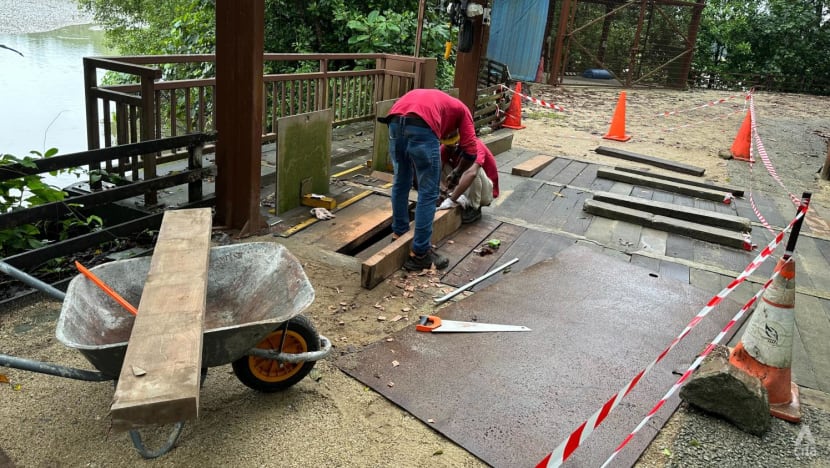 The incident occurred between 11am and noon on Monday while Mr Hussain's family – comprising himself, his wife and their two children – were rushing to leave the reserve because of torrential rain.
While crossing the bridge, which was covered in "a good 3 to 5cm of water", Mr Hussain said that he and his two-year-old daughter, Ashley, fell "into a huge hole", and into "dark and muddy" water.
Mr Hussain wrapped his arms around his daughter to "stop her from floating away", but said he "couldn't feel the bottom" and that if he had let go, the two of them would have been "sucked under the bridge".
"I wasn't thinking at all in that moment, it was purely on instinct, protecting her (Ashley) was my priority," he told CNA938 on Friday.
Passers-by helped pull his daughter to safety and Mr Hussain squirrelled his way out of the hole and back onto the crossing shortly after.
He suffered bruises and scratches, and said in his post that they were "seconds away from drowning".
Mr Hussain added that he and the passers-by who helped his family stayed behind on the bridge after the incident to warn others. 
"The hole was really not visible and there were other families walking with young kids, some of these kids were on their own," he said. "It would have been completely disastrous if a young child or an elderly person had fallen in."
Mr Hussain lost his sunglasses and his wife's camera was badly damaged when he fell into the water, but the family said they are hoping that pictures from that trip can be salvaged. 
Ashley was unscathed and is recovering well from the incident, Mr Hussain said, adding "she thinks this is some grand adventure". 
"I told her that, 'when you have kids, this is a story that you will tell them'," he added. 
The affected area was reopened on Thursday following the closing of the gap, said NParks.