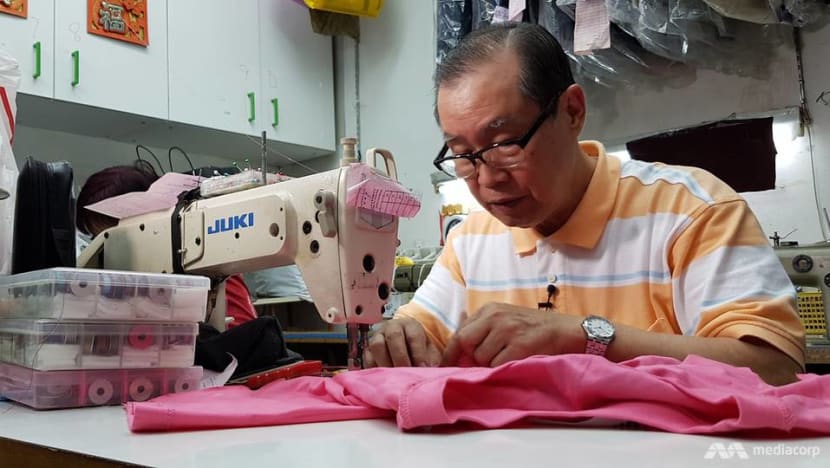 SINGAPORE: He sits hunched over the sewing machine, hands slowly guiding the pink fabric under the grind of the needle.
A heartbeat later, he pauses, studies his handiwork and stops the needle. The stitches are inlaid perfectly.
For over 40 years, Mr Chan Huen Meng has worked tirelessly in his tailor shop, Meng Yee Alteration.
"I usually work for seven days a week, and it gets busier around the holidays due to the festivities. Sometimes in the weeks before prom nights, we get many orders too," he said.
Once his hands are off the sewing machine, the slight tremors are immediately noticeable.
While the onset of Parkinson's disease is hastening his retirement, Mr Chan has groomed an apprentice to take over his business.
"My kids have received education and pursued careers in other industries so I won't ask them to take over my business. Actually, this industry is tough, because the hours are long and the money is little. You don't get holidays as a boss so you need to work from day to night," he explained.
He became a tailor's apprentice at 13, before diving into his first venture in East Coast, at 23.
"But business failed, because I was inexperienced and rushed into it without a proper plan," he said.
"It was a small shop with a small capital. But I picked myself up after that and tried again. You need buyers and a good skill, but my skills weren't that good last time, so I failed." 
Since then, Mr Chan has had shops in Lucky Plaza, specialising in customised western suits, and then in Far East Plaza.
It was in his present location that he found himself taking on more alteration requests.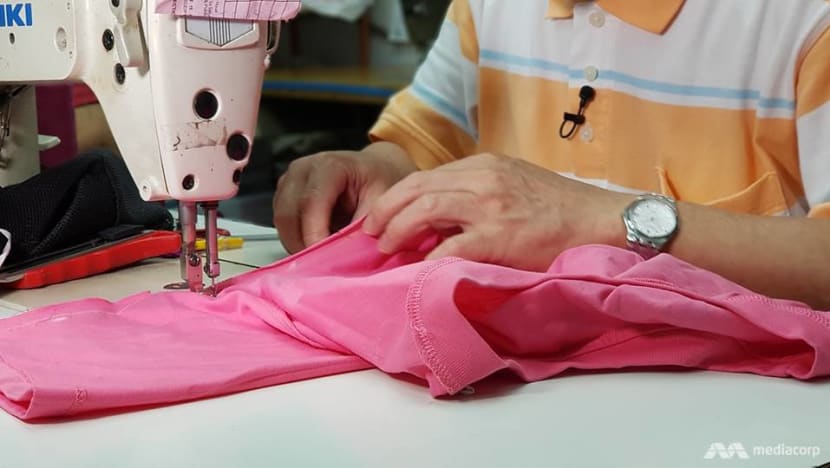 His daughter Chan Wai Yeng explained that this was partly due to the rise of e-commerce.
"Making your own clothes went out of fashion in the 90s, when there were many clothes you could buy off the rack cheaply. My father recognised that it was not a business he could continue, but he also realised that there was a significant number of customers who wanted altering of their clothes. And because of that he slowly pivoted to that business," she said.
Ms Chan added that as more consumers use online shopping portals, business has picked up.
"People were buying clothes online without even trying. When there are good sales, they just want to get the item and see if they can fit it through an alteration shop," she said.
While this seems to resonate across the old-school tailor enclaves, there are still customers who appreciate the value of artisanal tailoring skills.
Tailors in Tekka Market say made-to-measure orders still make up a significant portion of their sales.
Ms Komathy Muthiah is a seamstress who has been in the trade for nearly 20 years. She works about 12 hours daily at her shop, Three Stars Fashion Design, and even more so during festive seasons like Hari Raya and Deepavali.
"Customers may make appointments, but sometimes their orders will be delayed because the workload is shared between one other person and me. I'm just thankful that they are understanding."
And busy she was. Even during the interview, Ms Komathy's hands were full; briefly stopping to take measurements, or to close a sale.
She added that as most of her customers are regulars, she is open to discussing designs with them. 
"A lot of customers, even with the option of retail, they are not satisfied. They do come back to me, because they have their own ideas of how their dress should look."
This also means that Ms Komathy has to keep up with fashion trends. She says that designs from the 90s are making a comeback – such as boat neck collars and bare back blouses.
Her hours may be long, but seeing her designs come alive makes it all worth it.
A simple sari blouse starts at $35, and one with more intricate embellishments or finishing can go up to $100.
Ms Komathy started as a home tailor after quitting her job in a factory. Like Mr Chan, she did not have an easy start, but her perseverance eventually paid off.
"I first started a small shop in Teck Whye, but I struggled so much because I didn't have the manpower to meet all my orders, since I was shouldering the business alone."
The single mother then took her business home, and began sewing clothes for her family and friends, before slowly building up enough capital to start her shop at Tekka Market.
A needle and thread can go a long way; and these tailors have stitched their way into businesses to feed their family and their passion.
"It is very hard work - you see everybody has a skill in them right?" Ms Komathy said, pointing at a green and gold baju kurong that she had just sewn.
"So my skill lies in my hands. I love to do something different. I don't just do stitching. I also do knitting, crocheting, also beads-work. Something creative. I love to do this, it's in me."