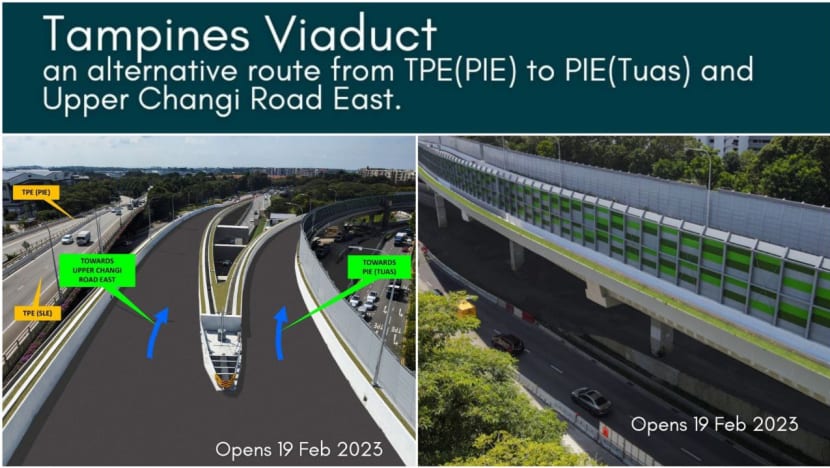 SINGAPORE: The Tampines Viaduct will open on Feb 19, about three years after it was initially scheduled to be completed.
The viaduct will provide motorists with an additional and direct route for travelling from Tampines Expressway (Pan Island Expressway) to PIE (Tuas) and Upper Changi Road East, the Land Transport Authority (LTA) said on Friday (Feb 3).
The 1.8km one-way viaduct, which will open from 3pm, will have a new Exit 2A along TPE(PIE) after the existing Exit 2.
This will help to redistribute the traffic heading to PIE (Tuas) and Upper Changi Road East, said the authority. 
The viaduct, initially scheduled to be completed in the first quarter of 2020, had its construction delayed following its collapse in 2017, which killed one worker and injured 10 others.
In December 2018, LTA announced that it had appointed another company to finish the viaduct, which was then expected at the time to be completed in the first half of 2022.
Motorists will have an additional option to bypass the stretch of TPE(PIE) between Loyang Flyover and Upper Changi Flyover, and the existing signalised junction at Upper Changi Road North/East. 
Drivers from Tampines, Pasir Ris and Loyang can continue to use the existing Exit 1 to Upper Changi Road East and PIE (Tuas). 
LTA added that motorists can also continue to use the existing at-grade road networks to Upper Changi Road North, Upper Changi Road East, PIE (Tuas) and PIE (Changi).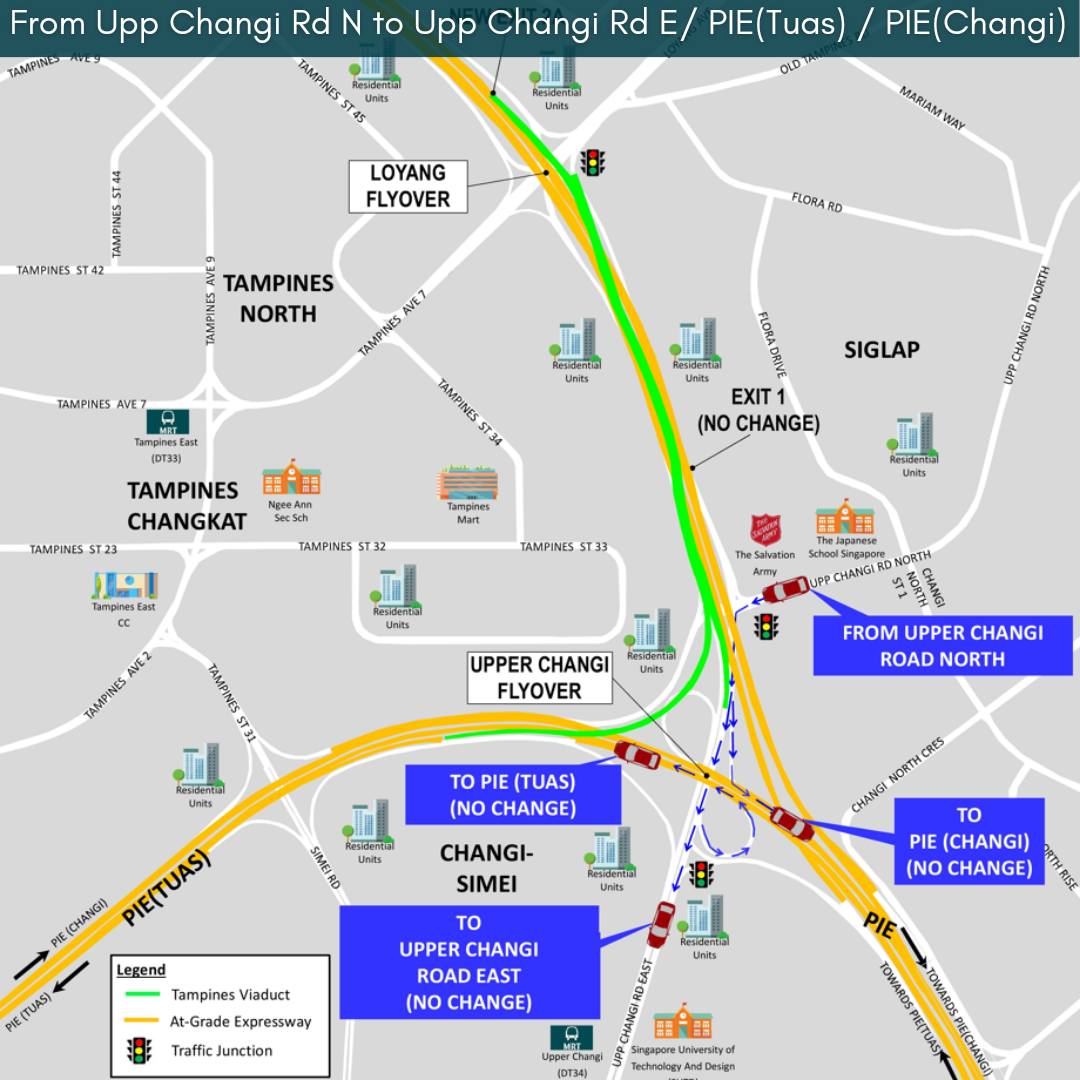 WORKS IN PASIR RIS AND CHANGI
As previously announced by LTA, there will be some changes to the roads and bus routes in Pasir Ris and Loyang/Changi in order to facilitate construction work and development in the area. 
Upcoming road changes include the closure of Loyang Avenue, between Pasir Ris Drive 3 and Loyang Way, from Feb 26 and the closure of Pasir Ris Drive 1, between Pasir Ris Drive 8 and Pasir Ris Central, from the third quarter of 2023.
Ahead of the road changes, LTA said it has been engaging local residents and working closely with various agencies and industrial stakeholders on the road network changes and alternative routes. 
"Adjustments have also been being made where possible to mitigate the impact. For example, LTA has widened some alternative routes, and put in place real-time traffic monitoring measures to allow for mitigation of traffic congestion and to facilitate incident management," it added. 
Motorists will also be informed of upcoming road closures through media platforms such as radio messages and newspaper advertisements.
Informational and directional traffic signs will be provided on site and traffic marshals will be deployed to guide road users through the various phases of road network changes, said the authority.