Tan Cheng Bock 'recovering well' after surgery on lung
Dr Tan, the founder of Progress Singapore Party, said he expects to be discharged from hospital in about a week.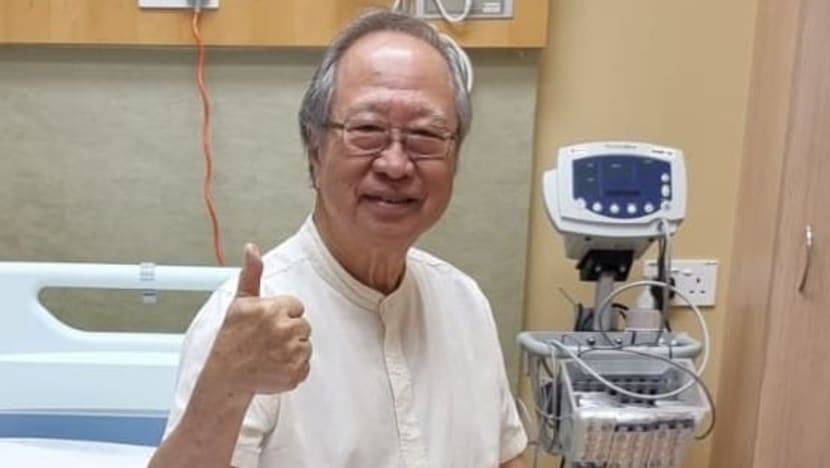 SINGAPORE: Progress Singapore Party (PSP) founder Tan Cheng Bock revealed on Saturday (Jul 30) that he had surgery on his lung, adding that he is recovering well in hospital.
"Recently after undergoing some medical examinations, doctors advised that I take the precautionary step of removing a small lesion on my right lung," Dr Tan said in a Facebook post. 
He was admitted to the National University Hospital (NUH) on Friday for the surgery.
"The operation was successful, I am recovering well and I expect to be discharged in about a week," Dr Tan said, thanking doctors and nurses at NUH.
"And I'm looking forward to being up and about again and continuing my walkabouts and other activities!"
Dr Tan, a former People's Action Party (PAP) Member of Parliament, founded the PSP in 2019 before the 2020 General Election.
In that election, he contested West Coast GRC as part of a five-member PSP team that included Mr Jeffrey Khoo, Ms Hazel Poa, Mr Leong Mun Wai and Mr Nadarajah Loganathan.
Dr Tan was, for 26 years, the MP for the Ayer Rajah ward, which became part of West Coast GRC.
His team finished with 48.31 per cent of the votes in West Coast GRC in the last General Election, reducing the PAP's vote share from 78.75 per cent in 2015 to 51.69 per cent in 2020. 
It was one of the closest battles of the 2020 General Election. The PAP's West Coast team was made up of Mr S Iswaran, who was then Minister for Communications and Information, Mr Desmond Lee, who was Minister for Social and Family Development, Ms Foo Mee Har, Mr Ang Wei Neng and new face Ms Rachel Ong.
PSP's Mr Leong and Ms Poa became Non-Constituency Members of Parliament (NCMP) as a result of the election outcome. 
Under the NCMP scheme, losing opposition candidates with the highest percentage of votes will be offered seats in Parliament if the number of elected opposition members falls short of 12.
In the case of the 2020 General Election, two NCMP seats were offered to PSP after the Workers' Party (WP) won 10 seats at the polls.
In March 2022, the PSP said that it has tightened its selection process for cadres as it steps up efforts to win more seats in Parliament at the country's next general election.
"While PSP initially had an open door policy on membership when it was established on Mar 28, 2019, the party's current policy is to have people join first as volunteers and then later, if the PSP deems them suitable, to become members of the party," PSP secretary-general Francis Yuen said in March.