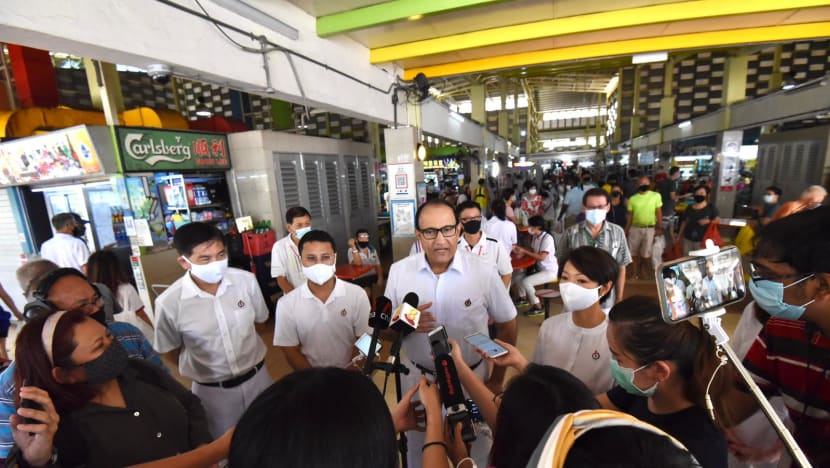 SINGAPORE: The People's Action Party (PAP) team led by Mr S Iswaran has defeated Dr Tan Cheng Bock and his team from the Progress Singapore Party (PSP) in West Coast GRC.
 
The PAP captured the five seats with 51.69 per cent of total valid votes, while the PSP garnered 48.31 per cent.
 
Mr Iswaran, who is Minister for Communications and Information, led a team comprising Minister for Social and Family Development Desmond Lee, Ms Foo Mee Har, Mr Ang Wei Neng and new face Ms Rachel Ong.
 
Mr Lee and Mr Ang were formally MPs for Jurong GRC.
 
Observers had expected a tough fight in West Coast, with Dr Tan, a former PAP MP, returning to contest in this General Election after forming the PSP.
 
Dr Tan was, for 26 years, the MP for the Ayer Rajah ward, which is now part of West Coast GRC.
 
His PSP slate for West Coast GRC includes Mr Jeffrey Khoo, Ms Hazel Poa, Mr Leong Mun Wai and Mr Nadarajah Loganathan.
During campaigning, Mr Iswaran had said it was "wrong" to frame the contest as one between two ministers and Dr Tan, saying it was "not about personalities".
 
Rather, it was about what the two sides have to offer, he said.
Speaking to reporters after the confirmation of the results. Mr Iswaran thanked the voters of West Coast GRC for "placing their trust in us". He promised to "trust and honour the commitments we have made" and "ensure that we work to improve their lives and livelihoods".

Acknowledging the PSP team, Mr Iswaran said that they "presented a choice to the voters of West Coast", allowing voters to think about the issues that they want to vote for. 
He added that the team would do its best to reach out to and work with those who did not vote for them, as they perform their duties as members of parliament.
In response to a question on the team's immediate plan to engage residents, Mr Iswaran said the foremost priority would be to organise the town councils of West Coast GRC and Pioneer SMC, before looking at the programmes they would have to "mount across the GRC".
"Beyond that, I think we will have to work out who are the segments, who perhaps we need to reach out to more, and what are the issues that are uppermost in their minds in order to deal with it."

However, the team would need more time to analyse in detail before giving more specific answers, he added.

West Coast GRC has traditionally been a PAP stronghold. In 2015, the PAP won 78.75 per cent of the vote against the Reform Party, making them one of the best performing teams for the ruling party.
"I'M VERY PROUD OF THIS TEAM": TAN CHENG BOCK
On his part, Dr Tan told reporters that he was proud of his team for reducing the PAP's vote share from 78.75 per cent in 2015 to 51.69 per cent in 2020. 
"We gave them a tough fight, we were close. I'm very proud of this team," said Dr Tan. 
However, as the best-performing losers from the opposition in this election, PSP could still send its candidates into Parliament via the Non-Constituency Member of Parliament (NCMP) scheme. 

Dr Tan stressed that he would not take up the NCMP seat. He said PSP would discuss whether to send two of their other candidates. 
"I leave the choice to the party ... and I'm quite open. Maybe if we agree, we will send in two people into Parliament and maybe they will have an understanding on how the Parliament processes are like, how we debate in the house and so on," said Dr Tan. 
"We will decide," he added. 

Download our app or subscribe to our Telegram channel for the latest updates: https://cna.asia/telegram