Tanjong Pagar car crash: Woman who suffered serious burns wants second shot at life
Raybe Oh was left with burns to 80 per cent of her body after trying to help the occupants in a burning car more than a year ago.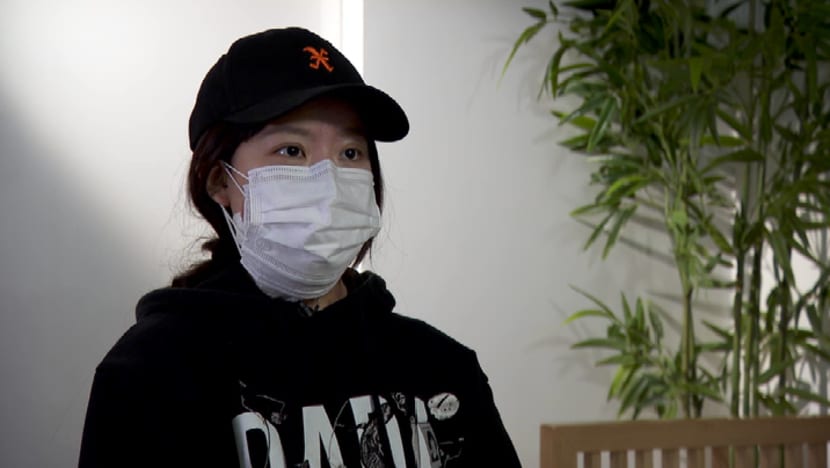 SINGAPORE: In the early hours of Feb 13, 2021, the roar of a speeding car rips through the pre-dawn stillness in Tanjong Pagar.
Moments later, a sickening crash. A lone figure dashes towards the burning wreckage and tries in vain to free the trapped passengers. She stumbles back, covered in flames.
Five men, one of them her boyfriend, would die in the crash.
The horrific scenes, captured on CCTV footage, were seen by thousands on social media. But what came after took place in silence and solitude.
Raybe Oh survived, but she was left with burns to about 80 per cent of her body. It's been a long, hard year: More than 40 operations, monthly laser procedures, and weekly checkups.
"It was four months and I was lying on the bed 24/7 because my body (was) severely injured. I couldn't even turn my body. I was wrapped up like a mummy in a hospital," she told CNA in her first on-camera interview since the crash, as she reflected on those early months in hospital.
"It's been quite tough for me because every time after the surgery, I'll be in a lot of pain. Laser was very painful. Even physiotherapy is painful for me."
The searing red blisters on her right hand are testament to the physical agony. This and her eyes are the only visible parts of her skin during our meeting. The rest of her is protectively bundled up – black cap, black jumper, black tights.
She's not quite ready to appear uncovered in public yet, she admits.
"MY LIFE IS VERY BORING NOW" 
But through all the pain, Ms Oh still found comfort.
"I'm very happy, very glad that I have very strong support from my family and my [deceased] boyfriend's family, my close friends as well. They're always there for me. They took care of me very well."
Her mother stopped working to look after her.
"She will cook for me every day and wash my clothes. She's more like, babysitter to me now," Ms Oh said wryly.  
As someone who used to be "very active", adjusting to her new homebound life has not been easy. Her condition means the former air stewardess needs to avoid going outdoors if possible.
"Ever since the accident, I lost a lot of muscle mass. I couldn't work out like I would before. And also I need to protect my skin away from sunlight. And Singapore is so hot and humid, so I'll try to stay in as much as possible."
She added with a laugh: "My life is very boring now." 
Especially since she has had to give up singing, which has "always been her passion". 
"My throat has been hurt from all the intubation, from general anaesthesia. And I wasn't working out too much, so the lung capacity doesn't allow me to sing so well now," the former getai singer explained. 
But she's not giving up. 
"I hope to regain back my strength and start to train my vocal and eventually I can go back to singing."
The 28-year-old is not one to dwell on the past. 
"I think I'm blessed with a very cheerful character. So I'm always a half glass full person. So instead of looking back at what I've lost, I will be looking at what I can achieve in future." 
"WHEN ONE DOOR CLOSES, ANOTHER OPENS"
"I was too complacent with my life before the accident," Ms Oh said.
So she's making the most of her second shot at life by stepping out of her comfort zone and starting a new beauty business with a friend. 
"Being a successful business owner has always been my dream." 
As we sit in her office, she shares with us, excitedly, her upcoming plans. Royal Skin Haus – which offers facials, slimming and hair removal services – recently moved into a new location at Beach Road, and a possible expansion is on the horizon.
Business seems to be going well. A few customers gathered outside the shop as our conversation wound to a close. 
"I know how beauty can be very important to a person. It can help people to gain confidence and that will eventually change their life. Now that I don't have the luxury of enjoying this, so I hope to bring, I want to bring this to people out there."
And her reason for stepping back into the public eye?
"[I hope] my story can inspire them to be strong, because when one door closes, another opens," she said.
"There's more I can do without my looks. I want to show people that a strong personality can achieve anything I want as long as I'm determined and focused and disciplined."