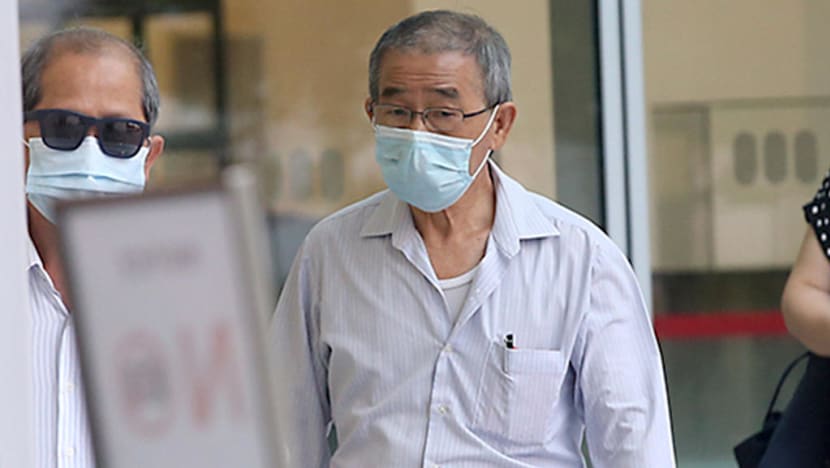 SINGAPORE: A traditional Chinese medicine (TCM) practitioner was given 13 months and two weeks' jail on Thursday (Aug 5) for molesting a patient under the guise of improving her 'qi' or circulation, and for asking her lewd questions.
Lim Ah Bah, 74, had been convicted after a trial of two counts each of outrage of modesty and insulting a woman's modesty.
He molested a woman, then 39, at the Xin Hua TCM Clinic on Oct 1, 2018. During a TCM session, he rubbed and sucked the woman's chest before molesting her through her pants.
He also insulted her modesty by asking her to apply lubricant gel on her private parts, and asking if she was married and had a boyfriend.
When she answered that she did, Lim replied asking her to have more sex with her boyfriend. He also asked her boyfriend to suck her body parts for better blood circulation.
Lim had contested the charges, claiming that the victim had asked him to perform the sex act on her.
He claimed that the woman had lifted her shirt suddenly, shocking and scaring him such that he "dare not imagine any further".
According to him, the woman said "old physician, will you do for me", and he claimed he replied negatively. He added that he was innocent and had never been accused in the decades he had lived.
The victim had testified colourfully about her ordeal, and the evidence was corroborated by recorded phone conversations, closed-circuit television footage of parts of the clinic, and Lim's partial confessions in five police statements.
The prosecutor said Lim had abused his position as a TCM practitioner, gratifying his lust after being "obviously physically attracted" to the victim.
In a phone call, Lim told the victim that he had performed the same treatment on another female patient aged 60, and that the victim was "very healthy" and "very happy".
As part of his defence, Lim had called another patient to the stand. This patient testified that Lim had never asked her to use a sex act as a treatment.
She said Lim was "a very good doctor".
Lim was allowed to begin his jail term on Aug 20.
For outrage of modesty, he could have been jailed for up to two years and fined per charge. He cannot be caned as he is older than 50.
For insulting a woman's modesty, he could have been jailed for up to a year, fined or both per charge.