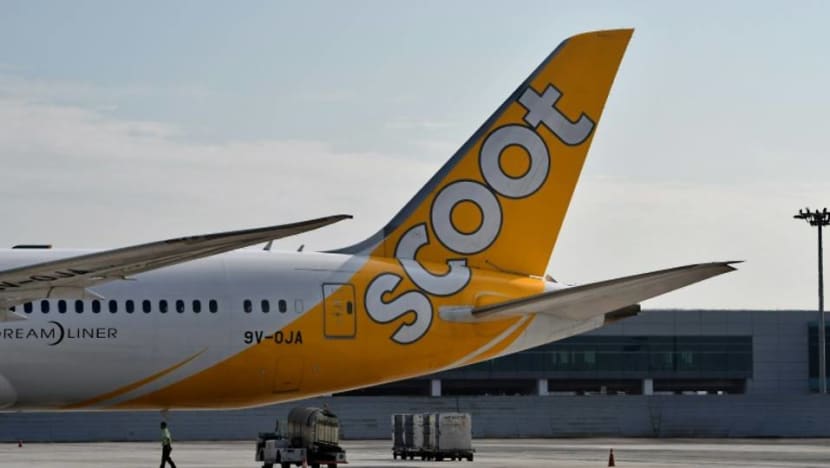 SINGAPORE: Scoot passengers in Bangkok who were due to depart for Singapore on Monday (Nov 26) were hit with a 29-hour delay after their aircraft encountered technical difficulties.

Flight TR869 was due to depart Don Mueang Airport International Airport at 4.25pm on Monday, but was rescheduled to 10.10pm the next day.
In response to a query from Channel NewsAsia, Scoot said the plane was scheduled to depart Tokyo for Singapore via Bangkok on Monday when it encountered technical difficulties.

"Engineers immediately began rectification works, but in view of the expected time required, a decision was made to ground the aircraft instead," Scoot said.

"Consequently, flight TR869 has been retimed to depart on Nov 27 at 3.50pm local time. Where possible, affected customers bound for Singapore have been re-accommodated to flight TR899 departing for Singapore via Taipei. 
"Meanwhile, accommodation and meals for remaining customers inconvenienced by the delay have been arranged where necessary." 
This comes a day after a Scoot flight from Singapore to Bangkok was delayed for nearly seven hours due to a technical issue.
FLIGHT RESCHEDULED TWICE
A passenger, who did not wish to be identified, said she and her family were due to fly back to Singapore from Don Mueang Airport International Airport on Monday. 
She said her husband, who was travelling with her, initially received an email at 11am, informing them that their 4.25pm flight had been rescheduled to 6.50pm the next day.

They then received an email about half an hour later, informing them that their departure time had been further rescheduled to 10.10pm on Tuesday.

"Scoot cited technical reasons but no further details were given. We were told that we would be transferred to a hotel and given free accommodation, free dinner, breakfast and lunch," she said.

She said approximately a hundred affected passengers were put up at Ibis Bangkok Impact, a hotel in the Nonthaburi district. Meals were also provided.
She added that Scoot had arranged for a shuttle bus to take all affected passengers to the airport at 5pm, but voiced concern at having to potentially check out at 1pm due to the hotel's policy. 

"We were not given a choice to book alternative transportation options … and because our returning flight is so late, my husband and I have to take an extra two days of leave," she said.

In an updated statement on Tuesday, Scoot said it would add an additional flight to Singapore for affected customers in Bangkok.
The new flight TR8869 is scheduled to depart at 5.10pm local time. In addition, some customers will also be "re-accommodated" on TR611, which has had more seats added.
TR611 is scheduled to depart Bangkok for Singapore at 6.15pm local time.
Accommodation and meals for customers in Tokyo and Bangkok inconvenienced by the delay have been arranged, said Scoot.

Additional reporting by Wendy Wong.