HDB to pilot 'beamless' flat designs in new Tengah BTO project
The Garden Waterfront I & II @ Tengah will be launched in November 2022 and built using new innovations and technologies.
SINGAPORE: An upcoming Build-to-Order (BTO) project in Tengah town will feature "beamless" flats providing more headroom and flexibility to configure layouts, as part of an initiative by the Housing and Development Board (HDB) to pilot the latest construction technologies.
Under HDB's Construction Transformation Project, Garden Waterfront I and II @ Tengah - which will be launched in the November 2022 sales exercise - will adopt a slew of innovations in its design, fabrication and construction of about 2,000 units. 
HDB will partner construction firm Obayashi Singapore and other local consultancy partners to trial the technologies, which aim to improve productivity and eventually reduce the waiting time for new flats.
Speaking at the annual HDB awards ceremony on Tuesday (Oct 11), Minister for National Development Desmond Lee said: "This project will seek to integrate the very latest construction processes and technologies across HDB's development value chain to boost construction productivity."
The ceremony, held at the Resorts World Convention Centre, will see Mr Lee present awards to HDB building contractors and architectural consultants for their contributions. 
"It will also seek to break new ground with the use of sustainable construction methods. We hope that through this collaboration, our local partners will learn from one another and our international counterparts, as we continue to build capability," added Mr Lee. 
Mr Lee noted that the drive for construction productivity was not new to HDB.
"In fact, HDB is an early adopter of prefab technology. It first used precast components in construction in the 1980s. But we must keep striving to improve and the COVID pandemic has accelerated these efforts," he said. 
Construction activities have returned close to pre-pandemic levels, added Mr Lee. 
HDB said it attained a site productivity improvement rate of 26.2 per cent last year, and has set a 40 per cent target by 2030. 
For BTO flats built under the Construction Transformation Project alone, the HDB is targeting a 25 per cent improvement in productivity, compared to other projects.
HDB's chief executive officer Tan Meng Dui said that with the initiative, the agency hopes to "raise the bar further and find novel ways to construct quality homes with less manpower, faster and safer".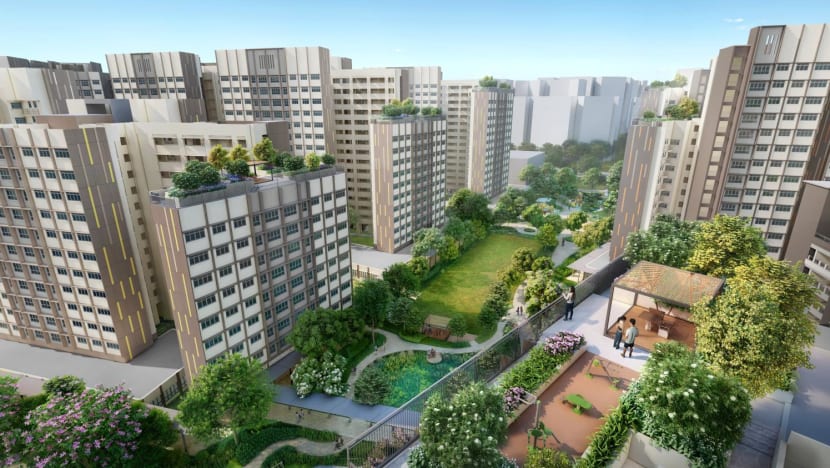 NEW TECHNOLOGIES
The beamless flat design to be trialed in Tengah will be made possible through a hybrid precast system involving both 2D and 3D precast components.
This is a more efficient alternative to the full 3D prefabricated, prefinished volumetric construction components used in many HDB projects. 
Units built with the flat plate system will have no ceiling beams and hence have "consistently higher" headroom compared to typical BTO projects, said HDB.
This also gives homeowners more flexibility to configure their layouts as they wish without having to take into account ceiling beams, HDB added. 
Under its Construction Transformation Project, HDB will also seek to improve the design process by modelling flats virtually instead of physically. 
Previously, life-size timber mock-ups of kitchens and toilets had to be assembled, taking up time and resources.
With virtual technology, HDB said it can now build a digital twin of a residential unit with details such as the position of pipes, sanitary fixtures, power points, switches and furniture.
HDB said it was already piloting 3D concrete printing for furniture and landscape features in some projects in Tengah and Bidadari.
Under the Construction Transformation Project, it will go "one step further" and use special fibreglass reinforced concrete material, HDB said. 
This potentially uses less material than the conventional 3D printing method, and allows for studies on larger and more complex structures to be made without the need for intricate moulds.
HDB will also test innovations from construction firm Obayashi, including the use of artificial intelligence to optimise hoisting of precast components in tower crane operations.
Light detection and ranging technology will also be used to avoid collisions.
In the construction of multi-storey carparks, crawler cranes - largely manually operated at present - will be guided by technology onto optimum paths for lifting elements.
Instead of having workers manually guide components into place, HDB will also use the SkyJuster device to orientate and lower precast elements, reducing the manpower required.
HDB said it will also adopt digital technologies such as a cloud-based common data environment to integrate work processes and help with managing and planning logistics. 
For instance, precast components will be tracked using radio frequency identification or Bluetooth tags from the time they are fabricated to when they are delivered and assembled. 
Key takeaways from the Construction Transformation Project's application in Tengah will be studied for future implementation in other housing areas, said HDB.