Woodlands double murder: Man loses appeal, to face death sentence for killing pregnant wife and daughter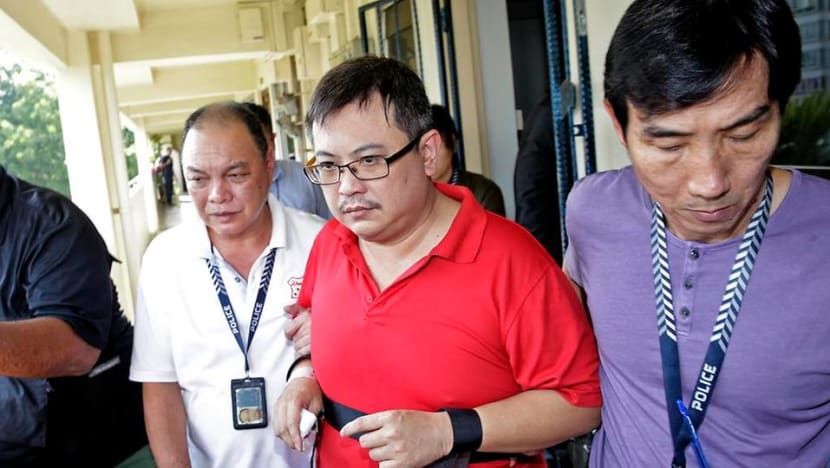 SINGAPORE: A man who strangled his pregnant wife before killing his four-year-old daughter lost his appeals against his double-murder convictions on Wednesday (Feb 23).
Delivering the verdict on behalf of a five-judge panel, Justice Judith Prakash dismissed the appeal and upheld Teo Ghim Heng's convictions as well as the death sentence.
Teo, now 46, was sentenced to death in November 2020 for murdering Ms Choong Pei Shan, who was six months pregnant, as well as their daughter in a flat in Woodlands.
He strangled Ms Choong, who was 39, with a towel in January 2017 after quarrelling with her about finances. He also claimed that she insulted him, calling him a "useless" father in front of their daughter.
When she was motionless, he asked his daughter to sit on his lap, before strangling her with the towel while she cried. He told her to "go find Mummy already", and killed her.
Teo laid the bodies on his bed and slept beside them for about a week. He tried to kill himself repeatedly but failed each time. He eventually set fire to the bodies and tried to lie down next to them but "chickened out" because of the heat.
The burnt bodies were found on the first day of Chinese New Year in 2017, when Teo's brother-in-law knocked at the door looking for his sister and detected an acrid smell coming from the windows.
Teo was represented by lawyers Eugene Thuraisingam, Johannes Hadi, Suang Wijaya, Genghis Koh and Sophia Ng. At appeal, they focused on the defence of diminished responsibility.
The appeal was heard by a panel of five judges: Chief Justice Sundaresh Menon, as well as Justices Judith Prakash, Steven Chong, Belinda Ang and Chao Hick Tin.
THE COURT'S FINDINGS
In the verdict delivered by Justice Prakash on Wednesday, the Court of Appeal agreed with the trial judge's findings that Teo had not made out his defence of diminished responsibility.
Teo argued that the trial judge erred in concluding that he was not suffering from major depressive disorder at the time, and had given "insufficient weight" to Teo's own assessments on whether the diagnostic criteria for the disorder were made out.
Justice Prakash went through the various criteria, agreeing with the trial judge that they were not made out. These include: A criterion requiring him to have "depressed mood most of the day nearly every day", another requiring him to have suffered from significant weight loss or weight gain without dieting, as well as insomnia or hypersomnia.
Justice Prakash said the trial judge was right to rely on the evidence given by Teo's work supervisor, ex-colleague and in-laws, who said they had not observed depressed mood in Teo. He also did not suffer from any significant weight loss or insomnia or hypersomnia.
As for feelings of worthlessness or guilt, the court accepted that internal feelings would not have been easily observable, but noted that Teo's behaviour in actively trying to reverse his fortunes, such as taking on new jobs, was inconsistent with a person experiencing such feelings nearly every day.
"We agree with the (trial) judge that the appellant's self-reported account was inconsistent with his stellar performance at work and ... his ability to cover up his tracks and lay a false trail following his offences," said Justice Prakash.
She was referring to how Teo changed his dead wife's Facebook profile picture to give the appearance that she was alive, as well as how he evaded detection by keeping the air-conditioning running to slow decomposition of the bodies.
He also bought air fresheners to mask the smell of burning and decomposition. All of this indicated he had the presence of mind and did not suffer from a diminished cognitive ability, said Justice Prakash.
Teo's lawyer confirmed with CNA after the hearing that they would next pursue clemency for Teo.