Train services resume on Thomson-East Coast Line after more than 3-hour disruption
The disruption was due to a signalling fault, says SMRT.
SINGAPORE: Train services along the entire Thomson-East Coast Line were disrupted for more than three hours on Wednesday morning (Jul 6).
There were no services in both directions between Woodlands North and Caldecott MRT station due to a signal-related fault, said SMRT in a Facebook post, adding that the disruption started at around 8.05am.
Engineers from SMRT, Land Transport Authority (LTA) and Alstom were activated within five minutes, SMRT said in the post that was updated at 3pm. 
"The engineers have since restored the signalling system into its operation state and train services progressively resumed from 11.20am."
Commuters on board 13 of the 19 affected trains got off safely at the station platform within 10 minutes, said the transport operator. 
The remaining commuters on the six trains got off safely by 8.50am at their nearest stations.
SMRT said its staff were on the stalled trains to assist affected commuters. 
"There was full lighting and ventilation in the stalled train while the commuters were on-board," said SMRT. 
None of the commuters reported requiring medical assistance, it added. 
Free regular and bridging bus services between Woodlands North and Caldecott MRT stations were available.
In-train and station announcements were also made to advise commuters to take alternative modes of transport such as travelling along the North-South and Circle Lines. 
"Additional staff have been deployed to assist with crowd management. We are sorry to have affected commuters' peak-hour journeys," said SMRT.
In an update at about 11.35am, SMRT tweeted that train services between Woodlands North and Caldecott had resumed.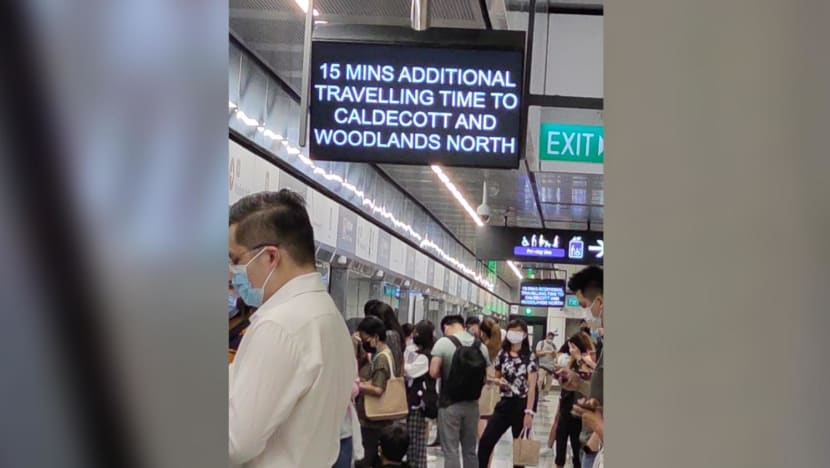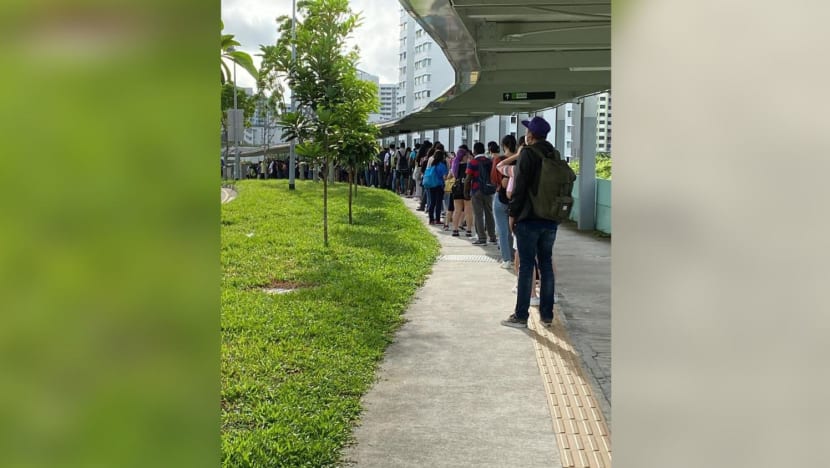 There are nine stations operating along the Thomson-East Coast Line, stretching from Woodlands North to Caldecott. The first three stations - Woodlands, Woodlands North and Woodlands South - opened to the public in January 2020, while six began passenger service in August 2021 in stage 2 of the line.
The opening of stage 2 was delayed twice, first due to the COVID-19 pandemic. The second delay came after the Land Transport Authority conducted a system review following a five-hour disruption on the line in December 2020 due to a signalling fault. 
Eleven more stations along Thomson-East Coast Line, including those running through Stevens, Orchard and Outram Park, are expected to start service in the second half of this year.