Thousands turn up to cheer Joseph Schooling during victory parade
The nation's first Olympic champion makes his final public appearance before heading back to the US, where he studies and trains.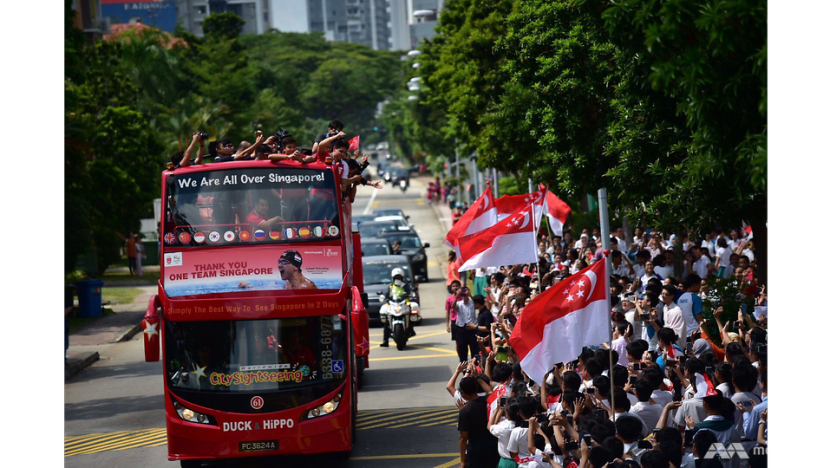 SINGAPORE: Thousands of fans came out to support the Republic's first Olympic gold medallist Joseph Schooling on Thursday (Aug 18) as he embarked on a victory parade, travelling from Old Airport Road to Raffles City in an open-top bus to meet and greet fans.
The route took the 21-year-old past Dunman High School, Broadrick Secondary School, Tanjong Katong Girls' School and the School of the Arts, and included three stops: First at Marine Terrace Market, famed for selling his favourite chye tow kway dish, followed by the Singtel Comcentre Plaza and finally Raffles City Shopping Centre.
Tweets about #JoSchooling OR #Schooling OR #JosephSchooling from:channelnewsasia
At Marine Terrace Market, Schooling did a quick stop at a chye tow kway stall. The owner of Bee Bee Carrot Cake, Ms Quek Bee Gek, told Channel NewsAsia: "He only ate one big bite and then he left. His parents were here as well."
The area was packed full of his supporters, all hoping to catch a glimpse of Schooling.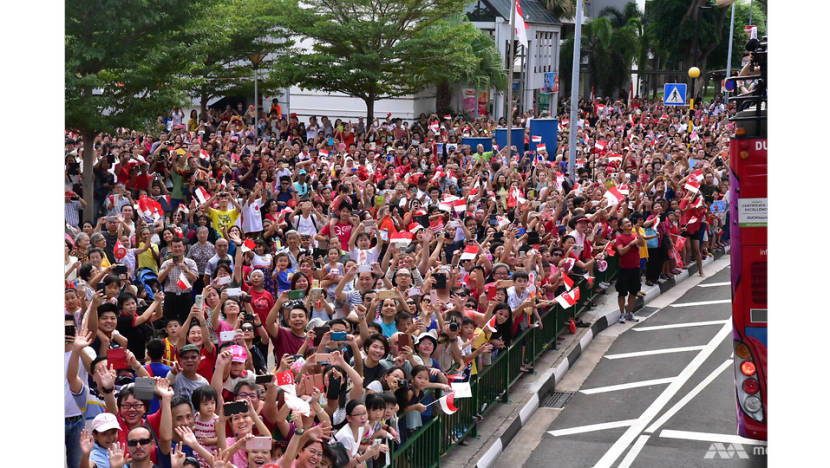 (Photo: Justin Ong)
"I didn't expect the turn out to be so big," said Ms Ann Seah, a housewife in her 40s. "I feel proud and united here. It's like one big Marine Parade family. I think it's not every day that this happens; so many people gathering together to witness Joseph Schooling, who used to stay in this neighbourhood, win such a grand Olympic medal.
"I am happy for him. He must be very happy as well."
Jerry Heng, 48, added that Schooling's win fell at a "nice" time, as it was "just a few days after National Day".
"There's a lot of people here, even pre-school children," he said. "It's quite surprising, honestly. If you win a gold this is what you get, and this is the first for us so it's even more special. When I see the news, it's Joseph Schooling. Wherever I go, it's about Joseph Schooling. It's really everywhere."
Along the roads, drivers honked after the open-top bus while fans on foot attempted to keep up, shouting cheers for the Olympic medallist.
Video: Cars honk at Schooling bus
The Singtel Comcentre Plaza was also packed with young and old supporters, even before Schooling arrived at the second stop.
I think he is awesome," 10-year-old Sim Sze Hung told Channel NewsAsia. "I woke up at 7am just to be here and I hope he someday breaks the world record."
For 76-year-old Joseph Hooi, the chance to meet Schooling was a once-in-a-lifetime opportunity.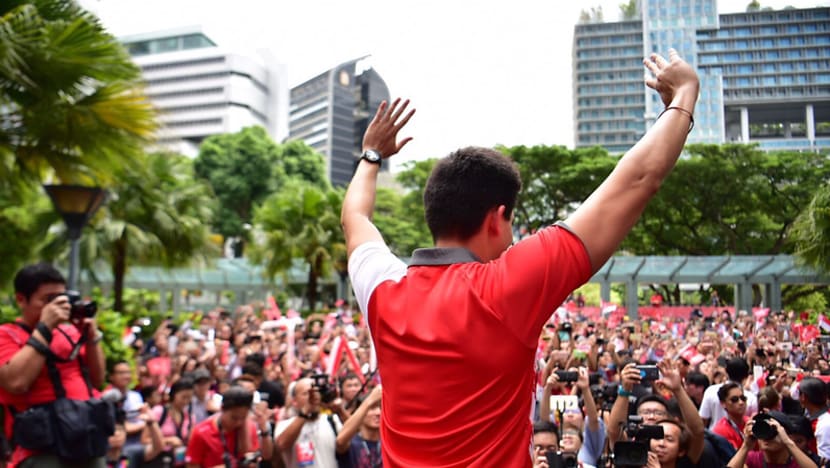 As he continued his parade through Orchard Road and the central business district, students and the working crowd were lined along the streets waiting for him to pass by.
"Joseph! Joseph! Joseph!" they chanted and screamed as he waved to the crowd from the top of the bus.
(Photo: Calvin Oh)
"Thank you auntie! Thank you uncle! Thank you everyone!" Schooling shouted back to the crowds that came out to see him as he made his way across Singapore.
The victory parade finally ended at Raffles City at about 1pm. At Raffles City's atrium, he was greeted by another large crowd of supporters, as well as Minister for Social and Family Development Tan Chuan-Jin and Minister for Culture, Community and Youth Grace Fu.
Along with his parents, he watched the highlights of his 100m butterfly final that earned him his fame.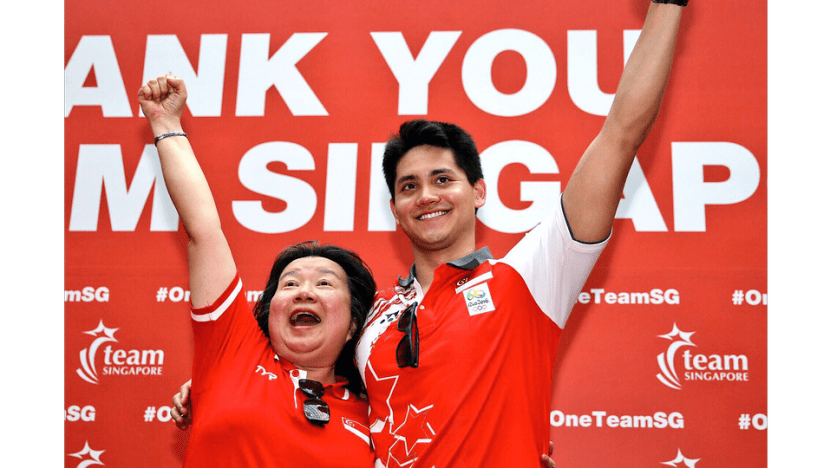 (Photo: Xabryna Kek)
Schooling stayed until about 2pm, signing autographs and greeting his fans that had come out to show him support.
Video: Schooling parade highlights
(Video: Calvin Oh)
The victory parade marked Schooling's final public appearance in Singapore before his early Friday morning flight back to the United States, where he studies and trains at the University of Texas.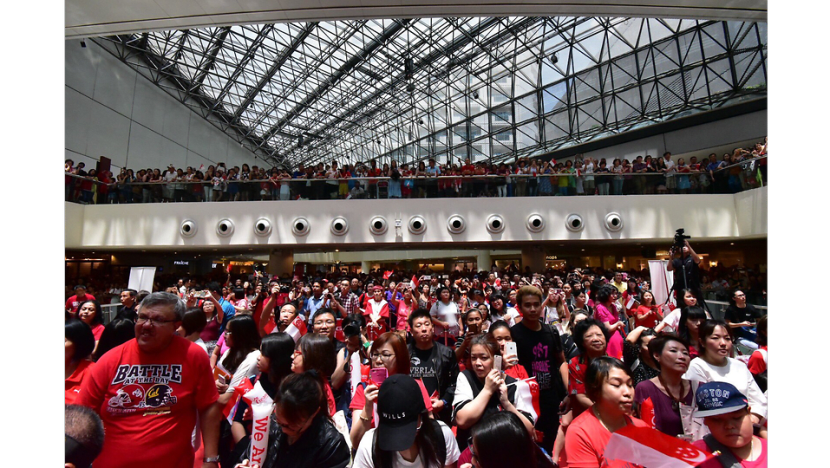 Singapore's Olympic medallists have all enjoyed similar victory parades - in 2012 and 2008 after the female table tennis paddlers clinched two bronzes and a silver, respectively; and in 1960 in recognition of weightlifter Tan Howe Liang's runner-up achievement. The national footballers also went on a victory parade after their last major trophy, won at the 2012 Asean Football Federation Suzuki Cup.