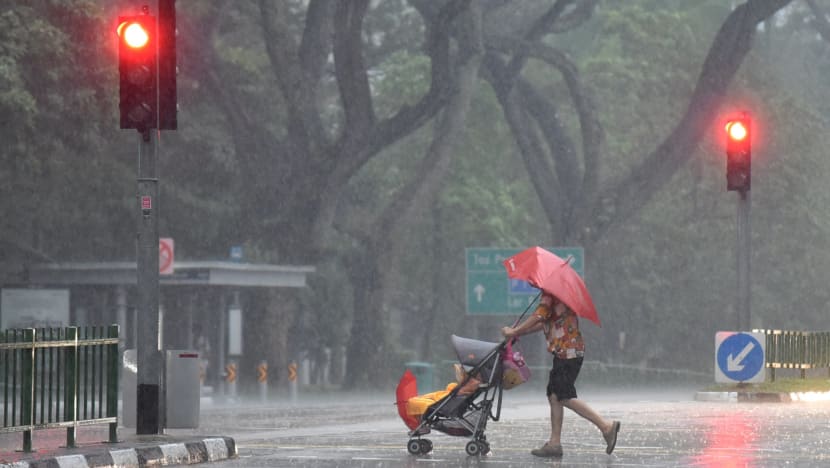 SINGAPORE: Rainy weather is expected to continue in the first half of October, with thundery showers between the morning and early afternoon on most days, the Meteorological Service Singapore said on Friday (Sep 30).
In its fortnightly outlook, the Met Service also forecast moderate to heavy thundery showers over Singapore in the afternoon during the first weekend of the month.
This is due to the "convergence of low-level winds in the region", it said.
Widespread thundery showers with occasional gusty winds between the pre-dawn hours and morning are also expected on some days, due to the development of Sumatra squalls.
Total rainfall for the first half of the month is likely to be above average over most parts of the island, the Met Service said.
Daily temperatures are forecast to fall between 24 degrees Celsius and 33 degrees Celsius on most days. However, the wet weather may bring temperatures of between 23 degrees Celsius and 32 degrees Celsius on a few days.
SEPTEMBER REVIEW
There were more showers in the second half of September as compared to the first half, the Met Service said, with the highest total daily total rainfall of 127.6mm recorded around Tuas South on Sep 25.
"On several days of the month, moderate to heavy thundery showers affected the island in the morning, extending into the early afternoon on a few days," it said.
Many parts of the island also saw above average rainfall in September, with Lower Pierce Reservoir in central Singapore experiencing 93 per cent above average.
Meanwhile, rainfall at Chai Chee in eastern Singapore was 23 per cent below average.
The daily maximum temperature stayed below 33 degrees Celsius on most days due to the rainy weather, which brought several days with cool night-time temperatures, it added.
There were 21 days in September when the daily minimum temperature was at 24 degrees Celsius or less. The lowest, at 21.6 degrees Celsius, was recorded at Jurong West on the morning of Sep 25.