The tip of a fatberg: Are you guilty of choking Singapore's sewers?
Almost half of the sewer blockage cases during a two-year period happened in private residential estates, according to PUB.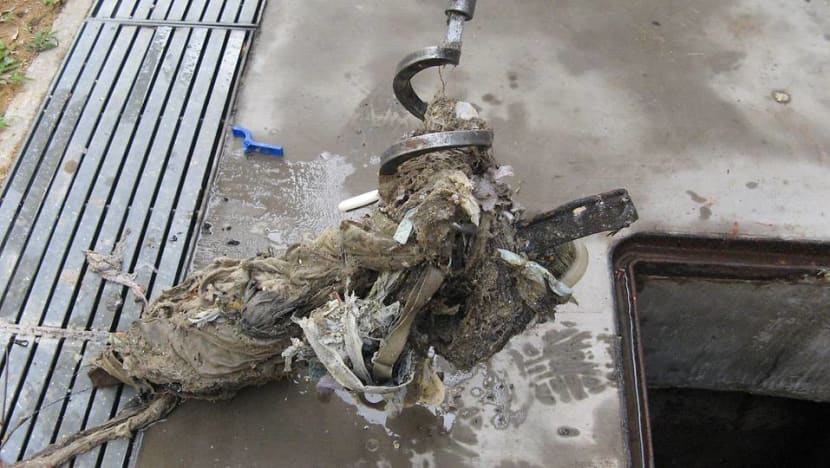 SINGAPORE: Where can you find rags, containers, disposable cutlery, mop heads, sanitary pads and condoms all in the same place? Not in the shops, but in the sewage pipes that carry Singapore's wastewater.
Combined with gunk like grease and food fats, these items form a sure recipe for a fatberg choking up the pipes.

The remaining 20 per cent of blockage cases are due to problems with the system such as aged pipes.

"People don't realise that the floor trap in the corner (of the bathroom) is the start of trouble downstream if you don't take care of it," said Mr Neo.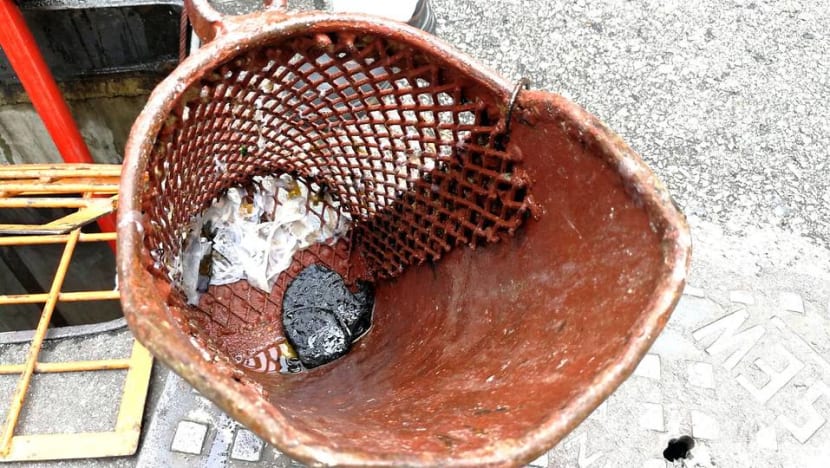 JUST HOW BAD IS THE PROBLEM?
It was reported in London last month that a "giant fatberg" – a congealed mass of fat, nappies and wet wipes – equivalent to the weight of 19 African elephants and the length of two football fields was found in a section of London's sewer.

If it was not cleared, it would have caused raw sewage to flood the streets.
In Singapore, national water agency PUB said a fatberg of that magnitude is not likely to happen here for one main reason - unlike in London, wastewater and stormwater, which includes drains, are collected through separate systems.
Still, PUB attends to 36 sewer choke cases causing service disruptions per month, and that's on top of scheduled cleaning and maintenance that is done regularly.
Overall across Singapore, rags and grease appear to be the most lethal combination in choking up the system.

PUB statistics show that between January 2015 and June this year, 73 per cent of sewer blockages happened because of these two items being flushed down the sink and gutter traps.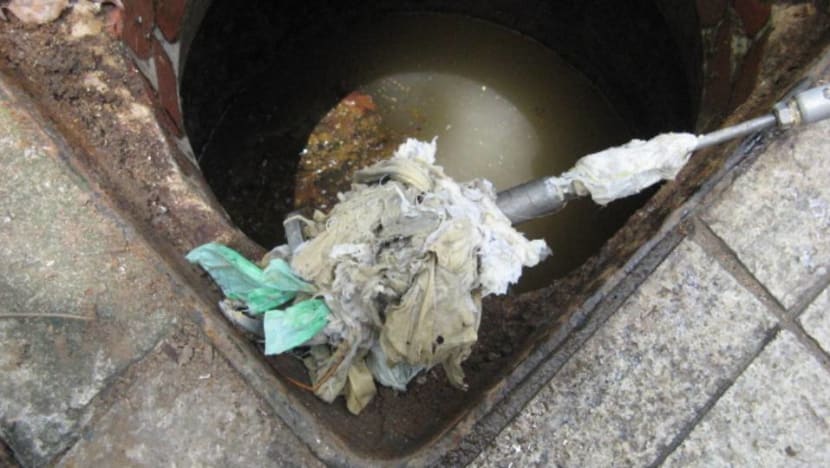 Grease, which usually comes from oil used in cooking, hardens within the pipe, either on its own or combined with items like rags. In fact, it becomes "as hard as stone", said Mr Chiew Choon Peng, senior principal engineer from the water reclamation department.

He urged members of the public not to pour leftover cooking oil down the sink, but to bag it instead. They should also wipe grease off pots and pans before washing them.

WHO ARE THE CULPRITS?
Numbers from PUB show that 41 per cent of blockage cases between January 2015 and June this year happened in private residential estates such as condominiums and landed property.
Private estates where there are eateries accounted for 30 per cent of cases, while eateries alone made up 23 per cent. HDB flats and industrial estates, on the other hand, were responsible for 4 per cent of blockage cases and commercial properties accounted for 2 per cent.
Within residential estates, 95 per cent of blockages were due to things like sanitary pads, wooden objects and nylon bags. Towels, containers and mop heads are also commonplace.
Other causes included sand and stones, usually from renovation at these estates. Gold and diamond rings have also been found.

Paper that is thicker than toilet paper, like serviettes and paper towels also clog up the system and should not be flushed down, said Mr Chiew.

"We always try to educate the public not to treat the sewage system like a dustbin although it may seem convenient," he added.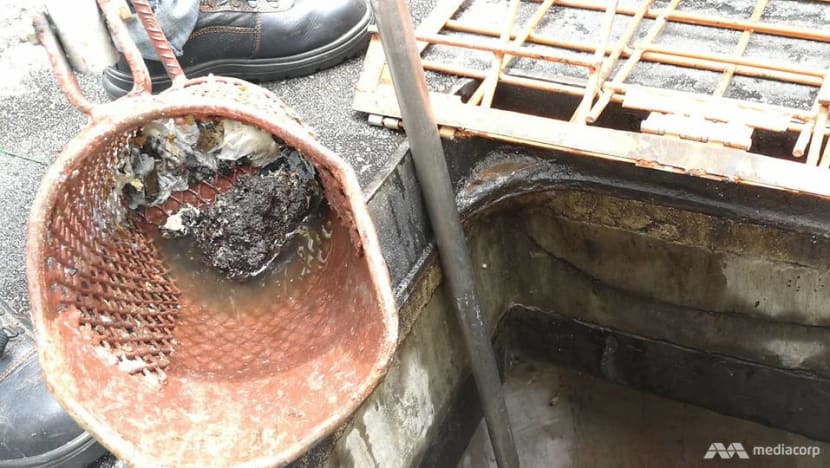 REGULAR CLEANING AND INSPECTION AS PREVENTIVE MEASURES
PUB performs regular preventive cleaning and inspection of its pipes, which measure about 3,500km in total with about 90,000 manholes as access points.

Such routine maintenance helps ensure sewage pipes are in good condition and cleans the pipes of items that could eventually lead to blockages.

Channel NewsAsia got to witness such cleaning and inspection work during a site visit earlier this month to Geylang Lorong 29, considered a choke-prone area because of the many eateries there.

Eateries tend to wash down - instead of bagging and throwing away - fats, oil and grease which amalgamate and turn into hardened grease.

Maintenance work is usually done by a company contracted by PUB, under the supervision of PUB officers.

Cleaning teams and inspection teams function separately, typically with three men per team. Pipes are cleaned with a high-pressure water jet that is fitted to a vehicle called a hydraulic mobile cleaner.

During the site visit in Geylang, a pipe measuring 47m and 305mm in diameter was cleaned and inspected. 
Water from a high-pressure jet spray cleared the pipe, loosening hardened grease, as well as releasing stones that were later fished out from the manhole using a metal net.
Typically, a squeegee, a flexible rubber equipment, is then inserted to ensure that the pipe is sufficiently clean.

Cleaning takes about 60 minutes to more than two hours depending on the size and length of the pipe, and how dirty it is, said senior engineer Idaly Mamat who oversees sewer maintenance.

To assess the condition of the pipe, the inspection team lowered a surveillance camera with wheels into the manhole. One of the workers then watched a screen to check that the pipes in that length were in good condition, and that there was no choke.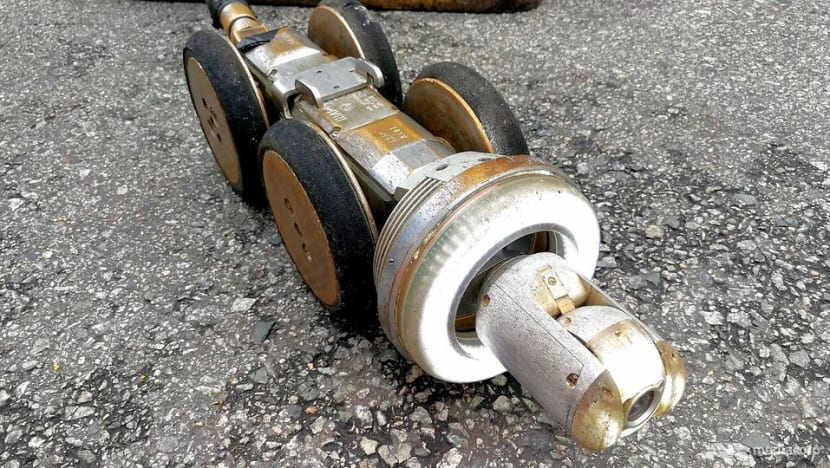 The cameras are explosion-proof, to withstand the hazardous environment in the pipes, said Mr Idaly.

While such work helps to ensure the proper functioning of the sewage system, Mr Idaly said: "The public can help by separating food waste, bagging cooking oil and keeping their floor traps shut."