Toa Payoh vegetable night market closure: Wholesalers say cheap greens will likely disappear with them
From Aug 19, the market will cease operations, as authorities are shutting the venue to make way for new housing developments in the area.
SINGAPORE: For over 50 years, an informal vegetable night market has been one of Toa Payoh's best-kept secrets.
About an hour before midnight until dawn, for six days a week, around 10 vendors bring crates of fresh produce in their lorries to set up makeshift stalls along a stretch of road in Toa Payoh East.
Greens at the informal distribution site are sold at wholesale prices, which means they are typically cheaper than similar produce found at supermarkets and wet markets.
But from Aug 19, the market will cease operations, as authorities are shutting the venue to make way for new housing developments in the area.
Some sellers who spoke to CNA said they were resigned to the closure, while some said they saw it coming.
"We feel hopeless (about the situation). What can I say? There's nothing much we can do. Since this area is being developed and the BTO (Build-To-Order) flats are going to be ready, so have to go (means) have to go," said vendor Wang Chai Meng.
"We are not surprised," said another grocer, Toh Soon Kiat, shrugging. "We all knew that this would happen one day."
Since the announcement, about half the vendors have already shifted or called it quits, and only about four to five sellers remain.
With the closure, wholesalers at the Toa Payoh vegetable night market said cheaply-priced greens will likely disappear with them, as setting up shop elsewhere will incur higher rental and logistic costs.
SOME VENDORS TO RELOCATE
Affected vendors said authorities have promised to help them relocate, with relevant agencies offering to find them stalls at other wholesale centres or at nearby markets.
But some sellers lament that few locations offer spacious areas like their current site, with traditional wet markets being too small for wholesalers.
Those who are set to move to new locations said their prices could rise by about 30 per cent.
At the current site, they do not pay rent and are charged about S$500 every month for cleaning services.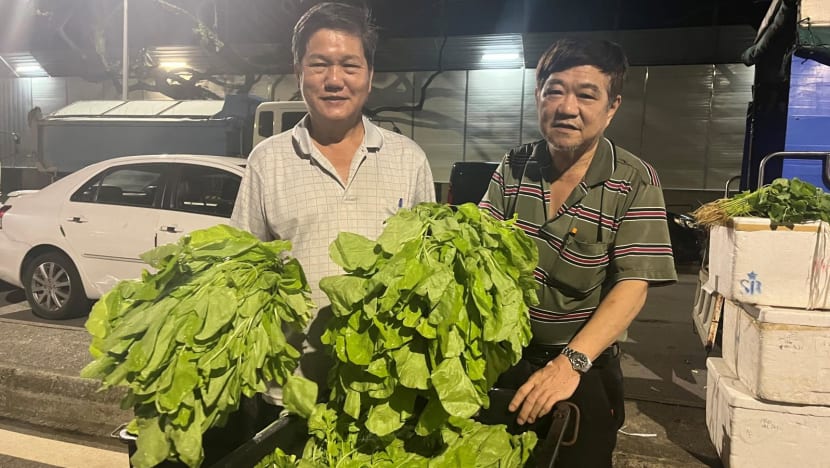 Mr Wang, who already owns a unit at Pasir Panjang Wholesale Centre, said he plans to shift his Toa Payoh operations there.
However, he is doubtful that his regular customers in the neighbourhood will patronise his Pasir Panjang premises as it is too far away for them.
"Here (at Toa Payoh), the location is quite centralised. So it's quite accessible. Whereas Pasir Panjang Wholesale Centre is on the (south) side, so it's not so accessible to the public," he said.
Vendors moving to Pasir Panjang said they will also face tougher competition from a larger number of sellers, and additional operation costs incurred will make it difficult for them to keep prices as low.
OTHERS TO RETIRE
Meanwhile, some grocers told CNA they will be closing up shop for good and retiring.
"We are all getting on in years, most of us are over 60 years old. We've been doing this for over 40 years, it's time to retire," said Mr Toh, the owner of Yi Xiang Vegetable Dealers.
"It's difficult to (do this business these days), vehicle costs are expensive, how to continue?" he said, adding that his fellow older sellers are also contemplating quitting the trade.
They are reluctant to move to wet markets, as they would have to switch their business model from wholesale to retail due to smaller spaces and a different customer base.
"Here we sell wholesale, so we can charge cheaper prices. At wet markets, we can't sell them this cheap. Because the volume is smaller – 1kg or 2kg, how can we sell them at lower prices? If we do, we won't earn enough," Mr Toh said.
Aside from costs and logistics, dwindling footfall at traditional markets also contributed to the vendors' drive not to continue. 
"Times are changing, markets like these don't suit the new generation," said Mr Toh.  
He pointed out that mindsets and shopping habits have evolved compared with 20 to 30 years ago, and fewer younger people are willing to shop at traditional markets.
"Even if authorities didn't close down the market, some of us were also looking at retirement when our current COE (Certificate of Entitlement) expires, as getting a new car to ferry our goods around is too expensive," he said.