Tradenation luxury goods scam: Couple charged with more offences
Pi Jiapeng allegedly failed to report for bail while his wife Siriwipa Pansuk is said to have left Singapore without applying for the return of her Thai passport.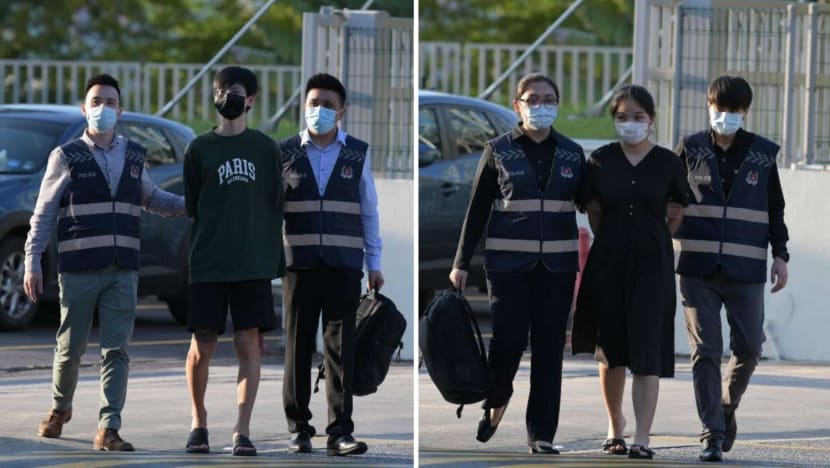 SINGAPORE: A couple accused of carrying out a multi-million-dollar luxury goods scam were charged on Friday (Jan 13) with more offences. 
Singaporean Pi Jiapeng, 27, was given two fresh charges while his wife, 28-year-old Thai national Siriwipa Pansuk, was handed one. 
One of Pi's new charges stated that at about 3.30pm on Oct 18 last year, he refused to sign his statement when required to by a police officer.
Pi is also accused of failing to report for bail at Ang Mo Kio Division Headquarters on Jul 12 last year when he was required to do so. This was after he was released on bail on Jun 28 last year.
Pansuk is accused of leaving Singapore on Jul 4 last year without applying for the return of her Thai passport and having it returned to her. She surrendered it to authorities on Jun 30, 2022. 
Pi now has a total of five charges, while Pansuk has four. The couple were remanded and slated to return to court for pre-trial conferences in February.
Pi and Pansuk are accused of cheating Tradenation customers into paying for luxury watches that they did not intend to deliver between May 28, 2021 to Jun 27, 2022. 
They also allegedly cheated customers into buying luxury handbags between Jan 15 to Jun 27 last year. 
Both are also charged with leaving Singapore without presenting their passport to an immigration officer at Tuas Checkpoint on Jul 4, 2022.
They were on the run for about five weeks before being arrested in Malaysia and handed over to Singapore police on Aug 11 last year. The prosecution told the court in an earlier hearing that the case involved more than S$20 million in losses.  
The couple told the court previously that they received death threats before fleeing the country. Both said that they would cooperate with police officers for investigations.
If convicted of refusing to sign a statement, Pi can be jailed for up to three months, fined up to S$2,500, or both. If convicted of failing to report for bail, he may be jailed for up to three years, fined, or both.
The penalty for leaving Singapore without applying for or having the return of a surrendered passport is a jail term of up to three years, a fine, or both.