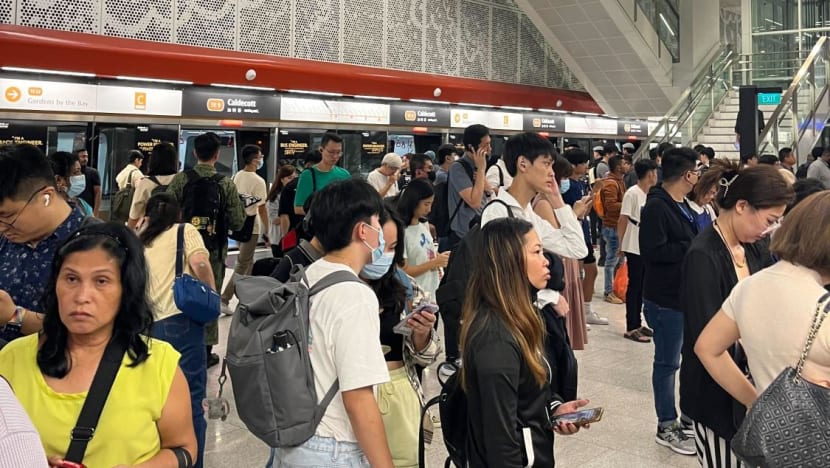 SINGAPORE: A train fault caused an additional travelling time of 25 minutes along the Thomson-East Coast Line (TEL) on Tuesday evening (Mar 7). 
Train operator SMRT first tweeted about the delay at 5.05pm, shortly before advising commuters to use alternative MRT lines.
It then said a train shuttle service would be available between Caldecott and Orchard stations.
A CNA reader at Caldecott station heard an announcement that there would be no train service towards the Gardens By the Bay terminus.
SMRT eventually announced that bridging and free regular bus services would be available at all affected stations.
At 6.27pm, SMRT said train services towards Gardens by the Bay had resumed.
In a Facebook post at 6.31pm, the operator said in an update that the TEL train fault had occurred at Orchard station towards Woodlands, at about 4.40pm.
"Our staff have been activated to recover service. The defective train is being withdrawn for investigations."
SMRT apologised for affecting the evening commute for passengers.
At 7.21pm, SMRT said in a tweet that train services on the TEL had resumed and free bridging and regular bus services had ceased.
Several commuters responded to SMRT's tweets with their frustrations over the delay.
"It's not even six months in service and it's already down!?" said @suansiew.
Last month, train service along a section of the North-South Line was disrupted for about six hours due to a track point fault.
This story came from a reader tip-off. If you would like to send in information, photos or videos about something newsworthy, submit your news tips on CNA Eyewitness.