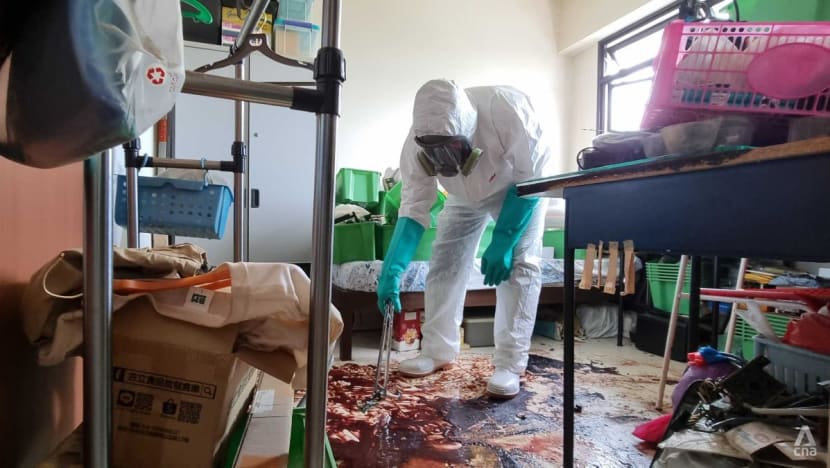 SINGAPORE: Mr Rahman Razali recites a silent prayer at the threshold of the flat he is about to clean.
Clad in personal protective gear, he steps through tendrils of smoke from joss sticks that the flat owner placed at the gate to mask the smell of death.
Mr Rahman, 39, the co-founder of cleaning firm DDQ services, is sometimes called upon to clean up detritus from bodies found after a few days, or even weeks and months after death.
This Jurong East flat we came to on Dec 23 last year is a two-room unit where the deceased had lived alone. Dried blood and body fluids stain the desk and floor in the bedroom a deep maroon.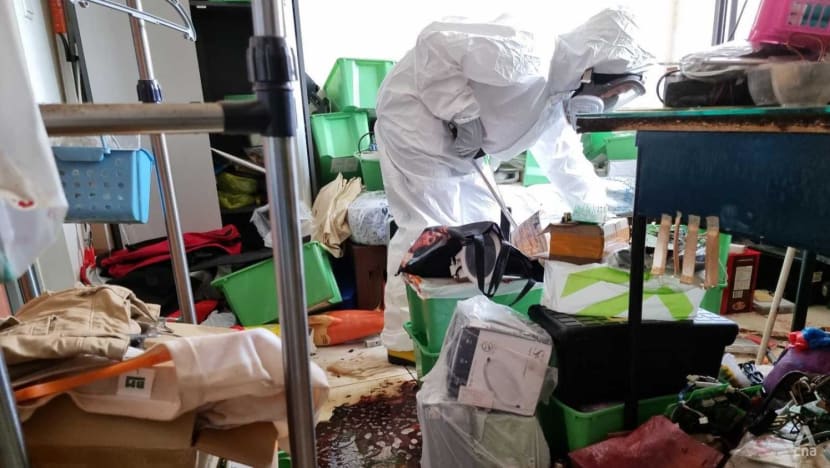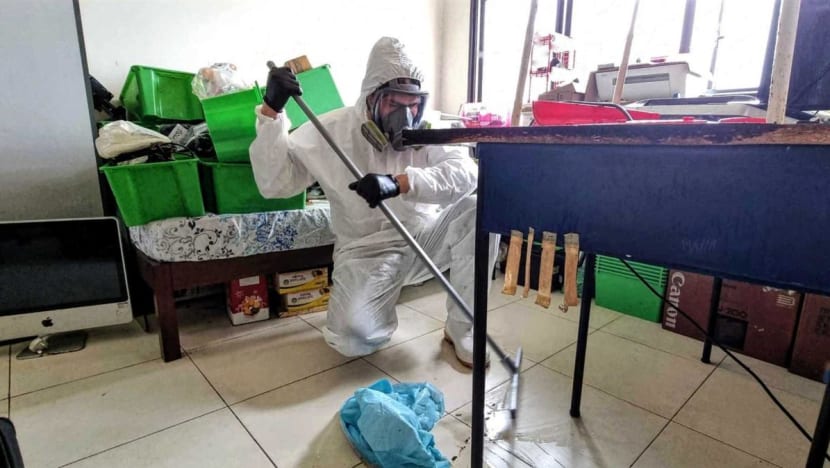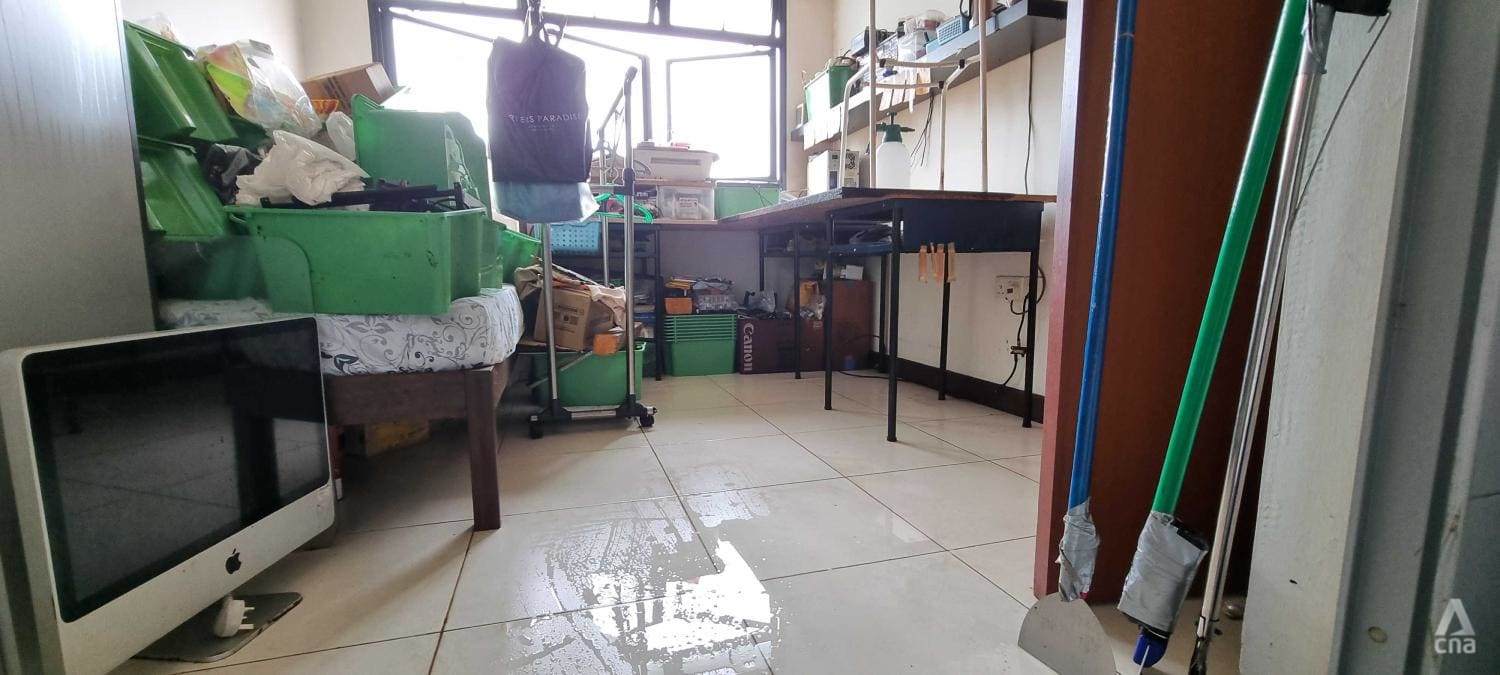 Blood also smears the items in the house, which looks more like a warehouse than a home.
Stacked wall-to-wall are pails of paint, handyman tools and gear from the former occupant's work repairing air-conditioners. A portable stove, a small pot, packs of instant noodles and some utensils sit nearby.
As Mr Rahman and his assistant, 18-year-old Qasrina, spray disinfectant on all the surfaces and items in the room, the stinging scent mingles with the odour of putrid flesh and blood.
Armed with tongs and wearing rubber gloves, they pick up all the items stained by blood – which fill up more than 10 large rubbish bags. This is about twice the amount of trash they normally encounter, he said.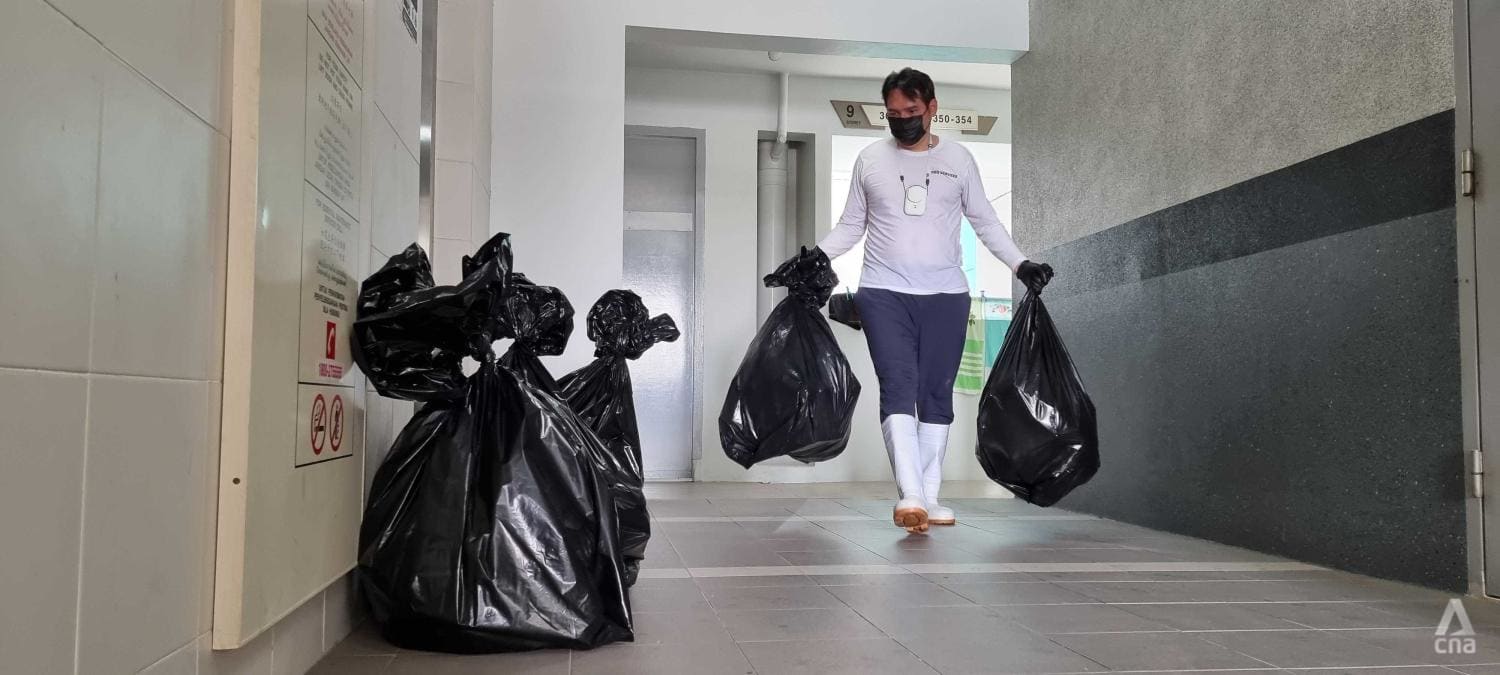 It takes more than an hour just to clear a space in the room and Mr Rahman goes out for a water break. The heat is oppressive in the airless PPE, which we were dressed in for about three hours.
At one point, they find a blood-stained wallet, which Mr Rahman shows to the flat owner, Mr Tan. He shakes his head at Mr Rahman and it joins the rest of the rubbish.
Mr Tan, who did not want to use his real name, said the man who died was his friend. The friend had been living there while waiting for his own flat to be ready, as he did not get along with his family.
Five days before the cleaning operation, Mr Tan received a call from police officers who were about to force their way into the flat. A neighbour had called to report a strong stench coming from the house.
The police found the body, which was removed, and the town council told Mr Tan he could contact DDQ for cleaning.
HELPING FAMILIES
Mr Rahman has come across bodies that lay undiscovered for two months, although that is unusual. While many people think the job is gruesome, he feels that he is helping families in distress.
"For trauma cleaning, family members will be emotionally disturbed or they will be very busy with last-minute arrangements for the deceased. (It) is a bit difficult for them ... whenever they see the blood it reminds them of the deceased," he said.
He too gets emotional on the job at times but he thinks that it has made him cherish life more.
"You need to treasure your relationships with your loved ones, your friends and your families because anytime we can just say goodbye," he told CNA. 
Watch the video here. Warning: The video contains graphic content and some might find the scenes disturbing.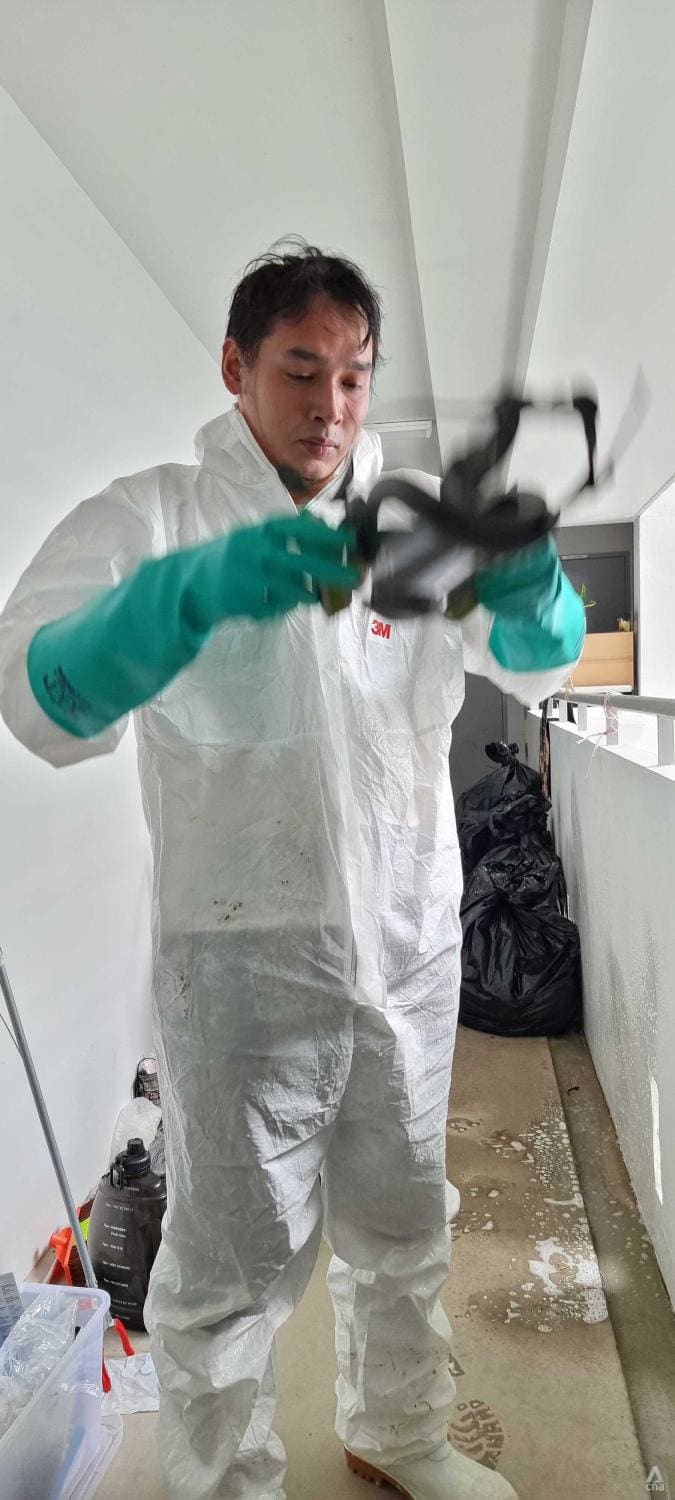 He has been offering after-death or trauma cleaning services, in addition to other cleaning services, since 2015. 
He now gets three or four cases a month on average, up from one every two to three months before. He does not know the reason for the rise, but another company that CNA contacted, Lumiair, said it has not noticed an increase.
In response to queries, the Ministry of Health (MOH) referred CNA to a parliamentary response filed on Jan 10 which said that MOH does not track the number of elderly people who die alone at home.
 
About 10 per cent or 88,000 Singapore residents aged 60 years and above lived alone in 2020, it added. 
In the last week of December 2021, two other cases of people who died alone in their flats were reported. One was a 63-year-old man in Toa Payoh North, whose body was found only after neighbours noticed the foul smell. 
DEATH IN BUKIT PANJANG FLAT
In another case in Bukit Panjang, police sent out a notice for 68-year-old Ahmad Omar's next of kin after he was found dead at home.
Neighbours CNA spoke to said that they saw him around the estate sometimes, but no one thought anything was amiss when he did not appear, as he had seemed in good health.
Three people CNA spoke to said they had heard that his wife and son were living in Indonesia, and he had a sister in Singapore but they did not live together.
The block, which has a mix of smaller units for seniors and four-room flats for families, has an alert system that elderly residents can trigger by pulling cords installed in their homes, but a neighbour said it was not activated in this case.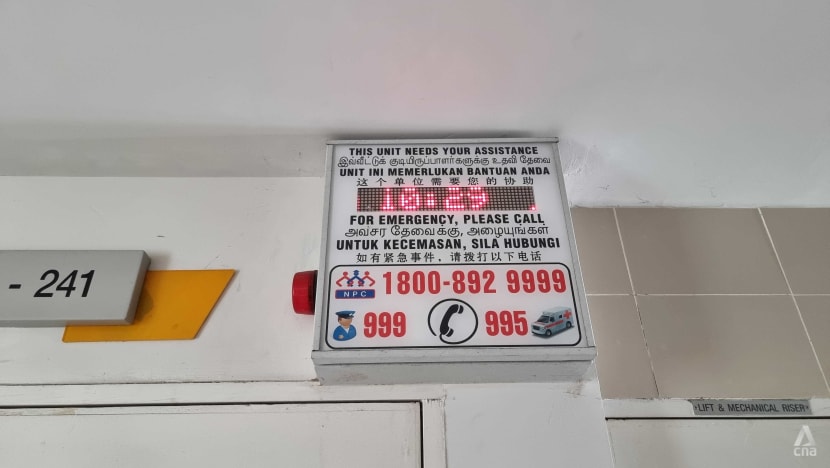 A senior activity centre is located at the void deck of Mr Ahmad's HDB block, but as he was not one of their clients, no one there was aware of his circumstances.
The Agency for Integrated Care (AIC) told CNA that its outreach arm, the Silver Generation Office (SGO), engages the elderly in the community through home visits and phone calls, including those who may be lonely or socially isolated. 
"SGO encourages seniors they engage to participate in active ageing programmes to stay active and socially connected," said the agency. 
Those who are socially isolated or at risk of it will be recommended befriending services, including Careline, a 24/7 telecare service. When needed, SGO will also link seniors to other care and support services, it said.
 
The OneService app also has a Help Neighbour feature, which residents can use to alert social service agencies to a person who may be in need. 
"With this feature, residents who wish to alert agencies do not need to remember which agency to contact, or which hotline to call," said AIC. 
"We hope that with this feature, more people will do their part in keeping a lookout for seniors in the community who may need help."