Tripartism must always be a 'stabilising and anchoring force' for Singapore: PM Lee at May Day Rally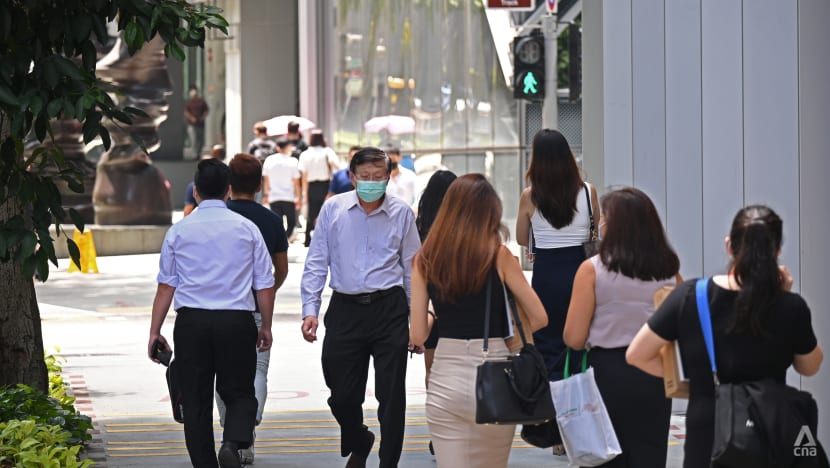 SINGAPORE: Tripartism must always be a "stabilising and anchoring force" for Singapore, Prime Minister Lee Hsien Loong said in his May Day Rally speech on Sunday (May 1).
The tripartite collaboration among unions, employers and the Government is the result of the country's long history of collaborative trade unionism and the "deep bonds of trust" forged through successive crises.
"Tripartism must always be a stabilising and anchoring force for Singapore. We must continually reaffirm the bonds, and sustain them from one generation to the next," he said.
Leadership renewal is crucial for such collaboration among the Ministry of Manpower, the National Trades Union Congress (NTUC) and Singapore National Employers Federation (SNEF) to continue, he noted.
Mr Lee spoke about the "major step forward" in political leadership at the national level, with Finance Minister Lawrence Wong unanimously endorsed by all his Cabinet colleagues and then by all the PAP MPs as the leader of the 4G team.
Mr Wong will be taking on a heavy responsibility, Mr Lee said, adding that the incoming leader will have to steer Singapore in a very "different and uncertain" world.
"He will need the full support of his Cabinet colleagues and also must be able to rely on all our brothers and sisters to work with him and his team and to continue partnering them to take Singapore forward," he said, addressing about 2,000 labour movement leaders and tripartite partners who attended virtually and physically.
He urged them to give Mr Wong and his team their fullest support.
WORKER-CENTRIC FIRMS TO DO WELL
Mr Lee also spoke about firms pivoting and adapting to capture new opportunities to tackle challenges they are facing, with the help of unions.
Companies with worker-centric practices will do well in the future labour market, Mr Lee said, noting that the pandemic has shifted work norms.
"Telecommuting has become common. Workers are putting more weight on flexibility and autonomy."
Singapore has to maximise the potential of its domestic labour force, given that the domestic population is "hardly growing" and that the workforce is ageing, he said.
The economy is generating more jobs than the country has workers for, Mr Lee said.
Three ways to realise business transformation are by pivoting a business to ride on industry trends, rebranding an industry to attract more workers and creating more flexible work arrangements to improve retention, Mr Lee said, sharing the experiences of three firms.
Noting that the firms are led by women, Mr Lee said: "Maybe that is exactly what we need to drive change. It shows how much talent and potential we have in our workforce."
Companies like the three firms – a precision engineering firm, recycling and waste management firm and traditional Chinese medicine firm – working with unions to transform businesses happens in "very few" countries, he said.
"Only in Singapore and only thanks to the NTUC. This is tripartism in practice, a huge competitive advantage for Singapore," he said.
He added that he deeply appreciates the contributions of the labour movement.
"It represents the interests of a broad range of workers, beyond the traditional rank and file. It helps bring Singaporeans together, so that people know they are not alone," he said.
LABOUR A PERMANENT CONSTRAINT
Labour will be a permanent constraint for Singapore, Mr Lee said, adding that the upcoming tripartite guidelines on flexible work arrangements will help respond to these trends.
While it will involve some "adjustments" and require discipline from both employers and employees, if implemented well, the arrangements will allow more people, especially mothers and caregivers, to continue working, and achieve work-life harmony, the Prime Minister said.
There may also be other benefits such as less peak-hour travel and congestion and a boost to the total fertility rate, he said.  
As he concluded his speech, the imperative for business and workforce transformation has "never been stronger".
Singapore is emerging from the pandemic into a world that has not only been altered by COVID-19 but threatened by significant security challenges, he noted.
Singapore can feel the headwinds, even as it senses new opportunities opening up. "For us, change and transformation is an an unending task, as we continually reinvent ourselves to maintain our place in the world."
However, having fought COVID-19 together, Singapore can be confident of overcoming these challenges and making the most of the chances that come its way, he said.
"The Government will do our part to safeguard our national interests. We will work with Singaporeans to find the best way forward. We'll continue to cooperate closely with the labour movement to invest in every worker, to look after every worker, to uplift every worker," he said.
He urged employers to grow their businesses and nurture their workers so that they can give their best in their jobs.
The NTUC must remain a strong institution, working shoulder to shoulder with the Government to secure the trust of the people, he said.
"This is the symbiotic relationship that has served Singapore well since our founding and together, let us keep Singapore safe and thriving for many generations to come.".