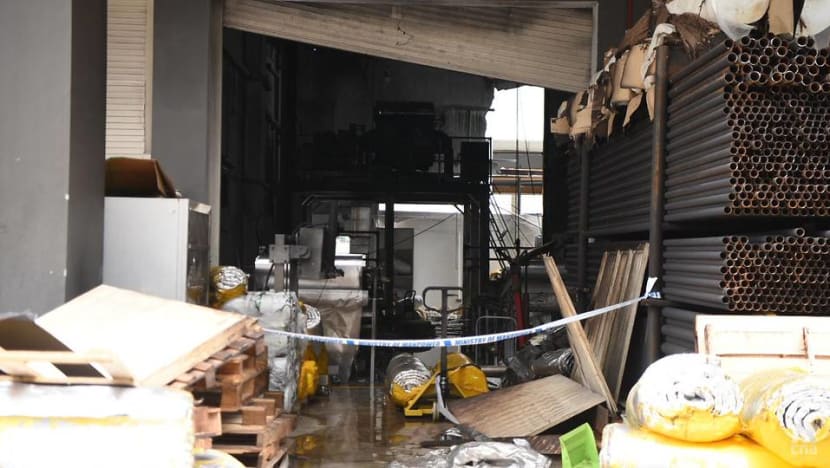 SINGAPORE: Three of the 10 workers who suffered burns in a fire at an industrial building in Tuas have died, said Commissioner for Workplace Safety and Health (WSH) Silas Sng on Thursday (Feb 25).
Another five are in critical condition, while two workers have been discharged, added Mr Sng.
Preliminary investigations have found that the accident at 32E Tuas Avenue 11 was caused by "a combustible dust explosion", said Mr Sng, who is also director of the Manpower Ministry's Occupational Safety and Health Division.
He added that the dust was in the form of potato starch powder, a material used for production by the company at the site, Stars Engrg.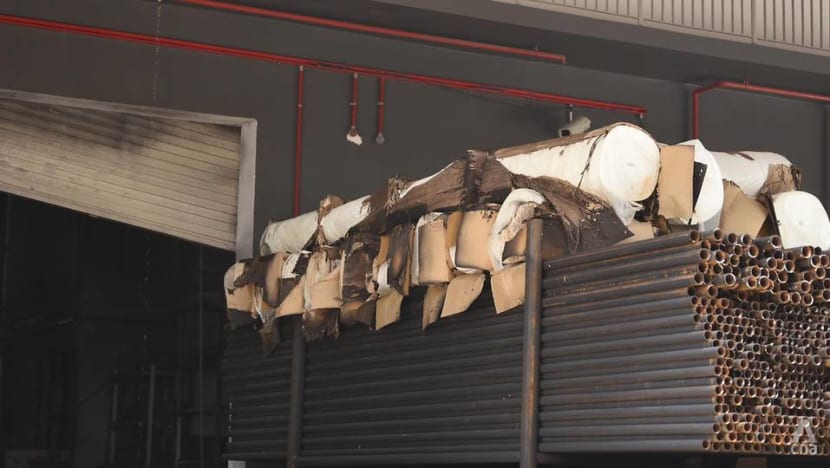 Mr Sng explained that such dust can be generated when powder is transferred, such as from a bag into a mixer.
"Over time, the dust can accumulate in the environment, especially if the ventilation or the housekeeping is inadequate … And when the dust comes into contact with a source of a friction, an explosion will occur as we see in this accident."
He urged companies working with similar combustible materials to review their safety measures to ensure that dust does not accumulate in an enclosed environment.
DECEASED WORKERS NOT YET IDENTIFIED
When asked by CNA if the families of the deceased workers have been informed, Mr Sng said the workers have not yet been identified.
"As we understand from the hospital, (their identities are) still in the process of being ascertained due to the extensive injuries that they have sustained.
"So I think in the interest of confidentiality ... once it is confirmed, then we will inform the families accordingly," said Mr Sng.
He added that the National Trades Union Congress and the Migrant Workers' Centre (MWC) have been in touch with other affected migrant workers and their companies "to render whatever assistance necessary to help them".
MWC on Thursday said the employer of the deceased workers is cooperating with it  and the Building Construction And Timber Industries Employees' Union to "provide immediate assistance to their families, including facilitating the repatriation of their bodies".
"We are also assisting them to do the necessary Work Injury Compensation Act (WICA) claims," said MWC  in a Facebook post.
"In the interim, we have put together a token sum for the deceased's family. Where necessary, the MWC will also help to supplement this token to ensure that the needs of the families are met as they await compensation from WICA.
"We will tap on MWC's Migrant Workers' Assistance Fund, for the necessary financial support," it added.
SAFETY TIME-OUT
The last time a combustible dust explosion happened was "many years ago" and guidance documents have been given to the industry, said Mr Sng.
The Workplace Safety and Health Council has called for a safety time-out.
Council chairman John Ng said the time-out is for employers "to have a look at their business processes" and whether their machinery is well-maintained and correctly used.
The time-out can be half or a full day, with the flexibility given to companies to decide on the length, added Mr Ng.
The WSH commissioner said the call for safety time-out is an important step to remind employers and workers "not to take safety lightly".
And when asked if there were any lapses and if the accident could have been avoided, Mr Sng said: "We believe that all accidents are preventable. In this particular case, I think as the matter is still under investigation so we will not be able to comment on whether there are lapses."
"VERY LOUD EXPLOSION"
The workers were taken to hospital with burns on Wednesday following what witnesses say was a "very loud explosion".
Singapore Civil Defence Force (SCDF) firefighters who arrived at the scene extinguished the fire at Stars Engrg, where employees were working on an industrial mixer when the explosion occurred.
Eight workers suffered burns and were taken to Singapore General Hospital, said the Manpower Ministry. Another two workers from P3 Project, a company located opposite Stars Engrg, also suffered burns and were taken to Ng Teng Fong General Hospital.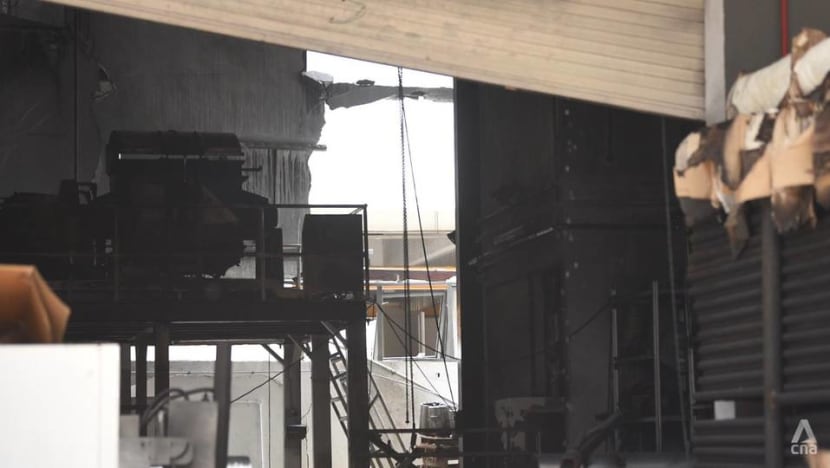 Photographs of the area showed smoke billowing from the building as well as multiple SCDF and police vehicles. 
Videos seen by CNA showed several workers with burns and patches of skin missing from their arms, torso and back. Several of them had their clothing burned off and were seen with strips of cloth on their shoulders and legs.