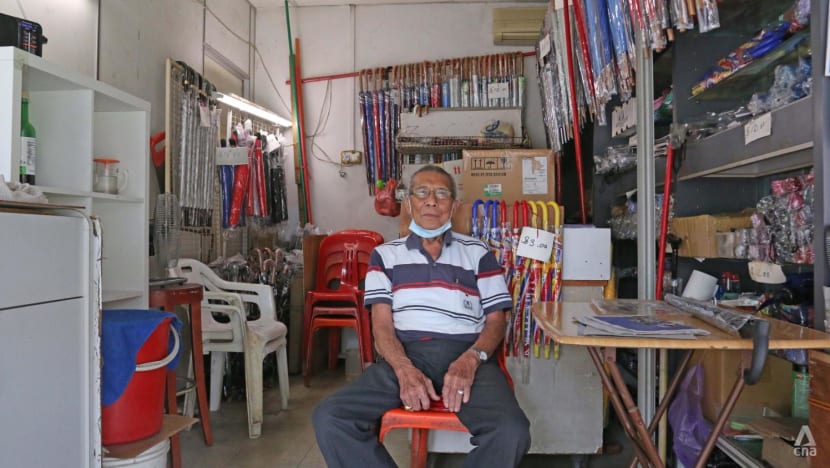 SINGAPORE: Mr Ng See Tee's shop in Geylang East Central does not really have a signboard. Where the shop's name should be is a white board with the words "IMAGE SERVICE" peeled off.
But the 86-year-old's shop, about the size of a small bedroom in a Housing Board flat, does not need a signboard. Inside are rows of long and short umbrellas hanging neatly from makeshift racks made of bamboo poles.
It is clear Mr Ng deals in umbrellas, and he does not only sell them.
Hidden behind the umbrellas are shelves – still sporting Fujifilm branding – holding boxes and tins of tools and umbrella parts. There are needles, thread and pliers, and metal ribs tied into bundles with rubber bands. These ribs give the umbrella's canopy its shape.
Mr Ng repairs umbrellas for a nominal fee, and insisted on fixing this reporter's umbrella – which had ribs poking out beyond the canopy – for free.
Still, he brushed off suggestions that people should always try to repair their broken umbrellas instead of getting a new one.
"If it's a good umbrella, like those from Japan, then you should repair it," he told CNA one sticky afternoon in April while slouched in his chair at his shop. "If it's not a good one, if it costs S$5 or S$6, then just throw it away."
Most of his business comes from selling umbrellas – he stressed they are of good quality and will not flap in the wind – that are guaranteed with a lifetime of free repairs.
Mr Ng has become sort of an expert in these things after running his own umbrella shop for more than two decades in Geylang East. Before that, he worked for an umbrella manufacturer for about 15 years.
For ribs that have warped, he bends them back into shape. He then realigns loose canopy fabric with the ribs and ties them in place with thread or plastic string used with clothes tags.
Mr Ng said he did not get any formal training, and learnt how to fix umbrellas just by watching how it was done in the umbrella company where he worked. "It's easy to fix them," he said, pointing to his temple. "My brain is still good."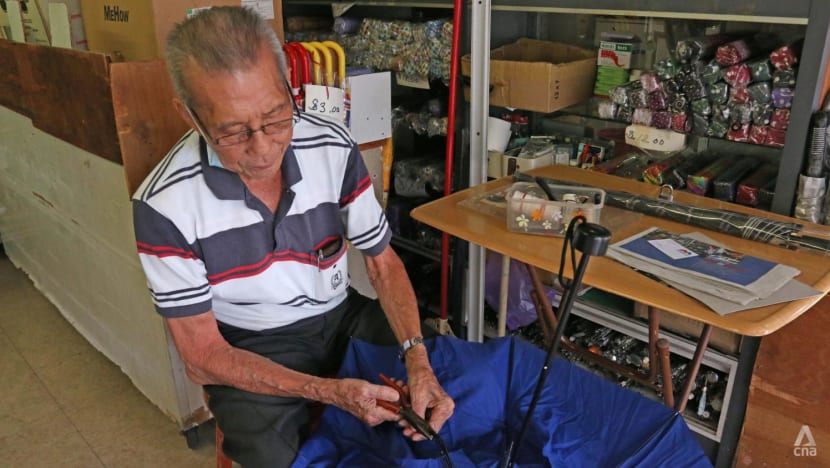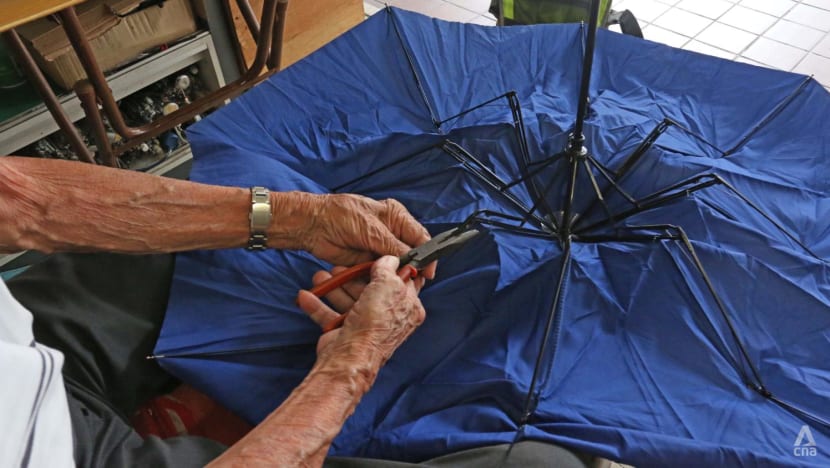 This offers a clue as to why Mr Ng is still running a business into his twilight years.
It is not for the money, he said, pointing out that he does not really make a profit. A good day, usually during the rainier months of August to December, sees him sell about S$100 of umbrellas. Despite the intermittent showers these days, business is slower now, he lamented.
Rent for the shop is S$800 a month, so he covers it with whatever sales he gets and tops it up with his savings if he has to. Mr Ng said he gets financial support from his children and the Government, on top of Central Provident Fund (CPF) payouts.
"It's not really a way to earn," he said. "It's just to pass time and keep active."
FROM PROVISION SHOPS TO UMBRELLAS
Mr Ng has had something to do for most of his life. When he was a young boy, he had to hide from Japanese soldiers during the occupation. Mr Ng was keen to pepper the interview with one war story or two.
He was 14 when he started looking for a job. He worked in a provision shop in Tiong Bahru selling a mish-mash of dry goods. When it rained, water used to come into the shop, he recalled. His career then took him to various shops selling things from clothes dye to car spare parts.
"Those days, I earned S$20 a month. I used S$2 to cut my hair," he said with a chuckle.
Mr Ng spent five to six years – the longest job stint he had at the time – at a woodcraft and furniture shop, perhaps explaining his handy skills. He said he can fix a lot of things: "It's the same for bicycles too."
When Mr Ng was 30 years old, he came across a newspaper advertisement for a job at Three Stars Umbrella Factory. He did not have any particular interest in umbrellas, but applied for it anyway. He worked there for the next 15 years, making oil paper umbrellas and fixing them.
His job was to sew the oil paper onto the bamboo frame. He also helped sell some of the umbrellas. In those days, the profit margin was S$1 for a dozen umbrellas sold, he said.
Mr Ng worked at Three Stars until he was 55, then he retired. At that time, people could fully withdraw their CPF savings. Mr Ng did so and went to "play" for five years. Then he stopped.
"I get bored without work," he said. "No work, I will not be strong and my brain will be finished."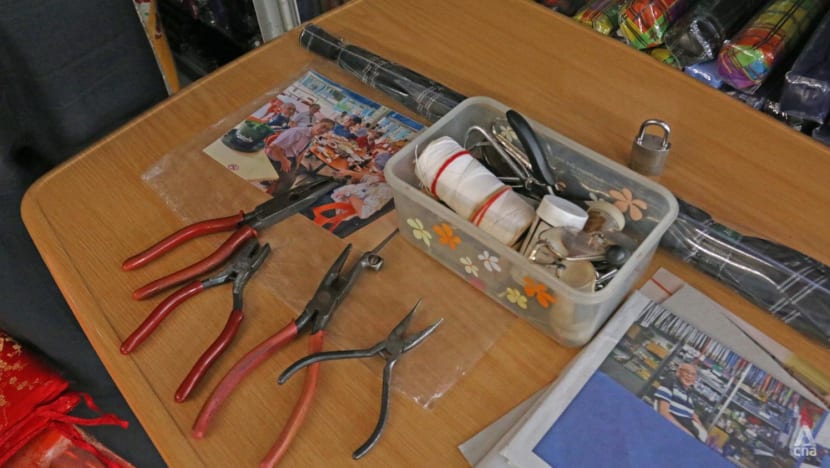 So, Three Stars gave him a job again. In 1999, he got his own booth selling umbrellas in front of a shop. He moved around the Geylang East area for a bit until he ended up at the current shop.
While Mr Ng said the shop still belongs to Three Stars – it remains an active company manufacturing a range of products – he added that he has free reign. He pays the rent and gets the full sales proceeds, and the company contributes to his CPF.
DAILY ROUTINE
Mr Ng's shop is open every day, including Sundays and public holidays, from 6am to 4pm. It is located right across the road from the Geylang East hawker centre, past a Sheng Siong supermarket and along the main walkway of Block 118.
Every morning at 4am, Mr Ng walks from his home at Circuit Road to the hawker centre in Geylang East Central. He watches the stallholders prepare their food, and buys some for himself.
By 5am, he is at his shop, boiling water and doing some light exercise. He stretches a lot and goes for walks, although he said he feels weaker now.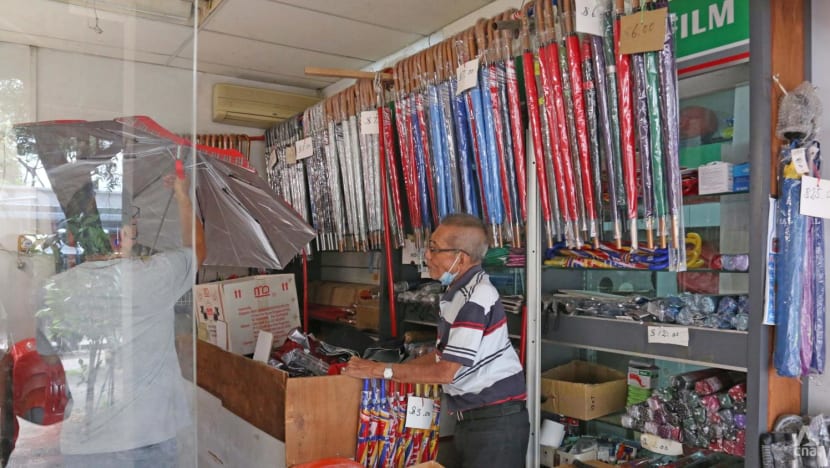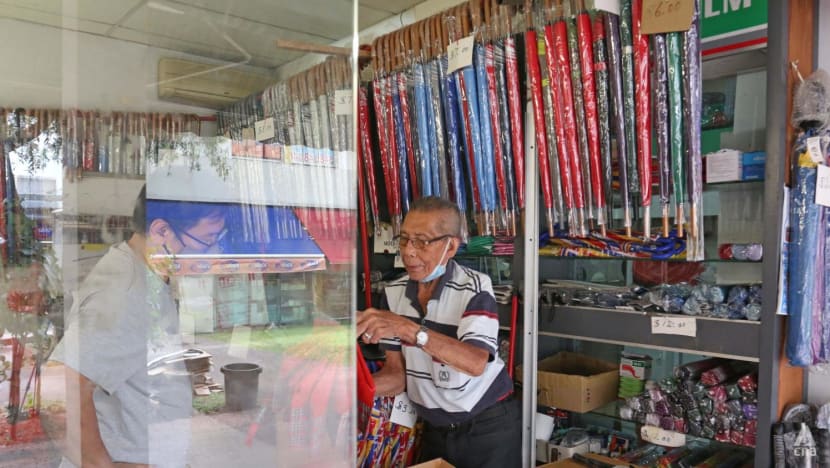 About two years ago, Mr Ng was dusting the walls in his shop when he felt giddy and had a bad fall. He was taken to a hospital, warded for a week and discharged with a bag of pills. Now he has to take five different pills every day.
"Now, I have no strength," he said as a Chinese programme blared over the radio. "Luckily I didn't die."
At home, Mr Ng lives with his youngest daughter, 50. She had an accident that left her with a disability, so Mr Ng supports her daily needs. Mr Ng's wife has dementia and lives in a nursing home.
But there are happier moments. Mr Ng proudly showed off an article in a Chinese newspaper about himself. He also has a copy of his photo from that article, and another picture that showed him celebrating his birthday with his friends at a coffee shop.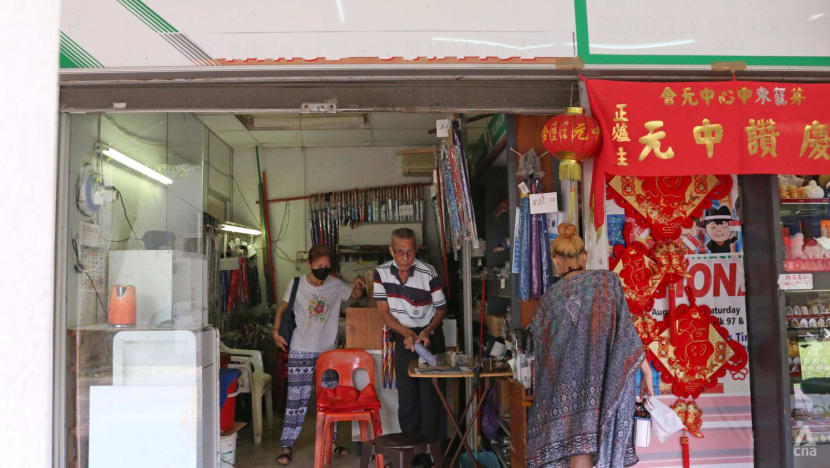 The interview was interrupted when several customers came.
Ms Estelle Teo, 34, had brought her husband and mother to the shop to buy an umbrella. Mr Ng stood from his chair and asked what they wanted. He gave several recommendations and explained each umbrella's features.
"He's the only one who can repair umbrellas in the whole of Singapore," remarked Ms Teo, a Geylang East resident of 10 years. "He's incredible."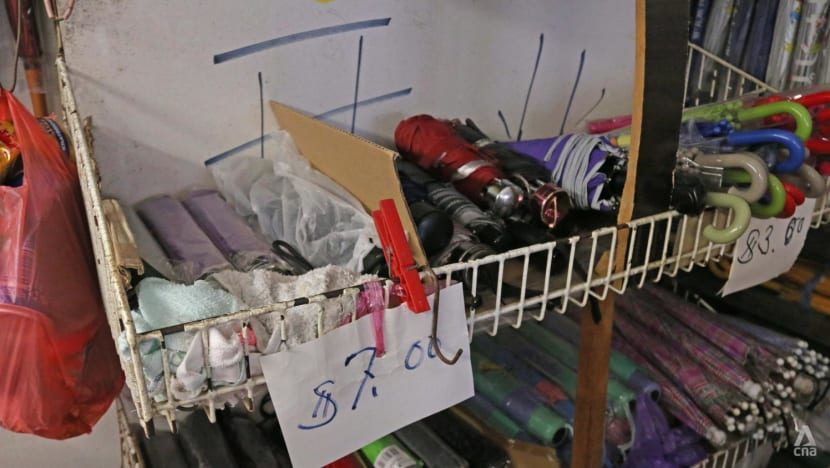 When CNA showed Mr Ng an umbrella to be fixed, he gave a few cursory glances and immediately knew what needed to be done. He stuffed it in a shelf by the side, and said to come back another day. There was no receipt or timeline. It was free of charge anyway.
In March, a Facebook post about Mr Ng's shop in a zero-waste group was shared almost 200 times. It attracted positive comments, with many commenting they didn't know anyone who repaired umbrellas. "This is amazing," one netizen wrote. "Really admirable."
So, how long will Mr Ng keep selling and repairing umbrellas?
"Now I can still work, so I won't stop," he replied. "I can walk and eat, so I can work."