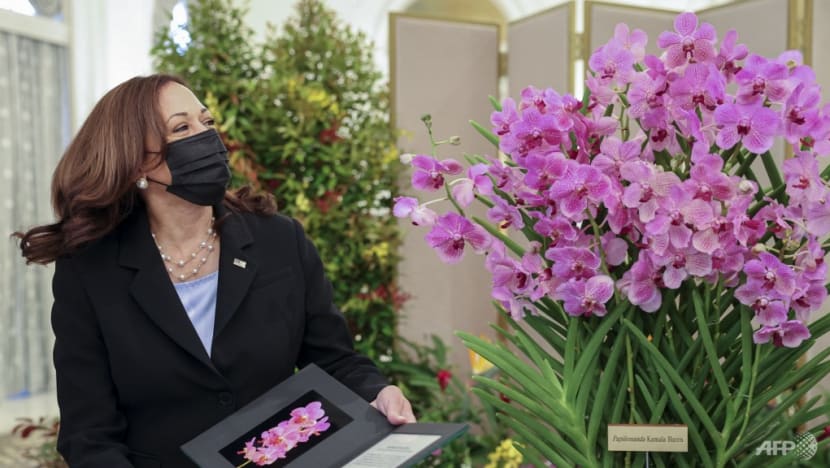 SINGAPORE: United States Vice President Kamala Harris on Monday (Aug 23) received a spray of orchids named in her honour, as part of her three-day working visit to Singapore.
The orchid, named Papilionanda Kamala Harris, was presented to Ms Harris at the Istana in what Singapore has termed "orchid diplomacy".
The hybrid plant produces an upright inflorescence about 40cm long and bears up to 12 flowers, each measuring about 9cm in width, said the National Parks Board (NParks) in a press release.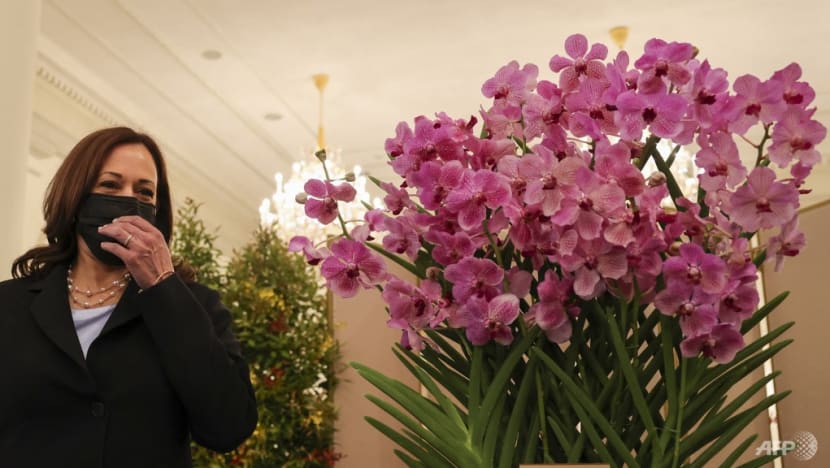 It features purplish pink petals and sepals, which are adorned with prominent pink spots and tessellations, and are each complemented with a magenta lip, NParks added.
"It's beautiful and I'm honoured to receive it," Ms Harris said at the ceremony.
She joins a long line of visiting heads of state and distinguished guests who have had orchids named after them, including US President Joe Biden and his wife Jill. Their orchid - Dendrobium Joe and Jill Biden - was presented to them during an official visit to Singapore in 2013, when Mr Biden was vice president.
The vice president landed in Singapore on Sunday morning to kick off her first official visit to Asia, a trip which will also include Vietnam.
She was greeted by Singapore Prime Minister Lee Hsien Loong at the Istana on Monday morning.
A marching band played both the US and Singapore's national anthems - The Star-Spangled Banner and Majulah Singapura - before the two leaders inspected the Guard of Honour at the grounds.
Ms Harris also called on President Halimah Yacob, during which they affirmed the "strong and broad-based Singapore-US relationship", the Ministry of Foreign Affairs said in a separate news release.
They also discussed the close educational and people-to-people ties between the two countries, the ministry added.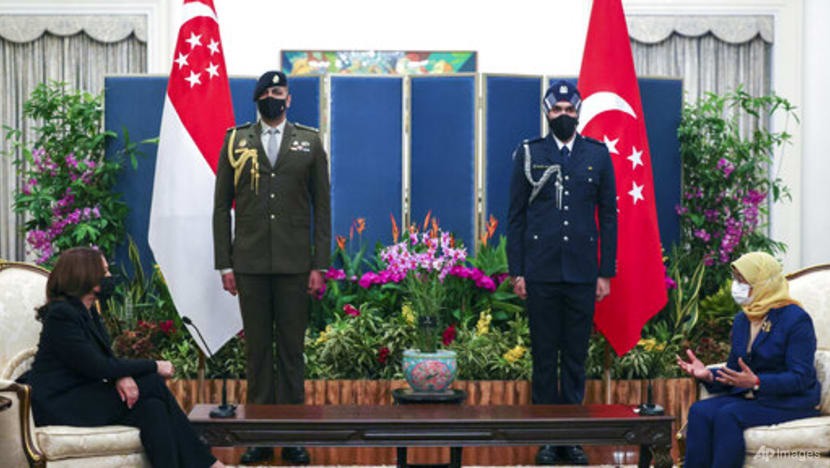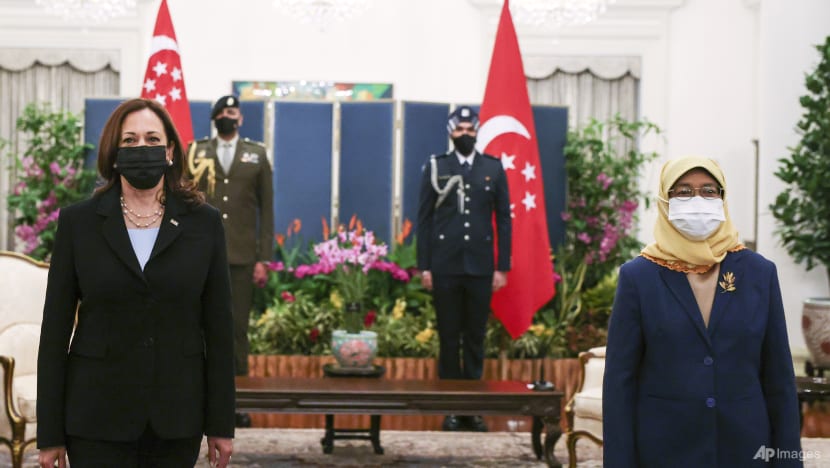 Ms Harris subsequently had a private meeting with Mr Lee, followed by a delegation meeting with Singapore ministers and senior US officials.
In the afternoon, Ms Harris and Mr Lee held a joint press conference, during which they reaffirmed close bilateral ties between Singapore and the US, and highlighted new areas of cooperation between the two countries.
These include cooperation in areas such as climate change, cybersecurity, pandemic preparedness and space.
VISIT TO CHANGI NAVAL BASE
Ms Harris also visited Changi Naval Base in the afternoon. She was hosted by Senior Minister of State for Defence Mr Zaqy Mohamad, said the Ministry of Defence (MINDEF). 
Among those present were Minister for Foreign Affairs Vivian Balakrishnan, Singapore Ambassador to the US Ashok Mirpuri, US Charge d'Affaires Rafik Mansour, Chief of Navy Rear-Admiral Aaron Beng, as well as other senior officials from Singapore and the US. 
During the visit, Ms Harris was briefed on how Changi Naval Base has supported the US' continued presence and engagement in the region over the past few decades, as well as the regular interactions between the Republic of Singapore Navy and the US Navy through bilateral and multilateral exercises and professional exchanges.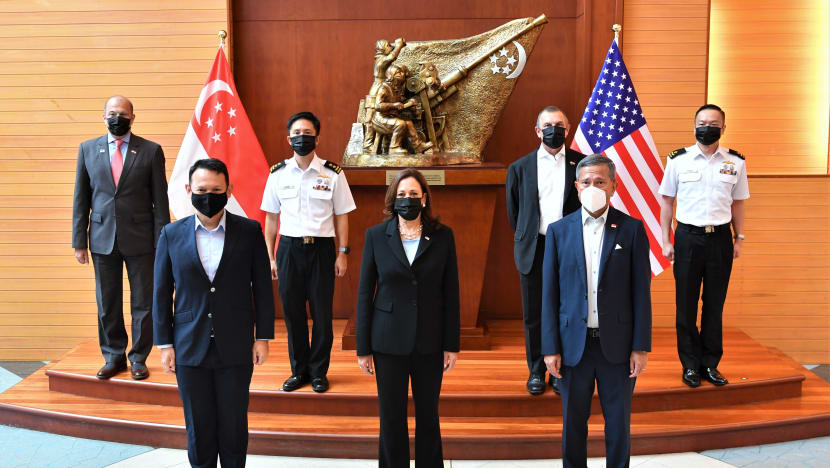 While at the base, Ms Harris viewed a demonstration of the Singapore Navy's latest maritime security unmanned surface vessel.
She also visited the USS Tulsa - a US littoral combat ship that was in the region for the annual US Navy-led multilateral Southeast Asia Cooperation and Training (SEACAT) exercise, which was coordinated by the Singapore Navy's information fusion centre. 
Ms Harris' visit to the Singapore Navy underscored the "excellent and long-standing defence" between the two countries, said the Defence Ministry. 
"The defence establishments of Singapore and the US enjoy extensive defence interactions, including dialogues, military-to-military exchanges, training and cross-attendance of courses, and defence technology cooperation. 
"Both defence establishments also provide long-standing support for each other's forces in their home countries," it added.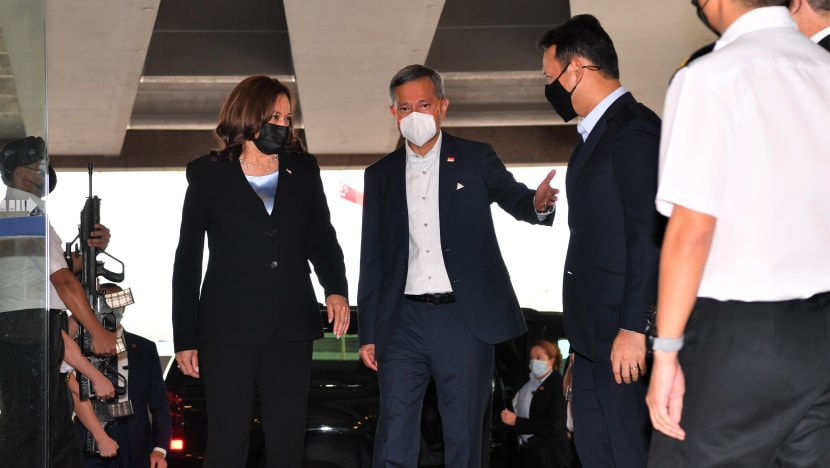 In 2019, Singapore and the US renewed the 1990 Memorandum of Understanding (MOU) regarding the US use of facilities in Singapore and signed an MOU concerning the establishment of a Republic of Singapore Air Force fighter training detachment at Andersen Air Force Base in Guam. 
Earlier on Monday, Mr Lee and Ms Harris announced that MINDEF and the Singapore Armed Forces concluded an MOU concerning cooperation in cyberspace with the US Department of Defence on Aug 20, 2021.