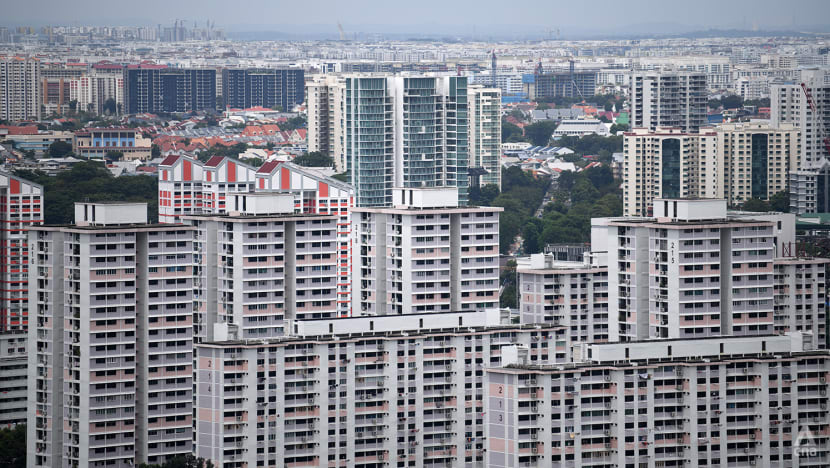 SINGAPORE: Members of Parliament debated how expiring leases on Housing Board (HDB) flats will be dealt with on Tuesday (Feb 7), with Senior Minister of State for National Development Sim Ann rebutting the proposals and concerns raised by opposition members in the House.
During the debate on public housing policies, Assoc Prof Jamus Lim (WP - Sengkang) asked: "But notice that once we actually reach the 60 years or so, the only way to end up extracting the value is to sell (the flat) on to someone else so that we can actually retire comfortably by extracting that value.
"Now the question is: We are selling on a rapidly depreciating asset … What is the Government's plan, at least at the macro level, to prevent creating a generation of home purchasers who have bought at the tail end just before the music stops?"
Ms Sim thanked Assoc Prof Lim, saying that he's made the point for her that when flats reach the tail end of their leases, at about 20 years or 30 years left, the units would be very difficult to sell.
"That is the generosity of the VERS scheme - that the Government comes in as the purchaser of last resort when no one else would actually purchase and give the flat owner the remaining value of the lease," she said. 
"At that point in time, even if you had value, would the private market realise it for you?"
She was referring to the Voluntary Early Redevelopment Scheme, which Prime Minister Lee Hsien Loong previously mentioned during the 2018 National Day Rally. 
Mr Lee had said that the Government will compensate residents whose flats are taken back early, and will also help them get another flat to live in. This should take place when the flats reach about 70 years of age.
He also added that the terms will be less generous than that of the Selective En-Bloc Redevelopment Scheme or SERS.
The exchange with Assoc Prof Lim came after Ms Sim's speech in which she addressed points made by MPs about lease expiry and other concerns about public housing policy and the affordability of HDB flats.
She was speaking on the second day of a debate on two motions on public housing - one tabled by the Progress Singapore Party (PSP) and one by the Minister for National Development Desmond Lee.
Parliamentary Motions on Public Housing
Affordable and Accessible Public Housing
– Motion standing in the name of the Minister for National Development
"That this House affirms the importance of keeping public housing affordable and accessible while protecting the interests of current and future generations of Singaporeans, and endorses the commitment of the Government to these twin goals."
Public Housing Policies
– Motion standing in the names of Mr Leong Mun Wai and Ms Hazel Poa
"That this House calls upon the Government to review its public housing policies in order to deliver affordable and accessible HDB flats to all Singaporeans, strengthen the owner-occupation intent of public housing, protect retirement adequacy and keep public housing inclusive for every Singaporean of each generation."
Ms Sim referred to a chart shared by Assoc Prof Lim on Monday showing how the value of an HDB flat with 94 years left on the lease would gradually rise and then decline at the end of the lease.
He made the point on Monday that in Singapore's housing market, homeowners see a steadily-rising house price, which tops out around the two-thirds mark of the total lease. 
He attributed rising property prices to inflation and warned of a bubble that "feeds on itself" with resale prices driving up prices of Build-to-Order (BTO) flats and vice versa.
"If one is able to offload one's flat before its price collapses as it must eventually, then we can retire comfortably. But then the one holding the bag is a fellow Singaporean - someone who bought your resale because they needed the space for a growing family and couldn't afford to wait for a BTO," he said on Monday.
Responding to this, Ms Sim said that Assoc Prof Lim acknowledged the effect of inflation, but "left out the impact of strong economic fundamentals and rising incomes, which are important drivers of resale prices".
She also made the point that two-thirds on a 94-year lease would be 60 years before the property begins to decline in value.
"A 30-year old who bought this flat on the resale market in 2023 can see asset appreciation over his lifetime," said Ms Sim.
He would then be able to monetise the flat by selling it later, or choose to "age in place" through renting out rooms or the Lease Buyback scheme.
The flat is thus a "good store of value" over a buyer's lifetime although the value goes to zero after 99 years, she said.
His children may also benefit to some extent, although not his grandchildren, Ms Sim added.
"But his children and grandchildren will get Government support in turn to buy their own HDB flats and benefit from having a tangible stake that also appreciates in value," she said.
When asked for more details on VERS by Workers' Party MPs, such as if it will apply to all precincts, Ms Sim said that MPs will need to "stay tuned" as the scheme is a work in progress.