Watch: PM Lee, multi-ministry task force address Singapore on COVID-19 situation, path to new normal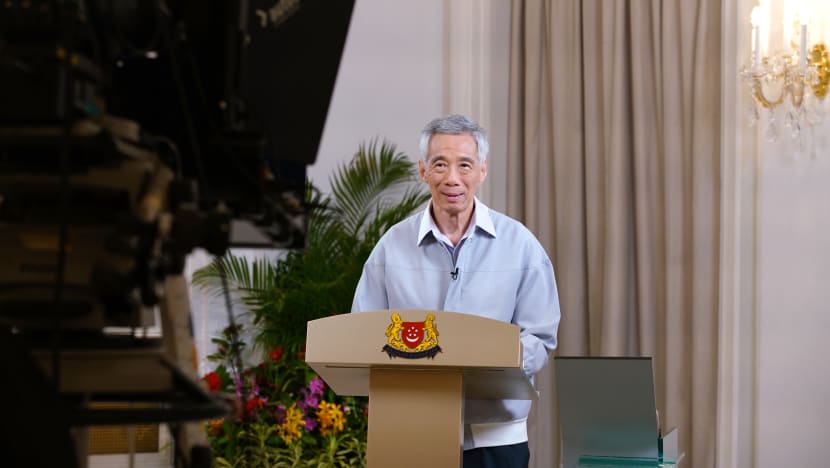 SINGAPORE: Singapore must be prepared to see "quite many" COVID-19 cases for some time to come, but it cannot stay locked down and closed off indefinitely, said Prime Minister Lee Hsien Loong in a televised address to the nation on Saturday (Oct 9). He added that it will take three to six months for Singapore to reach a new normal, where restrictions are eased and cases stable at "perhaps hundreds a day, but not growing".
"We should respect COVID-19, but we must not be paralysed by fear," he added, explaining why Singapore must press on with its strategy of living with COVID-19.Health protocols in Singapore will also be "drastically" simplified since the virus has "become a manageable disease", he said.

His address was followed by a multi-ministry task force news conference.
The multi-ministry task force announced that Singapore's vaccinated travel lane scheme will be extended to eight more countries, including the US, UK and Spain. If you are travelling, you will have to take one PCR test after entry to Singapore, down from three.

They also announced that only fully vaccinated individuals will be allowed to dine-in at hawker centres and coffee shops, enter shopping malls and attractions in Singapore from Oct 13.

Singapore's COVID-19 home recovery programme will be be expanded to include unvaccinated people between 12 and 49 and vaccinated seniors aged 70 to 79 among others from Sunday.

Also, there will be no more quarantine orders for close contacts of COVID-19 cases in Singapore under simplified protocols. Instead, they will receive a health risk warning that lasts seven days. 

PCR testing will be reserved mainly for those who are unwell, the task force said. Ten more ART kits will be distributed to each Singapore household.

The COVID-19 vaccine booster programme in Singapore will be expanded to those aged 30 years and above, and healthcare and frontline workers.