SINGAPORE: Sembcorp Marine on Friday (Oct 15) apologised to about 1,400 of its workers at Westlite Jalan Tukang dormitory, who had complained about the lack of hygiene in the preparation and the quality of the food served by an external caterer.
"The company has taken the caterer to task and has insisted on strict adherence to hygiene standards, as well as timeliness of the food delivery.
"It will continue to monitor this to ensure a high and consistent standard of food hygiene and quality," said Sembcorp Marine in a media update on the situation at the dorm.
It also said that all workers who tested positive for COVID-19 have been taken to a care or recovery facility as of Thursday evening.
In an online article on Tuesday, disgruntled workers shared photos of insects and hair they found in their food. Sembcorp Marine on Thursday said it had "taken note of the feedback".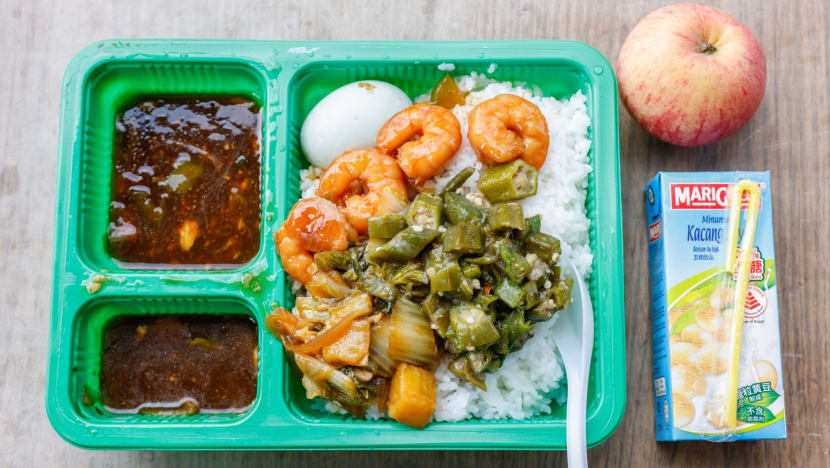 The article published on Weixin, the version of WeChat used in China, also reported that some workers slept on the ground outside their rooms to avoid infecting those they shared a room with, and had to wait a long time before receiving medical attention.
On Wednesday, the Ministry of Manpower (MOM) sent officers from its Forward Assurance and Support Teams (FAST) to the dormitory to investigate the allegations. There was heavy security presence at the dormitory, with armoured riot police and Special Operations Command vehicles deployed.
Dormitory operator Centurion Corporation on Thursday said the delays were due to a "spike" in COVID-19 infections among Sembcorp Marine workers living there.
On Friday, MOM said it deployed "insufficient resources" for an "unexpected" increase in COVID-19 cases at the dormitory, resulting in delays to the transfer of these cases to care or recovery facilities.
In Friday's update, Sembcorp Marine said the delays "led to great unhappiness among both the COVID-positive workers as well as those who tested negative".
The company worked with MOM's Assurance, Care and Engagement (ACE) group and the dorm operator to resolve the logistical challenge and address the workers' sentiment, it added.
"The company will continue its regular COVID-19 testing and coordinate closely with ACE and the dormitory operator. The company appreciates that ACE has been reviewing its processes to ensure that it is able to secure sufficient resources to manage unexpected increases in cases across all dormitories," said Sembcorp Marine.
It added: "The company remains committed to ensuring that workers receive medical care, when needed. The company notes that the authorities have deployed mobile clinical teams on site, when required to augment the care needs of workers while continuing to make regional medical centres and telemedicine accessible."
Sembcorp said it has arranged for "additional interactions" with the workers at the dormitory given the "heightened needs".
"In our interactions with our workers, we have received their feedback and concerns. We have also taken the opportunity to share the current testing and health management protocols as defined by the local authorities. Many now have a better understanding of the protocols," it added.
Tukang dormitory has a capacity of 3,400 beds, of which about 40 per cent are occupied by Sembcorp Marine workers. These workers are housed there as the company's own dormitories are fully occupied, said Sembcorp Marine.