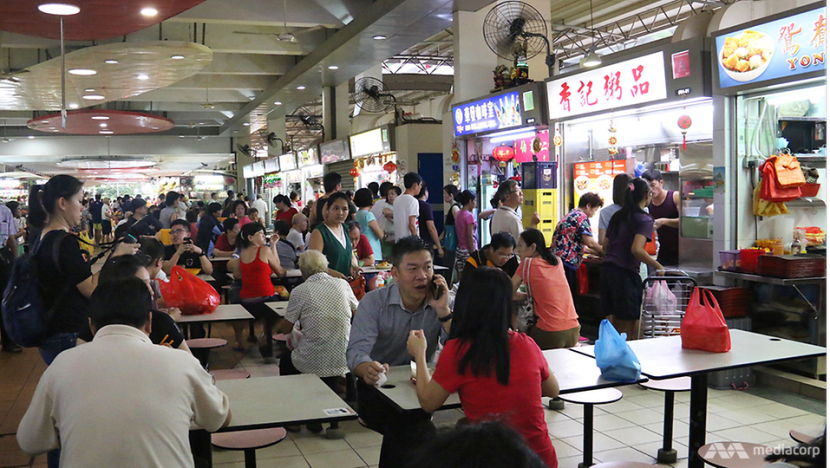 SINGAPORE: The term "social enterprise" hawker centre often used by the media is a "misnomer", said Senior Minister of State for Environment and Water Resources Amy Khor in Parliament on Monday (Nov 19). 
She was responding to Member of Parliament Lee Bee Wah, who was among several MPs who raised questions on this model of running hawker centres. 
"A lot of residents are asking, what is the definition of social enterprise? We don't see Voluntary Welfare Organisations (VWOs) coming in but we see those social enterprises that are set up by big companies. So what is their motivation?" Ms Lee asked. 

Dr Khor explained that such operators of hawker centres must have a "social mission".
"We actually started by saying socially-conscious operators. So what we are saying is that operators who know that if they tender for these hawker centres and run it, there must be a social mission," said Dr Khor.

She clarified that these operators do not necessarily have to be social enterprises. There are safeguards within the National Environment Agency's (NEA) tender conditions to ensure that the social objectives of hawker centres are met. 

Dr Khor added: "In selecting SEHCs (socially-conscious enterprise hawker centres), we also look out for how we can harness their experience which is actually the recommendation from the Hawker Centre Public Consultation panel - that we try and leverage the experience of these operators in F&B and lease management in order to be able to put in place various initiatives and ideas to ensure and enhance the vibrancy of hawker centres."

There are currently five such operators which run seven out of 114 hawker centres in Singapore. 
They include Ci Yuan Hawker Centre by Fei Siong Food Management, Our Tampines Hub Hawker Centre by OTMH under Kopitiam, Yishun Park Hawker Centre by Timbre Group and Jurong West Hawker Centre by Hawker Management under Koufu. 
NTUC Foodfare operates Bukit Panjang Hawker Centre, Kampung Admiralty Hawker Centre and Pasir Ris Central Hawker Centre.

ALTERNATIVES TO SOCIALLY-CONSCIOUS HAWKER CENTRE MODEL

Socially-conscious hawker centres have been in the spotlight recently after some stallholders complained about extra fees levied on top of rental and other compulsory charges. 

Environment and Water Resources Minister Masagos Zulkifli told Parliament earlier on Monday that the SEHC model is "generally sound", despite some challenges with implementation.

He asked for patience for the model to "adapt, adjust and optimise" the outcomes it seeks to achieve.

MP Liang Eng Hwa asked if other models have been considered for the management of newer hawker centres, the first of which was built after a 30-year break. 

Among his suggestions - to have a hawker centre managed by hawkers in a similar style to a condominium's Management Corporation Strata Title (MCST).
Dr Khor, in response, said that NEA is open to any model as long as it is able to achieve the social objectives set out for these new hawker centres, but insisted that the SEHC model has already achieved many positive outcomes. 

She added that SEHC operators have also exercised innovation and creativity in driving footfall to the centres, such as through family carnivals and loyalty programmes which offer discounts and other promotions to build up a pool of repeat patrons. 
The operators bear the cost of such initiatives, which serve to manage and reduce the risk of profiteering, Dr Khor said. 

"They are required under the terms of our tender to plough back at least 50 per cent of any operating surplus for the social benefits of the hawker centres," Dr Khor said.  
On this, Ms Lee asked about the other half of the operating surplus and where it goes towards. 

"At least 50 per cent must go back to social benefits. The other 50 per cent, of course, they can keep. But so far for our hawker centres, those that have already submitted their audited accounts, none of them have accumulated operating surplus," Dr Khor said. 
"It just goes to show that just as new hawker centres need time to build up to establish themselves, so do the operators," she added.