'Am I hindering others?': The fears and anxieties of taking the bus after becoming a wheelchair user
The wheelchair ramp on buses can cause a great deal of anxiety for many new wheelchair users. But a public bus confidence course aims to eradicate these fears.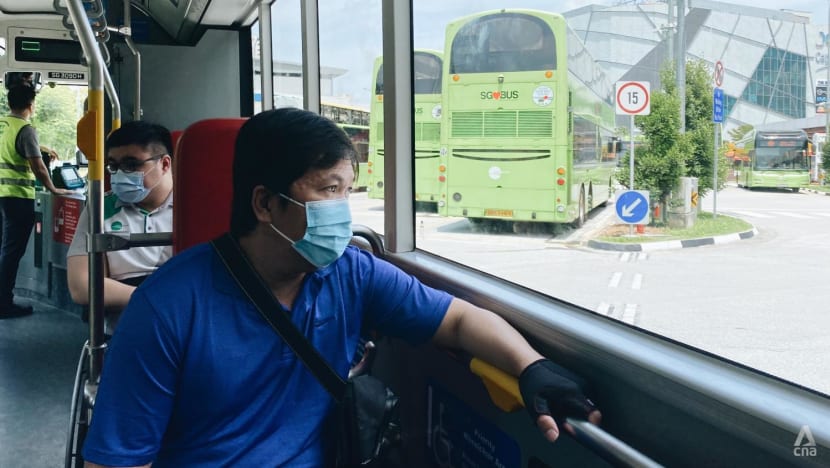 SINGAPORE: Waiting for the bus can make Mr Mikail Wong feel anxious. 
The 44-year-old became a wheelchair user due to a spinal injury two years ago, and sometimes thinks he's "a bit troublesome" to other commuters. 
"When I'm going to take the bus, other commuters might look at me. I feel paiseh (embarrassed in Hokkien) ... Am I hindering others? Am I causing trouble to them? Luckily we wear masks. If no mask, even more paiseh," he shared with CNA. 
Rainy days have been the greatest challenge thus far, as Mr Wong would have to map out another route to his destination.
"Those places that we go are quite regular, but for new places ... we don't know whether there's shelter along the way or whether there's a slope or ramp. I might need to go a longer distance to the next slope or ramp, and get wet in the rain," he said. 
Then there was the time a bus captain accidentally dropped the wheelchair ramp while lowering it during a rainy day – splashing rainwater all over Mr Wong.  
As Mr Wong recounted the incident during a public bus confidence course jointly conducted by SPD (a local charity that serves people with disabilities) and transport operator Tower Transit Singapore, he laughed it off. But his frustration was evident. 
The course, which is free and open to the public, was launched last year to help people with mobility challenges regain their confidence in travelling on public buses. 
With the recent push for Singapore's public transport to be more inclusive during the Ministry of Transport's Committee of Supply debate in March, such courses could play a more significant role.
Course participants learn how to board and alight from a bus safely. Importantly, the psychological impact of acquiring a disability and becoming a wheelchair user, especially as an adult, isn't glossed over.
FEAR AROUND USING A WHEELCHAIR RAMP 
The unassuming wheelchair ramp presents a unique anxiety for new wheelchair users. The way that a bus captain handles the ramp, such as with Mr Wong, can sour a wheelchair user's mood for the rest of the day. 
"When the bus captain just drops the ramp, it may trigger certain feelings in the wheelchair user, because you might feel like you're causing them extra trouble. You might wonder: 'Did I do anything wrong that you have to treat me like that?'" said the course's facilitator Kishon Chong. 
The jarring bang of the ramp against gravel has a "psychological impact" on the wheelchair user, as "it communicates to the user that they're not welcome on the bus", he explained. 
Mr Chong, 30, speaks from experience. Four years ago, he became a wheelchair user after he suffered a spinal stroke.
He felt "numbness" in his legs one morning before work. Within 15 minutes, the numbness spread. He lost control of his legs and collapsed, and had to be rushed to the hospital. After he was discharged, he spent the next two-and-a-half years unemployed to focus on intensive rehabilitation.
As the course facilitator, Mr Chong expresses empathy about the "fear" around the bus ramp. Navigating the ramp successfully is "a very, very large part of confidence" as it might seem daunting. 
For instance, if the wheelchair's caster wheels (front wheels) get stuck at the edge of the ramp, the wheelchair user might feel like "they've been thrown off the wheelchair". 
"That's something that has caused much anxiety in many wheelchair users. I even have friends that have stopped taking buses entirely because of that particular reason," he said. 
"Asking for help is also something people might feel self-conscious about. They might think back (to before they had a disability) and wonder: 'I didn't even need to ask for help for anything. Why do I need to ask for help now?'" 
While their concerns are "valid", wheelchair users have "equal rights to board the bus", Mr Chong reminded course participants during a session CNA attended. 
"Please do not feel embarrassed. And if the wheelchair ramp is too steep, tell (the driver). It's part of their job. Don't feel like you're troubling them. It's better that they know what you need help with – better for both the commuter and bus captain," he said. 
"We want to show (course participants) that our bus captains are trained to assist with boarding safely. On top of that, we allow participants to practise with the ramp itself, so that they get more used to what to expect when they go out on the ground."
ANXIETY AROUND HOLDING UP THE QUEUE 
Due to needing assistance with the ramp, holding up the line is also a constant anxiety for new wheelchair users. 
When Mr Chong started using a wheelchair, he would join the regular bus queue, unaware that there was a priority queue. He'd also worry that he was holding up the line – something he was never self-conscious about before becoming a wheelchair user. 
"From queuing together in the line with everyone else, right now if you're a wheelchair user, you have to queue separately where there's higher visibility for you to flag the bus down," he said. 
"And there's the realisation that because of the process of having to board the wheelchair user first, you might think: 'I'm holding up people's time because everyone has to wait for me to board first, and the bus captain has to do an additional job to deploy the ramp and help me with boarding.' … It's something that pretty much everyone will experience if you have an acquired disability." 
But these feelings are something Mr Chong hopes to help wheelchair users move on from. 
"The only way to overcome (these anxieties) is to have more practice, to get on board (a bus) more often, and then you realise that people don't really care. They're actually fine with it. The self-consciousness will set in, but it can also be overcome," he said.  
To build course participants' confidence, Mr Chong also gives them other tips for a smoother journey, such as planning ahead, from knowing which stop to alight to finding out whether the buses are wheelchair accessible. 
If commuters are already boarding the bus when the wheelchair user has reached the bus stop, Mr Chong shared that they can press the wheelchair push button at the side of the rear door. This alerts the driver that there's a wheelchair user who wants to board the bus. 
MORE CONFIDENCE, PEACE OF MIND   
Participants told CNA that such information benefited them. 
Even a more confident wheelchair user like 55-year-old Taufik Omar, who took public transport for the first time earlier this year, said the course helped him discover wheelchair-accessible features that he had not noticed before. 
Ms Nooraini Manaf, who is Mr Wong's wife and full-time caregiver, also attended the course with her husband. She expressed her husband's concern that nobody would help him to board the bus. 
"The course gives him the insight that the bus captains know how to help people with disabilities. He also gets the opportunity to try boarding a bus alone, whereas in real circumstances, he may have self-doubt. He doesn't have the confidence," she said. 
But the course was also for Ms Nooraini, as it gave her "peace of mind" that someone would be looking out for her husband if he went out alone. 
"(People with disabilities) are just like any other person. Despite what they have lost, they have a right to go and pursue whatever they want. With (courses) like this, it will give them a better quality of life," she said.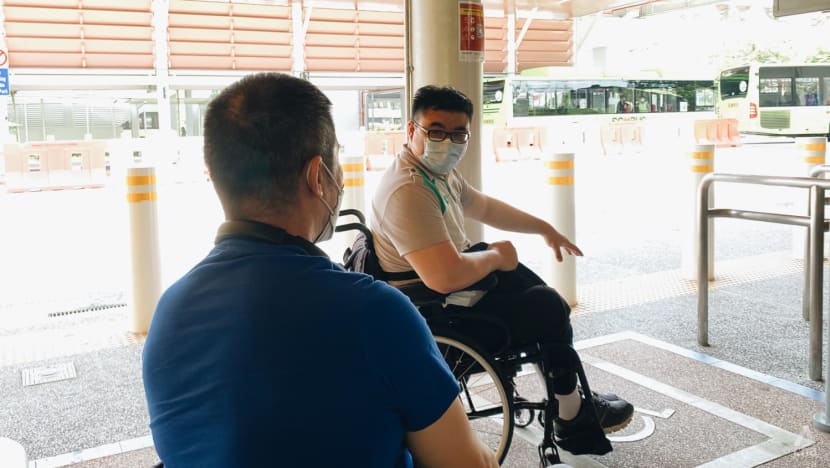 HARNESSING HIS DISABILITY 
While he might seem knowledgeable about the needs of wheelchair users now, it wasn't too long ago that Mr Chong had an entirely different life as a chef. 
"Unfortunately, wanting to go back to (being a chef) is difficult, because kitchens aren't really designed for accessibility or wheelchair users. So I had to look for a different option," he said, adding that he sought help from a job coach at SPD. 
Several unsatisfactory offers later, he stumbled upon a job posting by Tower Transit. It was the company's first time hiring for such a role. The job wouldn't just accept his disability – it considered his disability an asset. 
In 2020, Mr Chong became Tower Transit's first customer experience and inclusion officer. Facilitating the public bus confidence course is part of his job scope.
"Hiring a person with disabilities has meant transforming Tower Transit from inside out. It has meant changing our recruitment processes to accommodate our candidates' disabilities. It has made us consider things we otherwise take for granted like the height of our office desks and whether the arms of a wheelchair can fit under them," said Mr Glenn Lim, the company's communications and customer experience director. 
"It is also catalysing a change in our company culture. As other employees work with our customer experience and inclusion officers daily and have gotten to know them on a personal level, their experience with and response to disabilities also becomes a lot more personal." 
Even though the company could hire an able-bodied individual for Mr Chong's job, being a wheelchair user means "the understanding levels are a bit different" when he reaches out to those with disabilities. 
"We don't know what we don't know. So it's always the case where only when someone has gone through a certain experience, or they live with the disability themselves, they see things in a different perspective," said Mr Chong. 
"We cannot blame people who don't understand or don't know, because (the  needs of wheelchair users) are not something they might regularly think about. But in building this awareness, I think it's very essential that you have people who actually have the disability to go on the ground, to share their experiences to make things easier to understand for everyone." 
But Mr Chong clarified that being a wheelchair user didn't automatically make him good at his job. After all, he had "zero experience" with other people who had disabilities. 
"Coming into this job, I told my bosses that what I'm bringing to the table are my experiences as a wheelchair user. That doesn't mean that I'm an expert in disabilities. So there are a lot of things that we need to learn."
TWO-WAY EMPATHY 
And learn Mr Chong has. Not only from fellow wheelchair users, but from the bus captains who help them.
He tries to convey these lessons to participants of the public bus confidence course. A portion of the course is dedicated for participants to interact with bus captains, so both sides can empathise with each other. 
For instance, Mr Chong said he's learnt that deploying the wheelchair ramp multiple times a day can be tiring for bus captains who are older or who have a smaller build, even though they are more than willing to help wheelchair users. 
"Being a wheelchair user and having conversations with them like that is very real, because they tell me sometimes on their journey, they have like eight wheelchair users, and they have to keep deploying the ramp on and off. … Even assisting wheelchair users to board is a very physical, very laborious thing to do," he said.
"It's actually a very, very strenuous job. Not only is it physical, it's also very mental because they have to try for multiple hours, and make sure that the journeys are safe."  
As for improving the bus journey for wheelchair users, Mr Chong would regularly take a bus anonymously to "audit" the level of a bus captain's inclusivity. 
He also reminds bus captains to "always ask first" before assisting a wheelchair user. 
"I get that they are trained to help, but it's also important to respect the wheelchair user in terms of whether they want the help or not. Sometimes, there are wheelchair users who are very independent, so they will want to board and alight the bus themselves," he said. 
Four years since he became a wheelchair user, life has taken on a different meaning. 
Recalling a former participant who was initially "reserved" when he attended the course due to previous bad experiences on public buses, Mr Chong said the participant eventually became "more receptive". 
"I think we met him a few months after the course. I heard that he went back to work and he was taking buses on his own already. So it was very nice to see that whole transition. You could tell that there was confidence behind his voice," he added. 
"It meant something personal to me. I saw this change, which made me feel like my job has meaning."