Large, endangered crane carried by woman in viral video had escaped from house in Caldecott area
The bird is "licensed", a person from the household told CNA.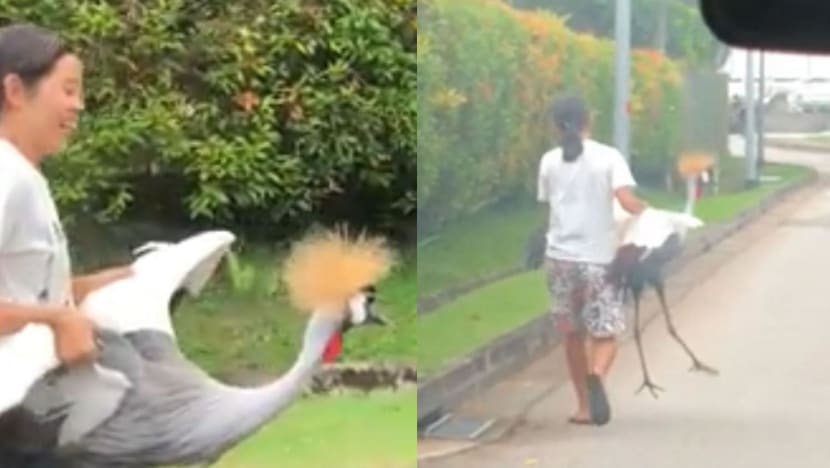 SINGAPORE: A large, endangered grey crowned crane had escaped from a house near Thomson Road, before being carried back by a domestic helper from the home – an act that was captured by videos on social media.
In one video, a woman was seen carrying the long-legged bird by its large wings with apparent ease. In another video submitted to news site Mothership, she was seen guiding the exotic crane along a pedestrian path on Joan Road, in the Caldecott residential area off Thomson Road.
The bird, identified as a grey crowned crane, belongs to an endangered species native to eastern and southern Africa, according to National Geographic.
CNA located the bird's owners on Thursday (Apr 7) at their home close to where the bird was seen. A woman from the family explained: "Actually we left the gate open, so our bird got out. My helper had to go and get it."
When asked further about the bird, the woman declined to provide more details. But she added: "All I can share is the bird is licensed, so we have a permit for it."
According to a news report from 2012, the former Agri-Food & Veterinary Authority of Singapore (AVA) said it was legal to import and care for such exotic birds.
The report also noted that owners must apply for a Convention on International Trade in Endangered Species of Wild Fauna and Flora permit and an AVA import licence before purchasing such animals.
CNA has sought comment from the Animal & Veterinary Service.
While CNA was speaking to the woman, a bird resembling the feathered creature in the videos appeared behind her and spread its wings before proceeding to defecate.
The woman also said that both her domestic worker and the bird returned home safe and sound.
"She's used to it, sometimes he gets out."
Elsewhere in Singapore, a grey crowned crane has also been regularly spotted at Seletar Country Club. A YouTube video uploaded in 2019 also captured two such cranes in the Seletar Aerospace area.