Woman sued S$3m for rejecting man is countersuing for money spent protecting herself from him
Ms Nora Tan Shu Mei is seeking at least about $1,480 from Mr K Kawshigan, for expenses she incurred in keeping herself safe from him.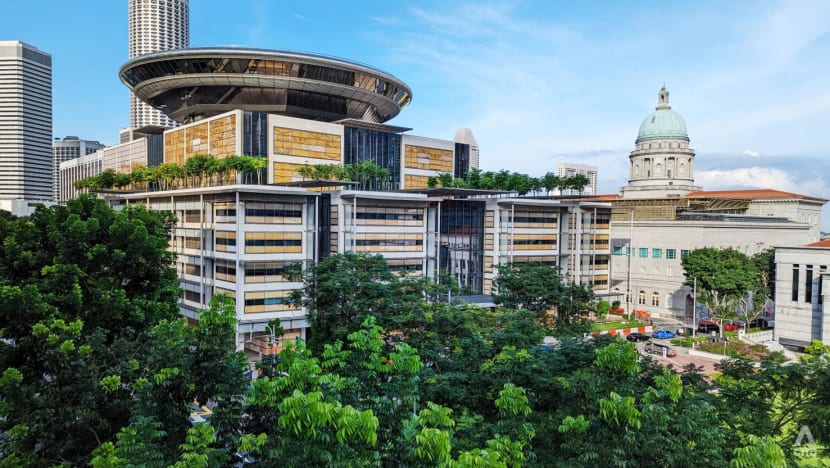 SINGAPORE: A woman being sued for S$3 million by a man she rejected is countersuing him for expenses she incurred to protect herself from his purported harassment.
According to court documents obtained by CNA, Ms Nora Tan Shu Mei installed a digital door viewer, an alarm sensor and a smart video doorbell to ensure her safety from Mr K Kawshigan.
She is seeking damages from him for about S$480 for installing such equipment, as well as another S$1,000 for expenses incurred while engaging in counselling and "healing" sessions at his request.
She is also seeking damages for expenses to be incurred for her own future counselling sessions.
According to a Magistrate's Court judgment published on Jan 28, Mr K Kawshigan launched two lawsuits against Ms Tan after their friendship broke down and she told him that she saw him only as a friend.
He sued Ms Tan in the Magistrate's Court for S$22,000 in damages for breaching an agreement to improve their relationship, but this suit was thrown out. 
The deputy registrar called the civil suit an abuse of process and said the court would not be an accessory to Mr Kawshigan's "calculated attempt to compel engagement" from Ms Tan.
Separately, Mr Kawshigan is suing Ms Tan in the High Court for S$3 million for various damages, including trauma he allegedly suffered after finding out that she saw him only as a friend.
This suit is fixed for a case conference later this month.
CLAIMS OF DEFAMATION
According to High Court documents, both Mr Kawshigan - a director at drone company D1 Racing - and Ms Tan are former members of the Rotary Club of Bugis Junction.
Mr Kawshigan's claim against Ms Tan arises from alleged defamatory conduct against him from June 2019 to December 2020.
He claims she made false allegations verbally to him, with third parties present who heard their conversations.
In the alleged defamatory statements, Ms Tan purportedly said she was feeling very harassed by Mr Kawshigan's actions, which included standing in front of her doorstep and harassing her.
Another line that Mr Kawshigan states is defamatory is: "He is unnecessarily serving court documents to me personally and he has not tried other ways available to him".
This line was spoken by Ms Tan on Jul 8, 2022 and communicated over an amplified speaker such that other people nearby heard what she said, Mr Kawshigan claimed.
He alleged that Ms Tan's actions caused damage to his "stellar reputation", followed by "trauma, depression and impacts to his life" over the past 24 months.
He claimed he also lost at least five business partnerships, is now unable to engage in interpersonal conversations normally and has had his ability to clinch contracts effectively and efficiently disrupted.
The S$3 million he is seeking from Ms Tan includes S$170,000 for his reduction in overall earning capacity for two years and S$1.2 million in loss of potential investments, contracts and payouts to his company by tapping on the Rotary International network.
MS TAN'S DEFENCE
In defence and counterclaim papers seen by CNA, Ms Tan denied large parts of Mr Kawshigan's claims.
According to her, they first met as club members of the Rotary Club of Bugis Junction around November 2016, and became friends.
Between November 2016 and September 2020, they began arguing and having differing opinions which led to a slow deterioration of their friendship.
This was particularly when Ms Tan asked to reduce the frequency of communication and meetings.
After Mr Kawshigan sought clarification about their friendship, Ms Tan said they were only friends.
After this, Ms Tan did not respond to Mr Kawshigan's request to participate in mediation at the Singapore Mediation Centre in October 2020.
In October 2020, Ms Tan found out that Mr Kawshigan had appeared outside her home, saying that he had filed court documents but did not want to serve them to her.
A woman named Ms Irene then contacted Ms Tan in November 2020, and said she was Mr Kawshigan's counsellor. Ms Tan agreed to participate in counselling sessions with Ms Irene and Mr Kawshigan, but stopped doing so in May 2021.
Another woman also claiming to be a counsellor invited Ms Tan to Mr Kawshigan's "healing" sessions in November 2021, and she attended them until April 2022.
This period was interspersed with emails to Ms Tan by Mr Kawshigan's purported lawyers, making references to legal action.
The High Court suit was filed after Ms Tan refused to speak to Mr Kawshigan any further. The latter told Ms Tan's colleague by email that Ms Tan had broken "some ground rules" and that her avoidance was "forcing him to escalate".
Ms Tan also received WhatsApp messages in July 2022 from a person who claimed to be a journalist from Yahoo News, alleging that a law firm partner had provided Yahoo News with details of a High Court case.
ALLEGEDLY WENT TO HER WORKPLACE
Ms Tan, who is represented by lawyers from Edmond Pereira Law Corporation, is using the defence of fair comment.
The words she uttered that Mr Kawshigan claims is defamatory, are expressions of her honest opinion about the facts and matters of Mr Kawshigan's conduct, she said.
Her lawyers wrote that she will show at trial that none of the law firms purportedly representing Mr Kawshigan in his correspondences with Ms Tan were instructed by him at any given time.
Neither Yahoo News nor its journalists had sent the WhatsApp message to Ms Tan, she claimed.
She said Mr Kawshigan's actions were intended to cause her harassment, alarm and distress and make her maintain communications with him.
Ms Tan also alleged that Mr Kawshigan had appeared outside her house with a woman in July 2022, and remained outside despite her requests for him to leave. He also allegedly placed documents on her door and rattled it, that same month.
He then approached Ms Tan's neighbours and asked for her home telephone number, and said he would go to her workplace if she refused to communicate with him, she alleged.
Mr Kawshigan went to Ms Tan's workplace to look for her later that month, but she was not there, she alleged.
As a result of the alleged harassment, Ms Tan installed a digital door viewer, a siren alarm sensor and a smart video doorbell.
The case will be heard in the High Court at a later date.