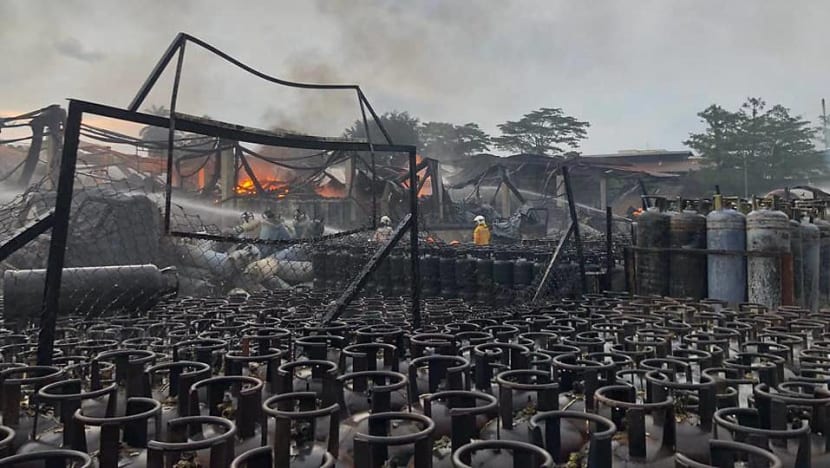 SINGAPORE: Summit Gas Systems (SGS) has been fined S$270,000 under Section 20 Workplace Safety and Health Act after a fatal fire at its workplace on June 21, 2019 left an employee dead, said the Ministry of Manpower (MOM) in a press release on Monday (Dec 5). 
The case was one of four whose verdicts were delivered in November under the Workplace Safety and Health Act.
MOM highlighted the four cases as they "illustrate some worrying observations", saying shortcuts were taken, and there was a lack of proper safe work procedures and risk assessments. 
The 2019 fire that broke out at SGS was a result of the failure to adhere to these regulations, resulting in the death of a Chinese national.
The incident took place at a conveyor belt and carousel unit located within a large shed of cylinders filled with Liquefied Petroleum Gas (LPG).
Wei Xiaoyong was stationed at the start of the conveyor belt when an LPG cylinder fell and hit a pipeline structure.
The spill led to a fire and while two other workers managed to escape, Mr Wei died at the scene from his injuries.
An investigation by MOM found that SGS did not ensure an emergency escape route was free from obstruction, failed to control the risk of cylinders falling and hitting other structures, and did not provide an emergency stop button at the cylinder filling shed.
SGS also failed to provide employees with flame retardant clothing and ensure employees received adequate information to carry out their work, added the ministry. 
The firm's director, Ellen Teo Soak Hoon, was fined S$50,000 on Nov 30 under Section 11(c) Workplace Safety and Health Act as she had failed to exercise all such diligence to prevent these offences.
THREE OTHER GLARING SAFETY LAPSES
On Nov 18, Low Thiam Chuar, the director of TC Builder & Machinery, was fined S$125,000 under Section 12(1) Workplace Safety and Health Act.
A construction worker named Tashfiqur was killed during lift dismantling and replacement works on Jan 14, 2019, after being caught between a lift carriage and lift landing.
MOM found that as the firm's director, Mr Low had failed to implement an adequate safe work procedure for the use of the lift car with an open door to transport materials during lift dismantling work and did not conduct a risk assessment arising from the use of the lift car with an open door. 
On Nov 29, a lorry loader operator and driver, Ho Man Kwong, was sentenced to five months' jail under Section 15(3A) Workplace Safety and Health Act. 
In the Oct 12, 2018 incident, Mr Ho used inappropriate webbing slings when lifting his lorry bed, which snapped and killed a worker who was helping him. 
His employer, Koh Lian Kok, who is the sole proprietor of Ban Keong Transport, has been charged under Section 20 Workplace Safety and Health Act and the case is ongoing.
JP Nelson Access Equipment, which then engaged Ban Keong Transport, was fined S$50,000 last year for failing to ensure that the engaged contractor had taken adequate safety and health measures.
On Nov 29, the sole director of Mass Engineering, Karuppaiah Mathi, was fined S$110,000 under Section 20 Workplace Safety and Health Act.
A worker died in the Feb 21, 2021 incident after being pinned between two containers.
A probe by MOM found that Mr Karuppaiah should have ensured that construction debris was stored in a manner that ensured its stability to prevent any collapse and ensured a safe means of access and exit from the workplace. 
The dead worker's colleague has been charged with committing a negligent act that resulted in the workplace fatality and his case is ongoing.
"When companies, their top management or employees are lax on safety practices, the consequences can be fatal," said MOM.
"Employers and top management have a responsibility to ensure that safe work measures are in place to mitigate the risk involved in the course of their employees' work. Employees are also expected to adhere to these measures and report any unsafe practices. 
"If the parties are found to have failed to fulfil their legal duties, MOM will not hesitate to impose tough penalties."